How to Improve Your Email Marketing Results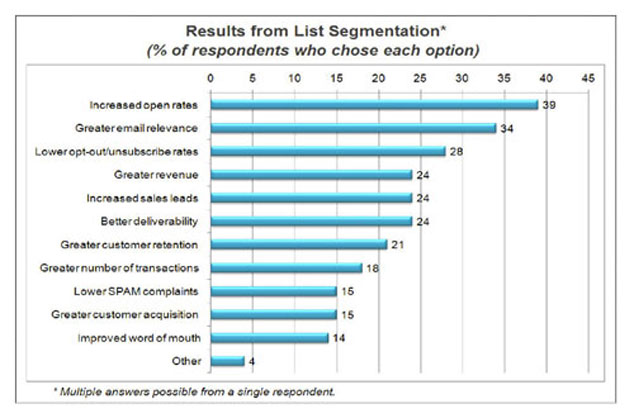 Email marketing is one of the best tools you can utilize to market your practice. It is a direct means to reach an audience that has opted to receive more information. Marketing messages sent to an inbox get a much better ROI than banner ads blanketing the internet. When it comes to email marketing, your goal is simple: You want to use your email list to bring you more business.
But are you doing email marketing the right way?
The Wrong Way
When it comes to email content, readers will unsubscribe from frequent emails that don't apply to them. Your patients are not all interested in the same information. Patients who had laser hair removal might not be interested in anti-aging procedures. Likewise, patients who have already had a rhinoplasty will be confused by emails advertising a special on rhinoplasties for the month of March.
So how do you reach the right customer with your message?
The Right Way
Instead of non-targeted email blasts, try an effective strategy commonly used by email marketers: segmentation. Segmentation is the practice of organizing your total email list into more specific lists based on certain categories that you create. By breaking up your list of patients into segments, you can improve the results of your email marketing. Instead of telling all of your patients information about your practice, share relevant information with select groups.
Segmentation Will Improve Your Email Results
Segmenting can bring many benefits to your practice. According to the Lyris Annual Email Optimizer Report, 39% of marketers who segmented email campaigns saw increased open rates, 34% felt the emails were more relevant, and 28% experienced greater revenues. You can see the full results in the image below.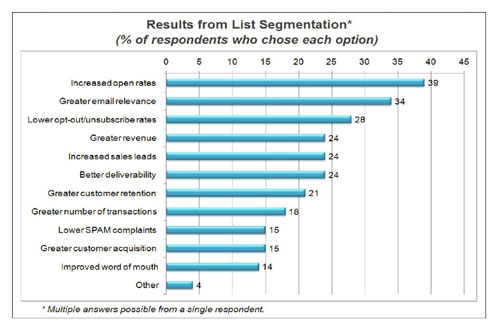 Adopt Segmentation as Your Email Strategy
By segmenting your email list, you will be sending patients emails that are more likely to appeal to them. You will be adding value to their inbox and representing your practice in a more positive way. This will likely result in better open rates, higher clicks, and lower unsubscribe rates. Caveat: Segmenting still needs great email content in order to get the best results. Start thinking of the best way to segment your email list and try it on your next email campaign!