New England Hair Restoration Surgeons Give the Green Light on New Responsive Website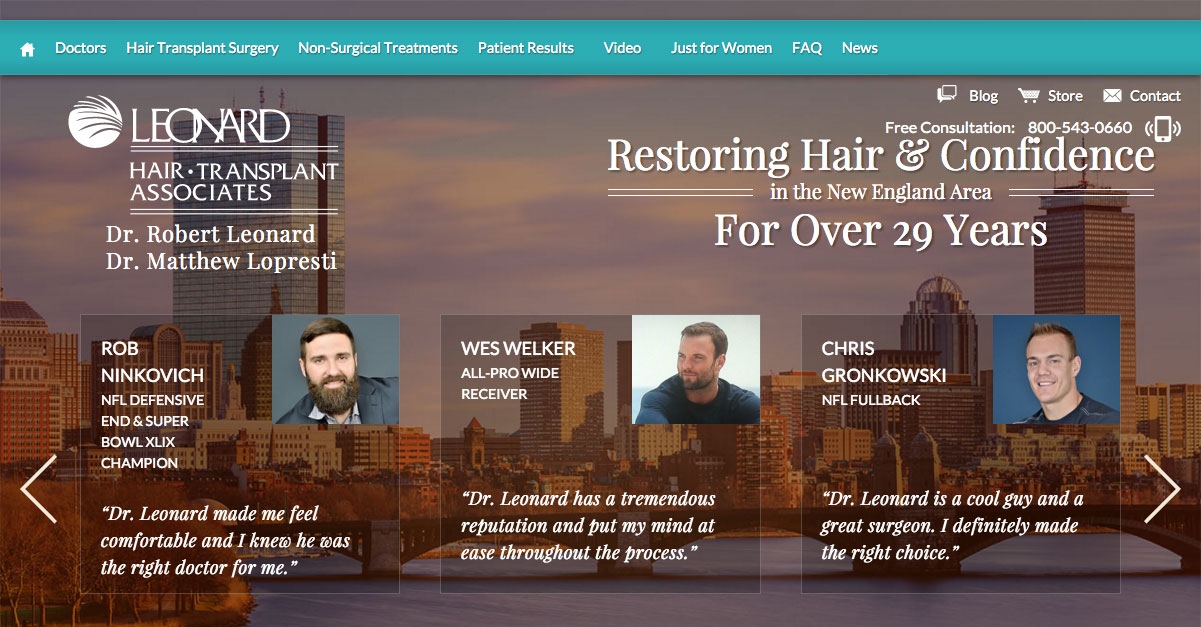 Dr. Robert Leonard and Dr. Matthew Lopresti of Leonard Hair Transplant Associates unveil a new responsive website emphasizing usability and modern conveniences.
Boston, MA — Dr. Robert Leonard and Dr. Matthew Lopresti are seeking to enhance the hair loss patient's experience one mouse click at a time. The Boston hair restoration surgeons recently launched a newly redeveloped practice website for Leonard Hair Transplant Associates that includes responsive capabilities, an easily navigable interface, and other modern conveniences. Created in collaboration with medical marketing firm Rosemont Media, the restyled site ticks a comprehensive selection of aesthetic and functional boxes. The surgeons hope this innovative "virtual office" can be a helpful source of information for both existing and prospective patients.
Hair loss can occur in a diverse range of people, and inclusion is an important part of Dr. Leonard's and Dr. Lopresti's practice philosophy. Images of real patients populate the web pages, including well-known athletes and media personalities. From a sophisticated drop-down menu bar, men, women, and transgender visitors can select from a comprehensive list of hair transplant and non-surgical hair restoration techniques. Additionally, before-and-after photos, patient testimonials, instructional videos, and FAQ pages further assist individuals considering treatment.
Recognizing that users increasingly utilize mobile devices to search for information, Drs. Leonard and Lopresti upgraded to a responsive design. This allows desktop, laptop, tablet, and smartphone users with Internet connectivity to view the site with ease. Visitors can even find turn-by-turn directions, shop for products, or schedule a free consultation from virtually anywhere.
Dr. Leonard and Dr. Lopresti believe the intuitive, up-to-date, and educational new website offers numerous benefits for individuals considering hair loss treatment. Combined with their years of experience and compassionate, patient-focused approach, the surgeons hope the site can elevate the hair restoration process and make it easier for individuals to address their concerns.
About Leonard Hair Transplant Associates
Offering seven locations throughout the New England area, Leonard Hair Transplant Associates provides an expansive selection of surgical and non-surgical hair loss treatments for men and women. Led by renowned hair restoration surgeons Dr. Robert Leonard and Dr. Matthew Lopresti, the state-of-the-art practice is equipped with advanced hair transplant technology, including the ARTAS® Robotic System and NeoGraft™. Additionally, non-invasive treatments such as Capillus272® laser therapy, Rogaine®, and Propecia® are also available. Committed to exceptional patient care, the medical team offers compassionate, inclusive, and customized hair loss prevention and restoration options.
For more information about Leonard Hair Transplant Associates, please visit hairdr.com and facebook.com/leonardhair.