New Hampshire Plastic Surgeon Enhances Online User Experience With New Responsive Website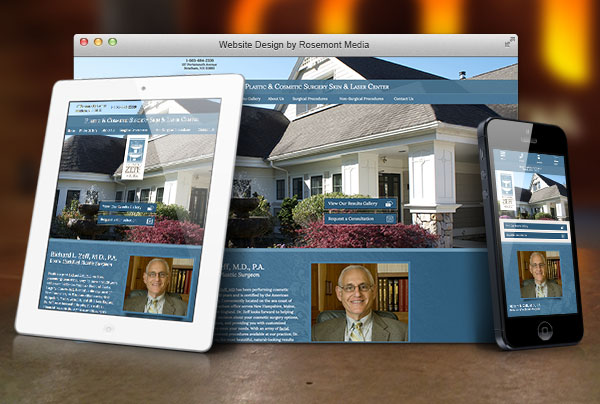 Dr. Richard Zeff recently launched a new website for his plastic surgery practice, offering current and prospective patients a responsive design for improved access.
Stratham, NH — Dr. Richard Zeff, a plastic surgeon in New Hampshire, has recently announced the launch of his new, adaptable website design. Created in collaboration with medical website design firm Rosemont Media, the updated site is designed to offer convenient access to expanded plastic and cosmetic surgery content utilizing an attractive new layout that adjusts to fit the screens of smartphones, tablets, laptops, and desktop computers.
In addition to its responsive format, patients can browse practice and procedural information organized into convenient drop-down menus. Intended to be a comprehensive resource on the plastic surgery practice's services, Dr. Zeff has provided numerous content pages on topics including:
Breast Implants
Facelift
BOTOX® Cosmetic
Laser Skin Resurfacing
Dr. Zeff explains that the increased use of Internet-compatible devices by the public led him to upgrade his website. With its advanced new features and aesthetically-pleasing layout, the site now more accurately reflects the qualities he endeavors to demonstrate in all areas of his practice.
Optimized for greater online visibility and better ranking in web searches, the new site uses enhanced medical SEO strategies to help patients locate information about plastic surgery. Ultimately, Dr. Zeff hopes the new website will prove to be a valuable resource for existing and potential patients interested in cosmetic surgery.
About Richard L. Zeff, MD, PA
A graduate of Tufts University, Dr. Zeff is a board-certified plastic surgeon with over 30 years experience. He earned his medical degree at the University of Miami before relocating to New York to complete a surgical internship at NYU Bellevue Hospital. He then moved to Des Moines, Iowa to complete a residency in general surgery, and to Chicago, Illinois, to complete his plastic surgery training at Loyola University Medical Center. An active member of several medical organizations, including the American Society for Aesthetic Plastic Surgery and the New England Society of Plastic and Reconstructive Surgeons, Dr. Zeff is dedicated to providing a comprehensive range of cosmetic procedures to New Hampshire residents and surrounding communities. He is available for interview upon request.
For more information about Dr. Richard L. Zeff and his practice, please visit drrichardzeff.com and facebook.com/drzeff.