Newly Enhanced Website Debuts for Charleston Plastic Surgery Practice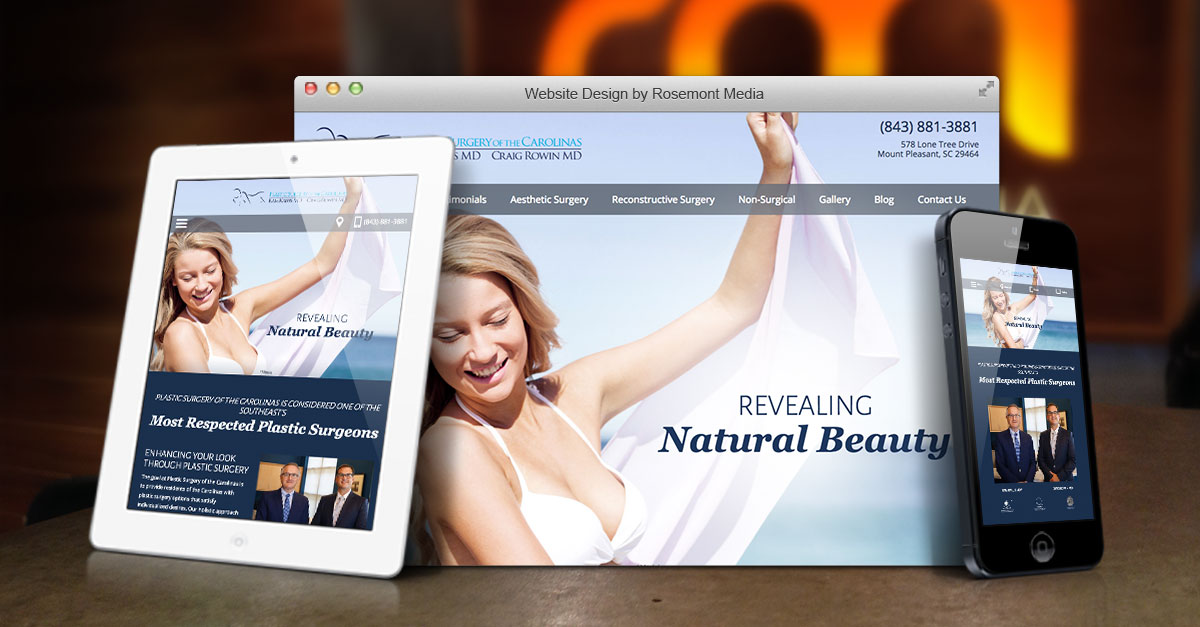 Charleston plastic surgeons Ram Kalus, MD and Craig Rowin, MD launch a new and improved website for their practice, Plastic Surgery of the Carolinas.
Charleston, SC — Dr. Ram Kalus and Dr. Craig Rowin of Plastic Surgery of the Carolinas recently collaborated with digital marketing agency Rosemont Media to upgrade the aesthetics and functionality of their practice website. Featuring a responsive design and user-friendly layout, the site can be conveniently accessed and seamlessly navigated from any Internet-compatible smartphone, tablet, laptop, or desktop computer.
Seeking to emphasize natural beauty, the Charleston plastic surgeons chose to outfit the website with various colors and imagery representative of the visually stunning Carolina coastline. Additional elements that help to distinguish the new site include:
An organized navigational menu—complete with drop-down tabs—located at the top of each page
An expansive before-and-after photo gallery featuring a special "What Size Should I Be?®" tool for prospective breast augmentation patients
A custom "Aesthetic Surgery" landing page that provides access to all surgical procedures via categorized pop-up menus
Biography pages that highlight the background and credentials of both Dr. Kalus and Dr. Rowin
Extensive procedural pages written in an easily digestible format and clear language
A regularly updated blog that hosts practice information, industry advances, answers to plastic surgery FAQs, and more
Behind the scenes, the Plastic Surgery of the Carolinas website is equipped with several leading medical search engine optimization (SEO) tactics. According to the plastic surgeons, a key goal of this feature is to make the site more accessible as an educational resource for individuals interested in abdominoplasty, mastopexy, breast reconstruction, mommy makeover, and/or numerous other aesthetic or reconstructive procedures.
Dr. Kalus and Dr. Rowin are thrilled with the overall look and function of the website, and they hope it proves to be a helpful tool for any prospective plastic surgery patient seeking to transform, restore, or enhance his or her body.
About Plastic Surgery of the Carolinas
Located in the Mount Pleasant and Charleston area, Plastic Surgery of the Carolinas is an esteemed medical practice that provides a comprehensive array of surgical and non-surgical cosmetic procedures. Led by Dr. Kalus and Dr. Rowin, the practice is committed to achieving natural-looking results through custom-tailored techniques and individualized care, always holding patient safety and comfort in the highest regard. Both doctors have received extensive training in the field of aesthetic surgery, and they are dedicated to keeping abreast of the latest, most advanced treatment methods available.
For more information, visit plasticsurgerycarolina.com and facebook.com/plasticsurgerycarolina.