Orange County Plastic Surgeon Revamps Website for Improved User Experience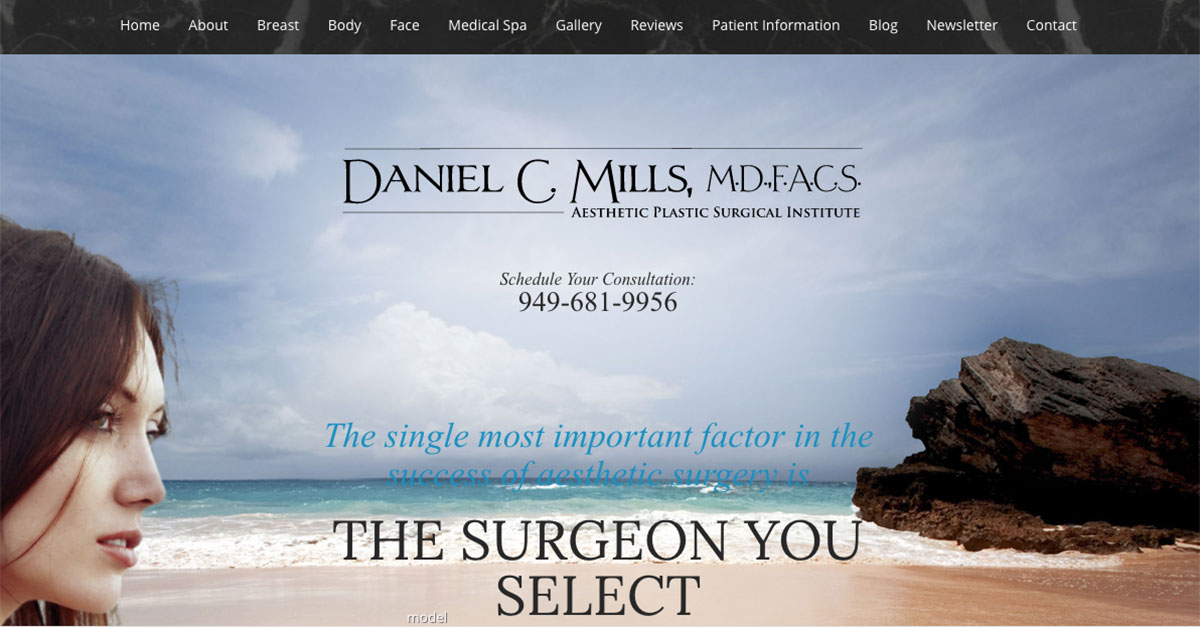 Daniel Mills, MD of the Aesthetic Plastic Surgical Institute unveils his newly enhanced website featuring parallax scrolling, customized imagery, convenient navigation, and more.
Laguna Beach, CA — Dr. Daniel Mills, a plastic surgeon in Orange County and current President of the American Society for Aesthetic Plastic Surgery (ASAPS), recently teamed with Internet marketing firm Rosemont Media to revamp his website in an effort to remain at the forefront of the continually advancing digital era. Equipped with a custom layout and responsive design, the site provides a one-stop, comprehensive resource for individuals who are considering surgical and/or non-surgical cosmetic enhancement of the face, breasts, or body.
Located in Laguna Beach, Dr. Mills chose to outfit his entire website with oceanic imagery comparable to that of his actual seafront surroundings. To further promote this theme, he selected an aesthetically pleasing color scheme accented by bright whites and vivid blues reminiscent of foam-covered tides and inviting ocean hues. Other distinguishing elements of the website include:
Parallax scrolling on the homepage (foreground and background move at different rates)
A sticky navigational tab that remains in place as viewers scroll up and down
Multiple page headers featuring actual patients of the Aesthetic Plastic Surgical Institute
A biography page highlighting Dr. Mills' education, training, and credentials
In-depth procedural pages covering everything prospective patients need to know
An extensive before-and-after picture gallery categorized by specific procedures
A blog hosting regularly-updated information about cosmetic advancements, practice news, and various treatment options
Unseen, yet exceedingly important, Dr. Mills' website is also optimized with the latest plastic surgery SEO strategies available – a feature that helps make his site more easily accessible for individuals in his area seeking to learn about breast augmentation, mommy makeover, liposuction, various other plastic surgical treatments and procedures.
Dr. Mills is pleased with the overall design and functionality of his newly improved website, and he hopes visitors will find it to be a helpful and user-friendly tool in their pursuit of aesthetic enhancement.
About Daniel C. Mills, MD, FACS
Certified by the American Board of Plastic Surgery, Dr. Mills offers a full range of surgical and non-surgical cosmetic procedures for the body and face. He is regarded by both his patients and peers as a respected leader in the aesthetic community, and he has been recognized on numerous occasions for his helpful contributions and innovations in the plastic surgical field. Dr. Mills currently serves as President of ASAPS, and he remains actively involved in various other esteemed medical organizations. He is available for interview upon request.
To learn more about Dr. Mills, visit danmillsmd.com.