Palo Alto Plastic Surgeon Unveils Customized Responsive Website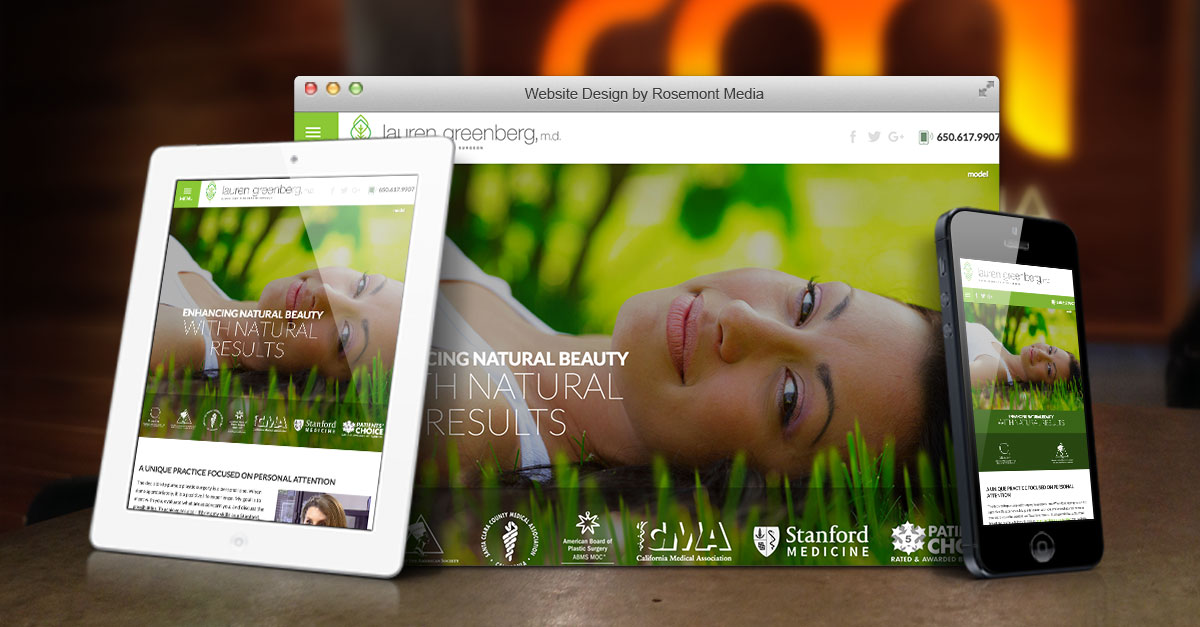 Dr. Lauren Greenberg updated her practice website to include responsive formatting, a versatile layout, and stunning visual elements for an enhanced user experience.
Palo Alto, CA — With hundreds of plastic surgeons in the Bay Area, Dr. Lauren Greenberg is eager to differentiate herself from the competition. By joining forces with medical marketing agency Rosemont Media, she was able to collaboratively design and develop an advanced new practice website with responsive features and a user-friendly layout. The result is a sophisticated, accessible, and versatile online destination, one that allows Dr. Greenberg to regularly update content to suit her dynamic needs.
Dr. Greenberg is very involved in the maintenance of her website, routinely adding content, uploading images to the before-and-after gallery, and publishing blog posts so patients have access to the most up-to-date and accurate information on plastic surgery. To make this process as simple and straightforward as possible, content is broken up into sections that can be expanded or removed as needed, while keeping the pages readable and engaging for visitors.
Aiding the practice in its quest for high online marketplace visibility are the built-in, state-of-the-art plastic surgery SEO strategies. Now when patients search for surgical or non-surgical treatments such as breast augmentation and dermal fillers, Dr. Greenberg's practice website is more likely to be found on the first page of results.
In a nod to the natural aesthetic and active lifestyle Palo Alto residents prefer, Dr. Greenberg integrated a lush grassy green palette, outdoorsy images, and fresh-feeling graphics throughout the site. This consideration for her patients' preferences extends to a customized approach to treatment and a compassionate attitude to care. She explains that her new website serves as an extension of her brick-and-mortar practice, therefore she wanted to express her dedication to quality and detail.
About Lauren Greenberg, MD
Dr. Lauren Greenberg is a board certified plastic surgeon located on the Stanford University campus, her alma mater, in Palo Alto, California. Her practice offers a comprehensive array of cosmetic enhancement procedures, including treatments for the face, breasts, body, and skin. Her female-focused approach emphasizes natural-looking results and global improvement that can provide long-lasting effects. The boutique office touts a philosophy prioritizing privacy, luxury, and personalized service. In addition to striving for the highest level of safety possible, she also endeavors to deliver exceptional patient care and uncompromising results.
For more information about Dr. Greenberg and her practice, please visit laurengreenbergmd.com and facebook.com/laurengreenbergmd.