Redding LASIK and Cataract Eye Surgeon Announces New Website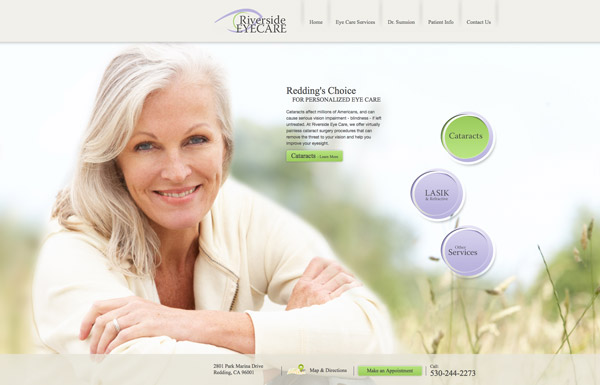 Ophthalmologist Dr. Michael Sumsion recently launched a new website featuring comprehensive information on a variety of eye conditions and treatments.
Redding, CA — Recently, Dr. Michael Sumsion of Riverside Eyecare announced the launch of a new website for his eye care practice. He says he felt that having a thorough and informational website was important for his practice, and explains that, because most people conduct research online, he wanted to provide educational tools for those who were looking for answers. Dr. Sumsion says he also wanted to provide a detailed website for those in search of an eye surgeon in Redding, to help them make a more informed decision when selecting the eye care professional they want to work with.
With a stunning new design and a smartly organized menu bar, Dr. Sumsion says he hopes patients will be able to gain a wealth of knowledge from his site. He says the website will be a tool to help educate new and current patients, and that he is also happy to be able to help anyone who is looking for information about eyesight, diseases of the eye, or the treatments available to correct these issues.
The newly designed website features extensive information about cataracts. The site details what cataracts are, how they are treated, and how the surgery can be customized to meet each patient's individual need. Dr. Sumsion explains he wanted to be as thorough as possible, so his patients can better understand how cataracts affect their eyesight, as well as what needs to be done to correct the issue. The website also highlights information about the advanced technology used at Dr. Sumsion's practice, as well as a variety of other detailed pages, including those that focus on procedures and conditions such as:
Glaucoma
Macular Degeneration
Dry Eye
Eyelid Surgery
Riverside Eyecare's new website also showcases educational videos that can help viewers to learn more about their eyes. As visitors of the website jump from page to page, an easy-to-navigate sidebar menu is displayed for added convenience while browsing.
Dr. Sumsion says he chose to partner with LASIK and eye care website design firm Rosemont Media for the building of his new website, noting that the San Diego-based medical marketing company helped him create an attractive website with thorough and comprehensive information.
About Michael A. Sumsion, MD
Board-certified ophthalmologist Dr. Sumsion is a member of several professional medical organizations, including the American Academy of Ophthalmology, the American Society of Cataract and Refractive Surgery, and the American Medical Association. He opened his practice, Riverside EyeCare Professionals, in 1997, and has been serving the Redding community since 1990. Dr. Sumsion is available for interview upon request.
For more information about Dr. Sumsion and his practice, please visit recp-eyemd.com.