Richmond Plastic Surgeon Announces New Tummy Tuck Specialty Website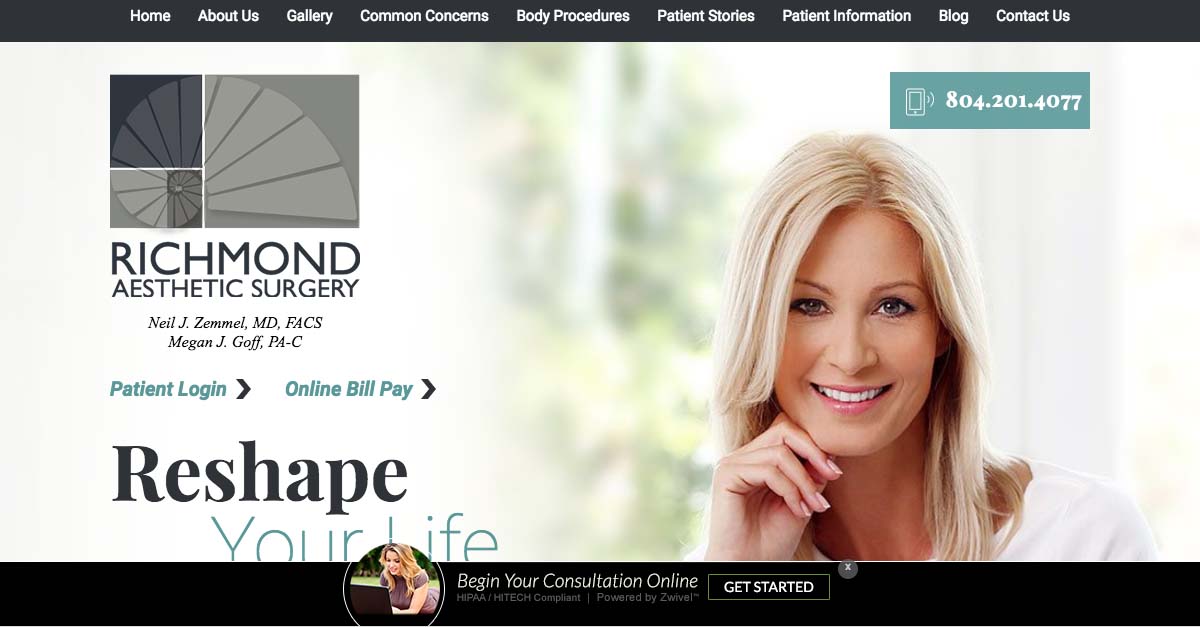 Board-certified plastic surgeon Dr. Neil J. Zemmel has launched a responsive plastic surgery microsite focusing on abdominoplasty and other body contouring procedures to help inform current and prospective patients.
Richmond, VA — Men and women considering body contouring to enhance their appearance can find comprehensive information about their options by visiting the new specialty website of Richmond plastic surgeon Neil J. Zemmel, MD, FACS. This microsite for Richmond Aesthetic Surgery is dedicated to tummy tuck surgery, providing one, easy-to-use resource to learn about related body contouring procedures. The responsive website design was specially created to produce an informational, user-friendly experience for anyone wanting to learn more about their treatment options.
To allow for clear, straightforward browsing, the tummy tuck specialty site has a main navigation organizing a variety of important details, including a section for "Common Concerns," which helps visitors in their search for the most appropriate procedure. The website was also designed to have responsive functionality—an advanced element that recognizes the Internet device from which the user is accessing the website. This causes the site to automatically adjust to the correct dimensions.
Pages found throughout the website have been custom-written to provide a clear understanding of what patients can expect when they choose Dr. Zemmel for their procedure. Visitors can find a wealth of information about the practice, including media segments featuring Dr. Zemmel as the authority on various topics. In addition to the microsite's thorough content, patients visiting the website can access convenient portal options, such as patient login and bill pay areas.
As visitors continue to navigate through the tummy tuck site, they can read written patient testimonials as well as watch video accounts from patients about their experience with Dr. Zemmel and his staff. Should the viewer want to move forward with contacting the practice, they can opt to begin with a virtual consultation via the Zwivel™ online tool available on the website. To get an idea of the type of results they may be able to achieve, the before-and-after gallery is composed of results from patients who underwent the mommy makeover procedure, liposuction, or tummy tuck surgery.
For the creation of his new specialty website, Dr. Zemmel worked with San Diego-based digital marketing firm Rosemont Media. Through this collaboration, Dr. Zemmel was able to accomplish a design with a modern feel and a look consistent with his practice's other microsites. Rosemont Media designed the layout to be in an easy-to-read format, and all content was optimized using the latest plastic surgery SEO strategies to increase the site's visibility in search engine results.
About Neil J. Zemmel, MD, FACS
Dr. Zemmel offers a comprehensive selection of cosmetic and reconstructive surgeries, including breast augmentation, facelift surgery, rhinoplasty, and a variety of body contouring procedures. He has been providing state-of-the-art plastic surgery care to his patients at Richmond Aesthetic Surgery since he first opened the practice 10 years ago. Dr. Zemmel has been recognized for his dedication to providing high quality care through a number of honors, including the "Top Doctor" award from Richmond Magazine, "Top Ten Doctor" from Vitals, and "Best of Richmond – Reader's Choice" from Style Weekly. He is also involved in several professional associations, holding the statuses of Diplomate of the American Board of Plastic Surgery, Fellow of the American College of Surgeons, and member of such organization as the American Society of Plastic Surgery and the American Society for Aesthetic Plastic Surgery. Dr. Zemmel is available for interview upon request.
For more information about Richmond Aesthetic Surgery, visit richmondplasticsurgery.com or tummytuckrichmond.com.
Contact:
Richmond Aesthetic Surgery
11934 W Broad Street
Suite 200
Richmond, VA 23233
(804) 424-2000
Rosemont Media
(858) 200-0044
www.rosemontmedia.com