La Jolla Dentists Debut Revamped Responsive Website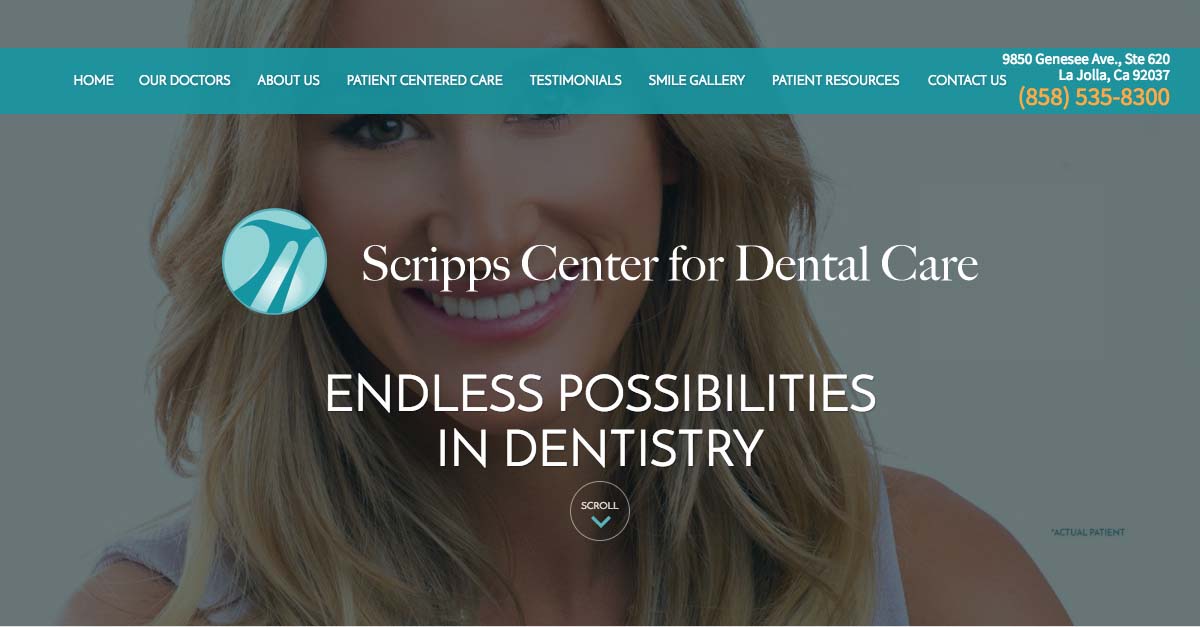 Dr. John F. Weston and Dr. Nick Marongiu of Scripps Center for Dental Care partnered with Rosemont Media to renovate their practice website for a more modern look and upgraded capabilities.
La Jolla, CA — Striving to be the kind of dental dream team discerning patients seek, Scripps Center for Dental Care compiled an elite group of extensively trained dental professionals from across multiple specialties. With this same goal in mind, lead dentists John F. Weston, DDS, FAACD and Nick Marongiu, DDS, AAACD partnered with dental marketing firm Rosemont Media to upgrade their existing practice website. The outcome is a state-of-the-art site that appeals to the modern, sophisticated, and busy individual they cater to.
The La Jolla dentists wanted to include a number of elements in the redesign, including real patient photos, video testimonials, and an extensive selection of online resources. Additionally, the site is outfitted with a comprehensive array of procedure information to help visitors learn more about popular treatments like dental implants, porcelain veneers, Invisalign®, sports dentistry, and oral surgery, to name but a few.
The full-service practice prides itself on its commitment to offering advanced techniques performed to the highest standards by some of the most educated and experienced dentists in the state. The multi-specialty team includes board-certified specialists in periodontics, orthodontics, endodontics, and oral & maxillofacial surgery. The practice explains that this enables patients to enjoy exceptional, streamlined care in one location—no need to travel to different offices for common or complex procedures.
To increase access for current and prospective patients, Rosemont Media integrated updated dental SEO strategies to bring the code up to modern standards of performance. As a result, users can more easily find the website when browsing on search engines like Google, Bing, and Yahoo.
Drs. Weston and Marongiu state that patient satisfaction and results are their highest priorities, and the upgraded site is further proof of their dedication to this philosophy. Serving as the digital front door to the practice, the Scripps Center for Dental Care website signals to individuals that every effort will be made to create a second-to-none experience.
About Scripps Center for Dental Care
Located in La Jolla, California, Scripps Center for Dental Care provides an extensive selection of dental services for patients in the wider San Diego area. The practice boasts a multi-specialty team with general dentists, orthodontists, endodontists, periodontists, and maxillo-facial oral surgeons who have the training and experience to perform a full complement of procedures at the highest level. Founded on a patient-first philosophy, Scripps Center for Dental Care utilizes the most advanced techniques and technologies available to provide unsurpassed treatment to each patient.
Learn more about Scripps Center for Dental Care by visiting scrippsdentalcare.com and facebook.com/scrippsdentalcare.
Contact:
Scripps Center for Dental Care
9850 Genesee Ave. Ste. 620
San Diego, CA 92037
(858) 535-8300
Rosemont Media
www.rosemontmedia.com
(858) 200-0044