Richmond Plastic Surgeons Launch Specialty Breast Reduction Website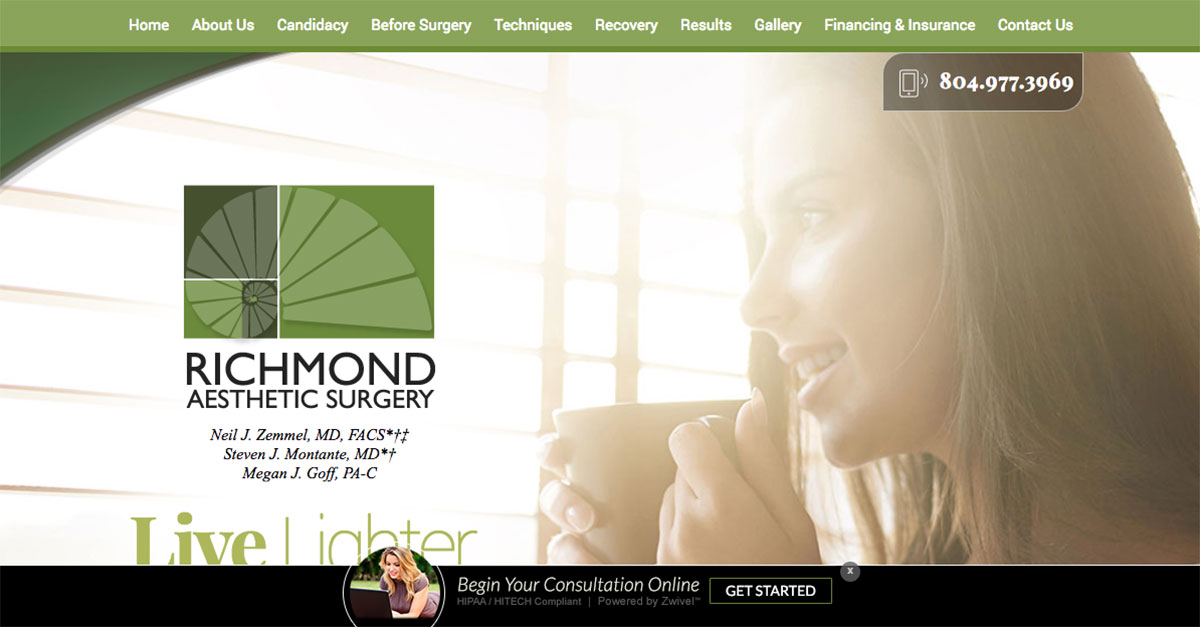 Dr. Neil Zemmel reveals his new practice website that was created to better inform patients of what to expect during breast reduction surgery.
Richmond, VA — To better serve their patients interested in breast reduction surgery, Dr. Neil J. Zemmel has recently launched a specialty website dedicated to the topic. The board-certified plastic surgeons perform a wide range of procedures at Richmond Aesthetic Surgery, with breast surgery being one of the more popular. In addition to options like breast augmentation and reconstruction, the Richmond plastic surgeons frequently perform reduction surgery. Due to the popularity of this procedure, Dr. Zemmel is pleased to offer a new comprehensive resource for those wishing to learn more.
On the practice's new specialty website, visitors can find a wealth of information about breast reduction, all within a responsive website design. This advanced feature allows Internet users to see the extent of the content and visuals within a conveniently formatted layout. Depending on whether the visitor is on a laptop, tablet, or smartphone, the dimensions of the website will automatically resize to fit the dimensions of the device in use.
In addition to its responsive nature, the breast reduction website is filled with original content detailing every step of the breast reduction process—from consultation through recovery. Every page was outfitted with the latest medical SEO strategies, allowing those searching for relevant information to more easily find the educational resource.
For the creation of their new website, Dr. Zemmel collaborated with Rosemont Media, a digital marketing agency that specializes in medical website design. The agency and practice worked closely together to design not only an aesthetic and easy-to-use website, but also a resource to connect with women, communicating the life-changing potential of reducing overly large breasts. The plastic surgeons believe with the launch of their new specialty website, current and prospective patients will be better informed about the procedure by having more information readily available.
About Richmond Aesthetic Surgery
At Richmond Aesthetic Surgery, Dr. Neil Zemmel offers an array of cosmetic and reconstructive surgical procedures, as well as a number of non-surgical options at their med spa Dermounge. The board-certified plastic surgeon is a Diplomate of the American Board of Plastic Surgery, and he is committed to utilizing the latest advancements in the field to provide patients with safe and effective solutions. They are available for interview upon request.
For more information about Richmond Aesthetic Surgery, visit richmondplasticsurgery.com and breastreductionvirginia.com.