Specialist Plastic Surgeon in Melbourne and Canberra Launches New Website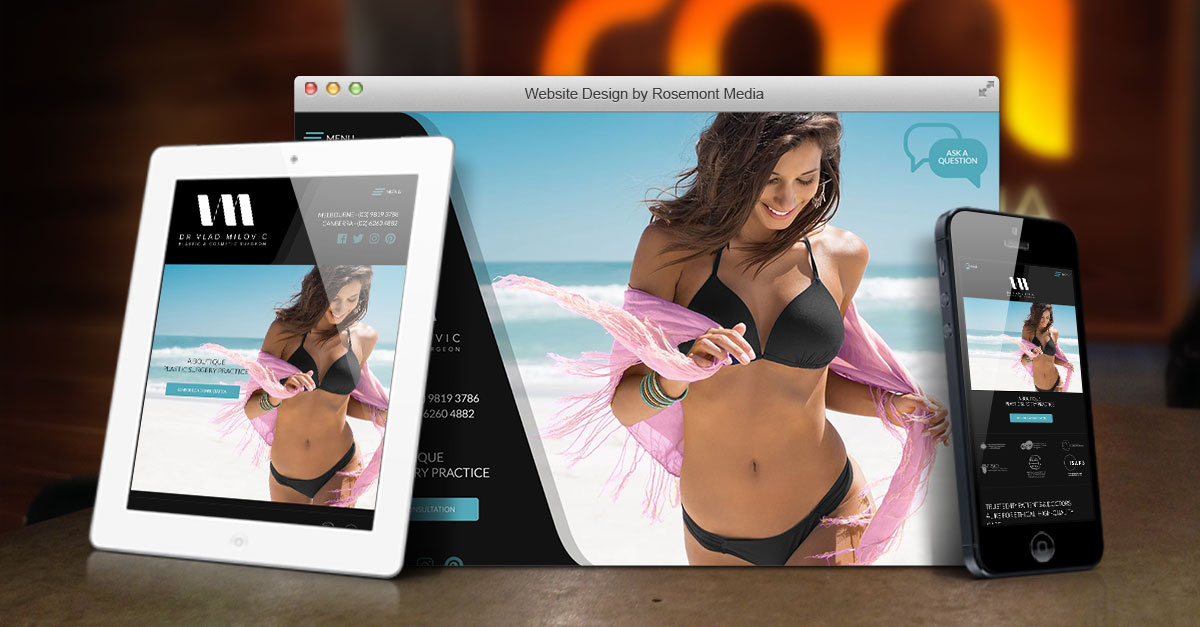 Dr Vlad Milovic reveals a new state-of-the-art website designed to help prospective patients learn more about his plastic surgery practice and the aesthetic services he provides.
Melbourne, VIC – As a Specialist Plastic Surgeon practising in Melbourne and Canberra, Dr Vlad Milovic wanted to update his website to keep pace with the evolving needs and expectations of patients and individuals seeking his services online. When he was ready to move forward with a new website, Dr Milovic chose to work with the experts at Rosemont Media, a digital marketing and medical website design firm based in San Diego. With the help of his dedicated website team, Dr Milovic was able to develop a comprehensive, visually stunning site that displays the diverse array of procedures he offers, while highlighting his impressive expertise and the high level of patient care he provides.
The sleek, modern design of Dr Milovic's website is infused with elegant imagery and stylized icons that make browsing the website an enjoyable experience for users. The intuitive navigation, drop down menus, and logical organization of the website make it simple for visitors to find the information they are looking for quickly and easily. Furthermore, the responsive design of the website allows it to display properly and function optimally for users on a variety of internet-connected devices including smartphones, tablets, laptops, and desktop computers.
Whether online visitors are mobile or "wired in," they should have a smooth experience perusing Dr Milovic's website and learning about the wide array of surgical and non-surgical treatment options he performs to help patients look and feel their very best. The custom written content throughout the website is designed to be easy to understand, fully outlining important aspects of each treatment and the results patients can expect to achieve. Additionally, the website includes an informative blog dedicated to current trends and topics, a digital photo gallery for displaying before-and-after images of Dr Milovic's satisfied patients, and advanced medical SEO (search engine optimization) which improves website visibility in Google searches for the treatment options his practice provides.
Ultimately, Dr Milovic and Rosemont Media were successful in creating a dynamic online resource that embodies the essence of the practice and rises to the level of web-savvy patients seeking world-class aesthetic enhancement and plastic surgery.
About Dr Vlad Milovic
Dr Vlad Milovic is a Fellow of the Royal Australasian Society of Plastic Surgeons (FRACS) in the specialty of Plastic Surgery, which distinguishes him as a highly trained specialist with 17 years of extensive medical training. This medical training includes 12 years of medical and surgical education, with at least five years of specialist postgraduate training—and Dr Milovic has had the opportunity to learn from some of the foremost surgeons in the world. Dr Milovic's practices in Melbourne and Canberra focus on providing patients with a full range of plastic, cosmetic, and reconstructive procedures performed with surgical excellence. Dr Milovic and his team are dedicated to thorough patient education, customised treatment, and world-class care to deliver outstanding results that are achieved with the utmost regard to safety. As a respected plastic surgeon in the international medical community, Dr Milovic is an active member of the American Society of Plastic Surgeons (ASPS), the International Confederation for Plastic, Reconstructive & Aesthetic Surgery (IPRAS), the International Society of Aesthetic Plastic Surgeons (ISAPS), and the American Society for Aesthetic Plastic Surgery (ASAPS). Dr Milovic is available for interview upon request.
Contact:
Dr Vladimir Milovic
Melbourne Office:
50 Burwood Rd
Hawthorn VIC 3122
+61 3 9819 3786
Canberra Office:
70 Kent Street Deakin
Canberra ACT 2600
+61 2 6260 4882
Rosemont Media
(858) 200-0044
www.rosemontmedia.com