Cumberland Orthodontics & Pediatric Dentistry Practice Launches Expansive New Website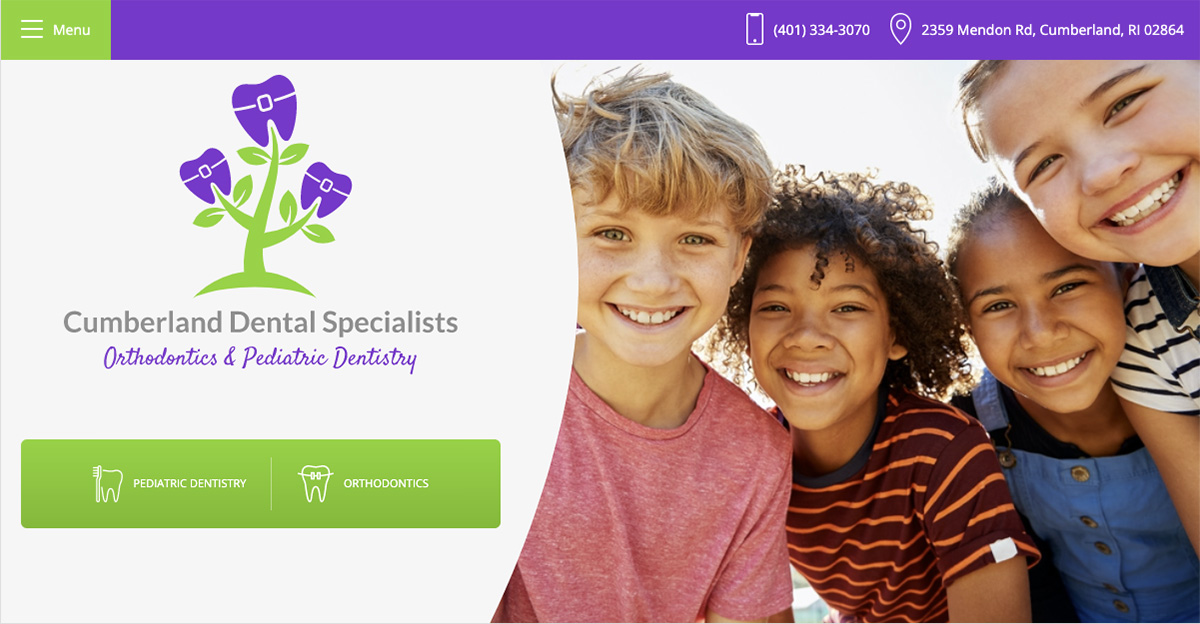 Cumberland Dental Specialists, a practice serving Cumberland, Providence, and surrounding areas with advanced options for pediatric dentistry and orthodontics, is opening the virtual doors on a comprehensive new website designed to provide a detailed educational resource for a range of treatments available for both children and adults.
Cumberland, RI – Originally founded by Dr. William Chan in the 1980s, Cumberland Dental Specialists is a practice that offers a comprehensive focus on dental care for children, as well as orthodontics. Today, the practice is announcing the launch of a brand-new website that can serve as a prominent resource for individuals looking for advanced treatments designed to help their child maintain excellent oral health and proper teeth and bite alignment. The Cumberland Pediatric Dentists and board-certified orthodontist who head the professional team of treatment providers at Cumberland Dental Specialists offer an extensive selection of dental care options for children, including those with special healthcare needs, as well as orthodontic treatments and advanced dental therapies for children. With this new and improved website, the doctors hope to provide a detailed educational resource on available treatments and the conditions they can address, along with a thorough virtual look inside the practice.
Developed with a responsive design foundation that enables it to be viewed and easily navigated across all major digital platforms, the new website can be accessed in its full form on desktop computers, laptops, tablets, and smartphones. The design's warm and inviting colors surround page after page of helpful information covering treatments focusing on dentistry for kids and special needs pediatric dentistry, as well as details on popular procedures such as Invisalign®, TMJ Disorder therapy, braces, and more. The new website also includes introductory biographies of the dental team, information on how to prepare for a child's first visit and the many amenities offered by the practice to help make visits less stressful and more fun for children, and a "Smile Gallery" with images depicting the many smile transformations experienced by patients at Cumberland Dental Specialists.
Collaborating with Rosemont Media, a dental website design firm based in San Diego, California, the team at Cumberland Dental Specialists ultimately wanted to create a new website that gave viewers a comprehensive resource of information while providing an easily readable, even pleasant viewing experience. With detailed descriptions of what patients and their families can expect at a practice devoted to providing safe, compassionate, and high-quality dental care and orthodontic treatment, the doctors hope viewers will receive a comprehensive overview of their practice along with answers to some of their questions about the many treatment options available.
About Cumberland Dental Specialists
Cumberland Dental Specialists is comprised of a team of extensively trained pediatric dentists and a board-certified orthodontist who have made children's dental care the primary focus of the practice. Founder Emeritus Dr. William Chan opened the practice's doors more than 40 years ago, and the office – previously known as William B. Chan & Associates – has been a mainstay of the Cumberland and Providence, Rhode Island area ever since. While Cumberland Dental Specialists offers an extensive selection of dental and orthodontic options for children, the practice also provides services for adults considering orthodontic treatments or therapies designed to reduce symptoms of TMJ Disorder. Doctors at the practice are available for interview upon request.
For more information about Cumberland Dental Specialists, visit chandentalri.com or facebook.com/cumberlanddentalspecialists.
Contact:
Cumberland Dental Specialists
2359 Mendon Rd
Cumberland, RI 02864
(401) 334-3070
Rosemont Media
(800) 491-8623
www.rosemontmedia.com