New England Dental Group Launches Sophisticated New Practice Website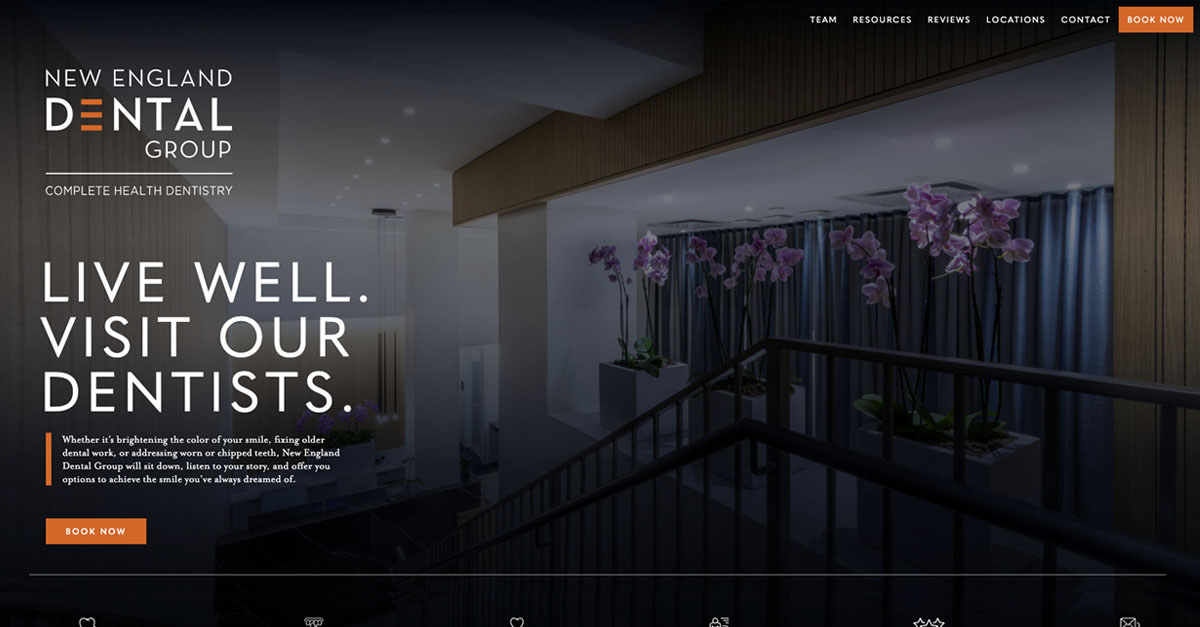 The dentists at New England Dental Group have announced an upgrade to their practice website, which highlights their new office locations in Boston and Chelmsford.
Boston, MA — Offering comprehensive dental solutions to the greater Boston area, New England Dental Group has become known for providing high-quality, compassionate care. To reflect their commitment to excellence, the Boston dentists recently upgraded their practice website with a new, high-end design. The updated look features many new design elements, as well as additional details that feature the practice's nine offices, including their newest locations in Back Bay Boston and Chelmsford.
Among the most noteworthy changes to the NEDG website are a new color scheme, an attractive and interactive layout, and highly customized pages highlighting their offices. Visitors to the site can find a sophisticated layout set in a pronounced deep navy blue with white and orange accents. A star of the home page is the scrollable section that details the different locations in Back Bay, Boston, Chelmsford, Londonderry, Marlborough, Southborough, Wilmington, Windham, and Worcester. Each location "card" directs the user to a corresponding location page that provides more details, such as office hours, directions, and photos.
In addition to its modern design, the NEDG site was equipped with original content to educate readers, search engine optimization (SEO) for enhanced online visibility, and a responsive website format that allows for the pages to be viewed with ease despite the device being used. The Boston dental team collaborated with San Diego-based marketing firm Rosemont Media for the creation of their website. Together, they were able to develop a new look that NEDG felt accurately portrayed their commitment to state-of-the-art care.
About New England Dental Group
Led by cosmetic dentist Margarita Panajoti, DMD, the team at New England Dental Group offers the full breadth of general, cosmetic, and implant dentistry. With several locations throughout Massachusetts and New Hampshire, the highly rated practice offers a wide range of dental solutions ranging from porcelain veneers and Invisalign® to dental implants and TMJ treatment. The team is available for interview upon request.
For more information about New England Dental Group, visit newenglanddentalgroup.com and facebook.com/NewEnglandDentalGroup.
Contact:
New England Dental Group
Back Bay Boston Office:
811 Boylston St, Suite 3rd Floor
Boston, MA 02116
(617) 675-4538
Chelmsford Office:
290 Littleton Rd
Chelmsford, MA 01824
(978) 256-3261
Downtown Boston Office:
1 Milk Street
Boston, MA 02109
(617) 657-2911
Londonderry Office:
25 Buttrick Rd bldg A, Suite 2
Londonderry, NH 03053
(603) 541-7702
Marlborough Office:
661C Boston Post Road East
Marlborough, MA 01752
(508) 282-3202
Southborough Office:
257 Turnpike Road, Suite 330
Southborough, MA 01772
(508) 202-7991
Wilmington Office:
206 Ballardvale Street
Wilmington, MA 01887
(978) 449-4249
Windham Office:
1 Delahunty Drive, Unit 2
Windham, NH 03087
(603) 617-4106
Worcester Office:
456 Park Avenue
Worcester, MA 01610
(508) 744-6200
Rosemont Media
(800) 491-8623
www.rosemontmedia.com