San Diego Dentist Launches Top-Notch Dental Website to Shed Light on Cosmetic and Restorative Treatments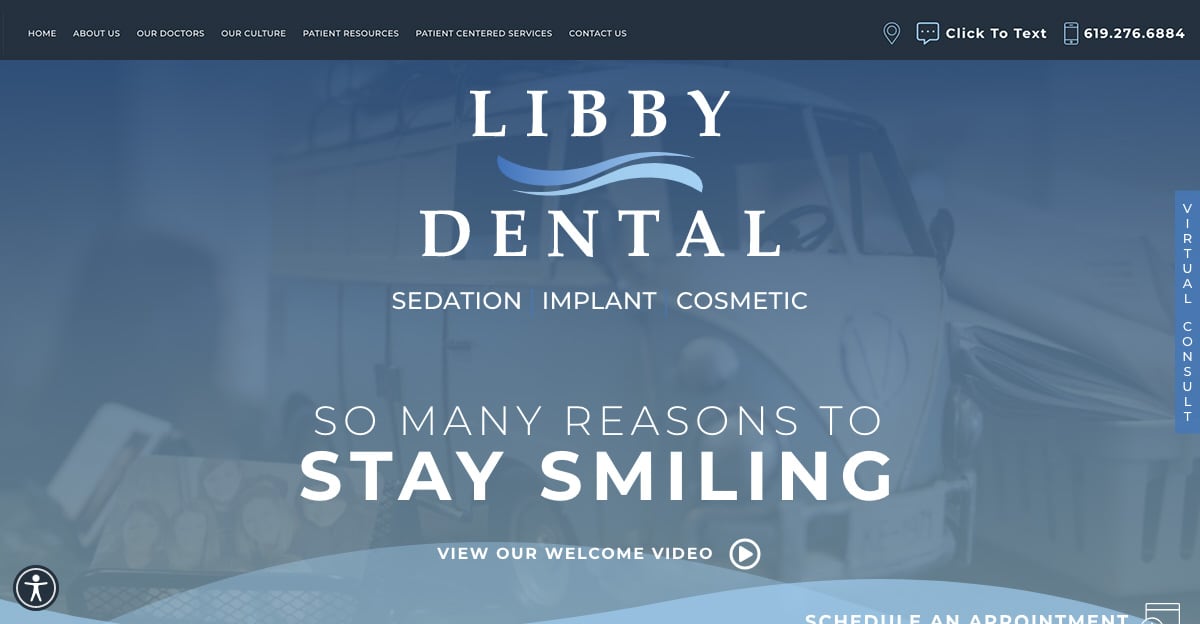 Mission Valley cosmetic dentist Landon Libby, DDS reveals a brand new responsive website design to illustrate the many state-of-the-art dental treatments available at Libby Dental.
San Diego, CA — At Libby Dental, individuals in San Diego have a "one-stop" shop to address all of their dental needs — from routine evaluations and cleanings to more advanced forms of care. Based in the Mission Valley neighborhood of San Diego, Libby Dental offers cosmetic and reconstructive services in addition to oral surgery, periodontal (gum disease) treatment, and sedation-based techniques to alleviate patient anxiety. Dr. Landon Libby, a highly experienced cosmetic dentist, recently collaborated with San Diego-based healthcare marketing company Rosemont Media, LLC to build a fully responsive dental website design detailing everything current and future patients need to know about the range of treatments capable of enhancing their smile.
As a firm believer in patient education, Dr. Libby sought to create an online resource to keep San Diego patients well-informed about today's most popular dental techniques, such as the cosmetic transformation possible with porcelain veneers, the life-changing ways in which dental implants can replace missing teeth, or sedation dentistry's ability to reduce anxiety in the treatment chair. True to form, Libby Dental's site design offers a sleek, functional, and user-friendly preview into the all-encompassing care patients can expect when they visit Libby Dental. The new website is also replete with an extensive before-and-after gallery, answers to frequently asked questions, and need-to-know information on candidacy, treatment, cost, results, and more.
Dr. Libby is excited to offer San Diego patients an in-depth look into their treatments-of-interest without ever having to leave their home. Equipped with location-based content marketing and SEO strategies, Libby Dental's new online presence is sure to be easily found by any San Diego patient in need of dental work.
About Landon Libby, DDS
Dr. Landon Libby is a San Diego-based cosmetic dentist who performs the full range of cosmetic, reconstructive, and family dental treatments. Dr. Libby abides by a "patient first" approach and strives to build lasting relationships with those who visit Libby Dental for their dental needs. In addition to his role as lead clinician at Libby Dental, Dr. Libby is also an active board member of the World Health Dental Organization and additionally belongs to the American Academy of Cosmetic Dentistry (AACD), the Academy of Osseointegration, and the Crown Council, among other professional memberships. He is also certified to perform sedation dentistry by DOCS Education. Dr. Libby is available for interview upon request.
Contact:
Libby Dental
2333 Camino del Rio S, Suite #310
San Diego, CA 92108
Rosemont Media
(800) 491-8623
www.rosemontmedia.com