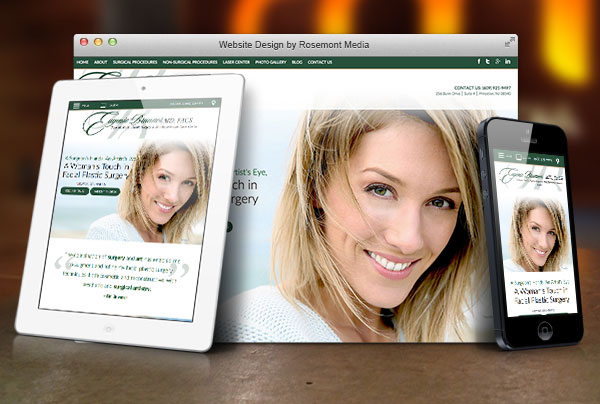 Project Details:
Launch Date:
December 2014
Page Count:
51
Services Overview:
Custom Responsive Design, SEO, CMS, Custom Content, Photo Upload Gallery, and Blog
Compatibility:
Desktop, Tablet, Mobile
Visit Website:
Categories:
Providing the best possible patient experience is one of the highest priorities for New Jersey facial plastic surgeon Eugenie Brunner, MD, FACS. An advocate of combining advanced technology with an artistic, feminine approach, she recently partnered with Rosemont Media to develop a customized, state-of-the-art responsive website design for her practice. With the assistance of our writers, developers, and designers, her new site provides visitors comprehensive content on a wide variety of popular cosmetic procedures, including surgical, non-surgical, and laser treatments, as well as practice information. The easily navigable layout and aesthetically appealing design elements further ensure a smooth and enjoyable browsing experience.
Staying abreast of the latest technological innovations, Dr. Brunner had her website updated to include an adaptable format designed to automatically adjust to fit the screen of any Internet-compatible device. As patients are more frequently utilizing mobile technology to research practice and procedural information, this user-friendly feature allows individuals to visit the site from smartphones, tablets, and laptops without the need to pan and zoom to view the entire page. Additionally, she had two leading design elements implemented on the homepage: parallax scrolling and a fixed image background. These visual enhancements serve to distinguish her site from traditional models that have static attributes.
With the aid of the latest medical SEO strategies, Dr. Brunner's website is poised to rank highly on Google, Bing, Yahoo, and other leading search engines, which helps to increase the practice's visibility in its online marketplace. As a result, she hopes patients will become better informed about popular cosmetic procedures.
To see an example of a customized plastic surgery website designed by Rosemont Media, please visit brunnermd.com.