Cleveland Dentist Announces Launch of New Practice Website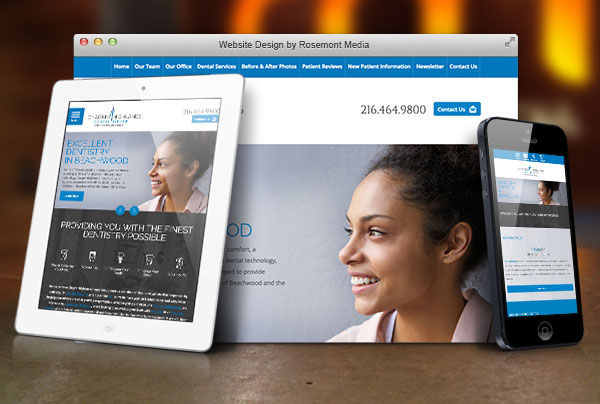 Douglas Desatnik, DDS discusses the advanced design elements built into his new dentistry website, including the unique site navigation as well as its responsive capabilities.
Beachwood, OH — Dr. Douglas Desatnik, a dentist in Cleveland, is pleased to announce that the new website for Chagrin Highlands Dental Group has recently gone live! The comprehensive website includes details about the practice, treatments offered, and more in an easy-to-use format that adjusts with the user's Internet device. Dr. Desatnik is proud to reveal the new design and hopes people will utilize the site as a resource for dental information.
As visitors navigate through the website, they will find the pages organized in a drop-down menu that is fixed at the top of the screen. Under the "Dental Services" section, they can find procedures grouped into five different categories:
Check and Maintain Your Health
Fix Your Teeth
Replace Your Teeth
Enhance Your Smile
Stop the Pain
Each section covers the relevant treatment options, such as porcelain veneers and orthodontics under "Enhance Your Smile." Through this system, Dr. Desatnik hopes patients will know exactly where to click based on what they are hoping to achieve in their visit. After all, the website was specifically designed as a resource for patients.
In addition to the unique layout, visitors of the Chagrin Highlands Dental Group website can benefit from its responsive formatting. This means that whether someone accesses the site through their laptop, tablet, or smartphone, the pages will automatically resize to the appropriate dimensions for a more user-friendly viewing experience.
For the creation of his new practice website, Dr. Desatnik worked closely with dental website design firm Rosemont Media. Through this collaboration, he was able to fully customize the website to portray the professional yet caring nature he offers at his practice. Overall, he hopes the new website will act as a valuable resource for those seeking information about how they can achieve optimal oral health and aesthetics.
About Douglas Desatnik, DDS
Dr. Desatnik earned his dental degree from the Ohio State University College of Dentistry, where he graduated Cum Laude. While at the university, he trained in a periodontal mini-residency and assisted in the development of a limited care dental clinic. A firm believer in continuing education, Dr. Desatnik has undergone advanced training in additional areas, including dental implants, cosmetic dentistry, periodontal surgery, and adult orthodontics. He is a member of several professional organizations, including the American Dental Association, the Academy of General Dentistry, and the Ohio Dental Association. Dr. Desatnik is available for interview upon request.
To learn more about Chagrin Highlands Dental Group, visit chagrinhighlandsdentalgroup.com and facebook.com/ChagrinHighlandsDentalGroup.