Dentist in Millburn, New Jersey Opens the Virtual Doors on Comprehensive New Website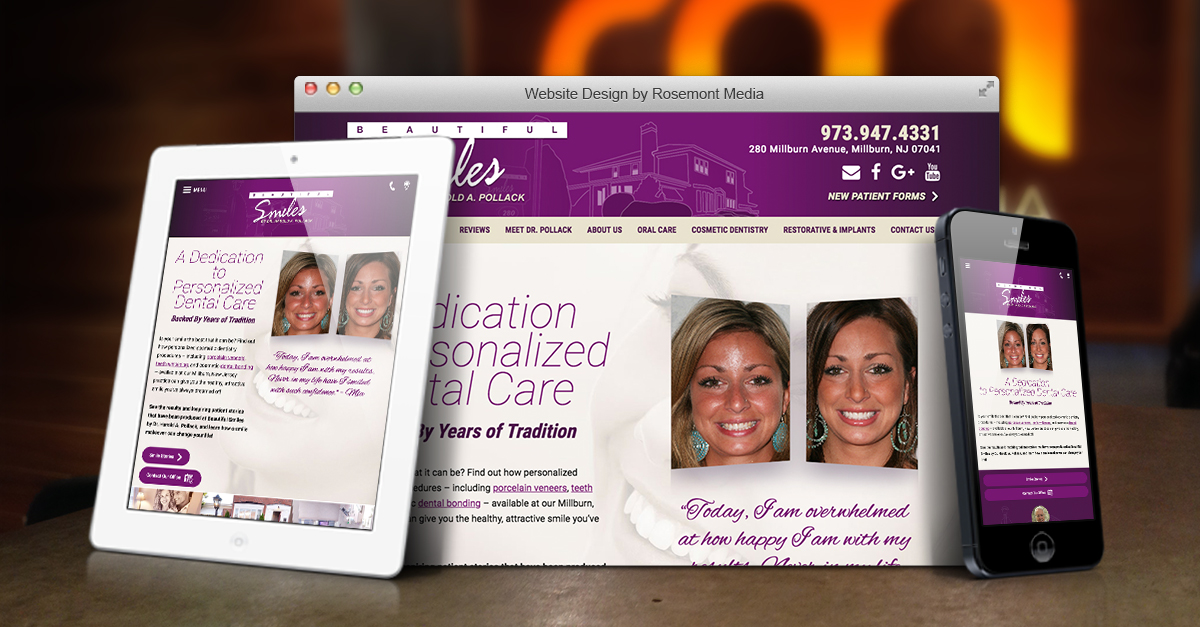 Dr. Harold A. Pollack is pulling back the curtain on a new website designed to serve as a thorough educational resource for individuals looking for restorative, cosmetic, and family dental care options.
Millburn, NJ – According to Dr. Harold A. Pollack and the dental team at Beautiful Smiles, sometimes even websites need a Smile Makeover. The New Jersey cosmetic dentist recently gave his website a significant upgrade, building upon the strengths of the old site and outfitting the new one with a number of technological enhancements to provide viewers with comprehensive information and a clear look inside the practice.
Dr. Pollack's new site is designed with the goal of giving readers a thorough educational resource while making the experience as easy and pleasant as possible. Built on a technological foundation known as responsive website design, the site can be viewed in full on laptops, smartphones, tablets, and desktop computers without sacrificing depth of content or ease-of-use for the viewer. In addition to helpful videos and animations describing procedures and introducing the dental team, the site features detailed information on treatments such as porcelain veneers, dental implants, routine and preventive care, and many other options available at the practice. Plus, the new website showcases an array of "Smile Stories" from many of the practice's patients, complete with before-and-after photos and video testimonials.
Developed in collaboration with Rosemont Media, a San Diego-based dental website design firm, the new site for Beautiful Smiles by Dr. Harold A. Pollack is designed to reflect the experience, compassion, and commitment to high-quality dental care espoused by Dr. Pollack and his team. Dr. Pollack says he hopes this new virtual window into his practice helps viewers learn about the range of advanced dental treatments that can help them maintain and improve the health of their teeth and the appearance of their smile, while giving them a clear idea of the practice's overall philosophy of care.
About Harold A. Pollack, DDS
Dr. Harold A. Pollack is the head of Beautiful Smiles in Millburn, New Jersey. He is a Charter Member of the New Jersey Chapter of the American Academy of Cosmetic Dentistry, a Fellow of the Academy of General Dentistry, and a member of the American Dental Association, the New Jersey Dental Association, and many other organizations. Dr. Pollack has completed over 5,000 hours of continuing dental education to offer his patients the latest advances in dental treatment. He has been recognized multiple years as one of New Jersey Monthly's Top Dentists, and has been honored with the title of "Favorite Kids' Doc" by New Jersey Family Magazine for eight consecutive years. Dr. Pollack is available for interview upon request.
To learn more about Dr. Harold A. Pollack, please visit beautifulsmilesnj.com or facebook.com/drharoldpollack.
Contact:
Beautiful Smiles by Harold A. Pollack, DDS, PA
280 Millburn Avenue
Millburn, New Jersey 07041
(973) 467-0720
Rosemont Media
(858) 200-0044
www.rosemontmedia.com