Houston Cosmetic Dentist Reveals Custom Website Redesign & Upgrade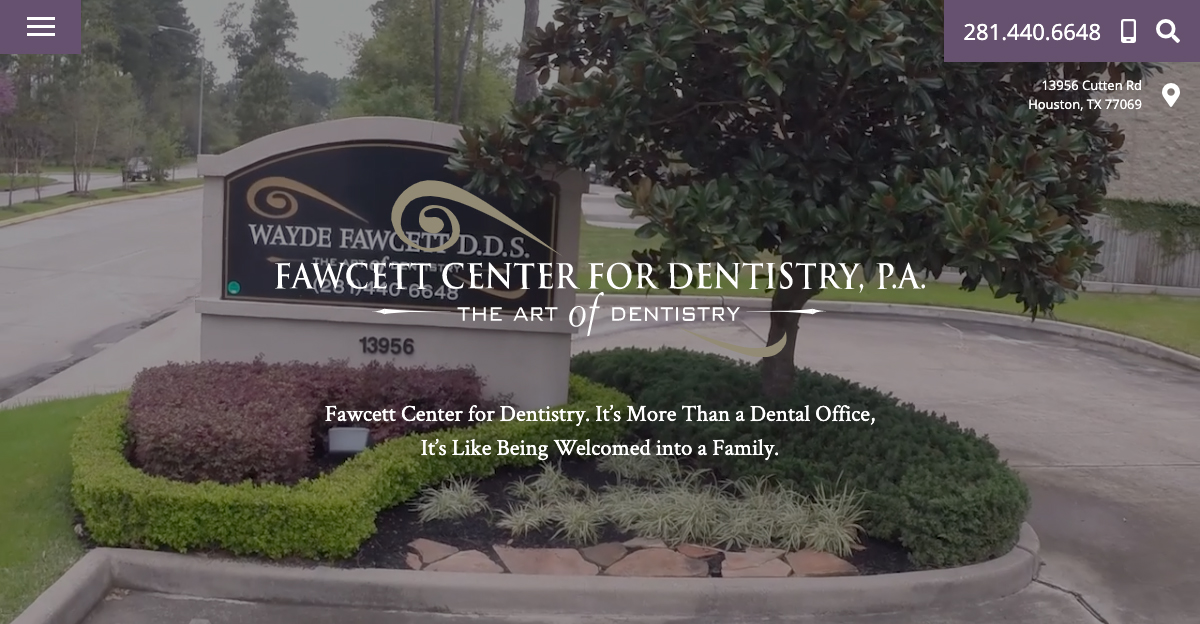 The Fawcett Center for Dentistry, P.A. entrusted the overhaul and modernization of its website and online marketing plan to the experienced team at Rosemont Media.
Houston, TX – Every successful dental practice with an online presence must continuously evaluate whether their website is reaching its maximum potential. Recently, Houston cosmetic dentist Wayde Fawcett, DDS decided it was time for his website to undergo a full redesign and rebuild. A long-time client of Rosemont Media, a San Diego-based website marketing agency for elective healthcare practices, Dr. Fawcett turned to his trusted team of website specialists to develop a comprehensive plan for modernizing the appearance and function of his website while also cultivating an optimal user experience for both internet savvy and novice visitors alike.
Visually, the new website delivers a welcoming inside look at the Fawcett Center for Dentistry, beginning with a high-quality video sequence featured on the homepage. The video highlights key scenes from the practice including the comfortable, luxurious office, state-of-the-art dental operatories, and lush landscaping that surrounds the facility. The homepage also introduces visitors to Dr. Fawcett and the wide array of dental services he provides. The layout is sleek and modern, and incorporates both photos and videos of Dr. Fawcett's actual patients. This creates a dynamic, interactive homepage that reflects the professionalism, quality, and outstanding results the practice is known for. For the benefit of mobile and stationary website visitors, the website has been built with a responsive design which adjusts visually and functionally to fit the screens of various devices (i.e., smartphones, tablets, desktops, and laptops).
In addition to the new design and refreshed imagery, Dr. Fawcett's custom website package also includes intuitive navigation, accessible drop-down menus, custom content, a blog, and a digital before-and-after photo gallery. These features help visitors easily find the information they are looking for, learn about every aspect of dental procedures (from techniques to technology), and see the results of Dr. Fawcett's work for themselves. Finally, advanced search engine optimization (SEO) is paired with clean coding to help the website earn optimal positioning in Google searches. This process is designed to enhance the practice's visibility in local searches for the services Dr. Fawcett provides.
Ultimately, Dr. Fawcett is very pleased with the final outcome of his new website. He hopes that it will provide current and prospective patients with an outstanding resource and a powerful virtual connection to his practice.
About Dr. Wayde Fawcett
Dr. Wayde Fawcett has more than 30 years of experience performing general, cosmetic, restorative, and implant dentistry. He is a Houston native and attended the University of Texas at Austin for his undergraduate education. Dr. Fawcett then went on to earn his DDS degree from the University of Texas Dental School in Houston in 1984. Throughout his decades in private practice, Dr. Fawcett has dedicated himself to continuing education and professional distinction. As a result of his commitment to excellence, Dr. Fawcett has been honored to receive the title of Master of the Academy of General Dentistry (MAGD) as well as the Academy of General Dentistry's Lifelong Learning and Service Recognition (LLSR) award. He has also been recognized as a "Top Houston Dentist" by H Texas Magazine every year since 2003. Dr. Fawcett is an active member of several prominent professional associations, including the American Academy of Cosmetic Dentistry, the Academy of General Dentistry, the International Congress of Oral Implantologists, and the American Dental Association. Dr. Fawcett is available for interview upon request.
For more information about Dr. Fawcett and the Fawcett Center for Dentistry, P.A., please visit drfawcett.com and facebook.com/FawcettCenterForDentistry.
Contact:
Fawcett Center for Dentistry, P.A.
13956 Cutten Rd
Houston, TX 77069
(281) 440-6648
Rosemont Media
(858) 200-0044
www.rosemontmedia.com