Houston Dentists Reveal Updated Website Design for Practice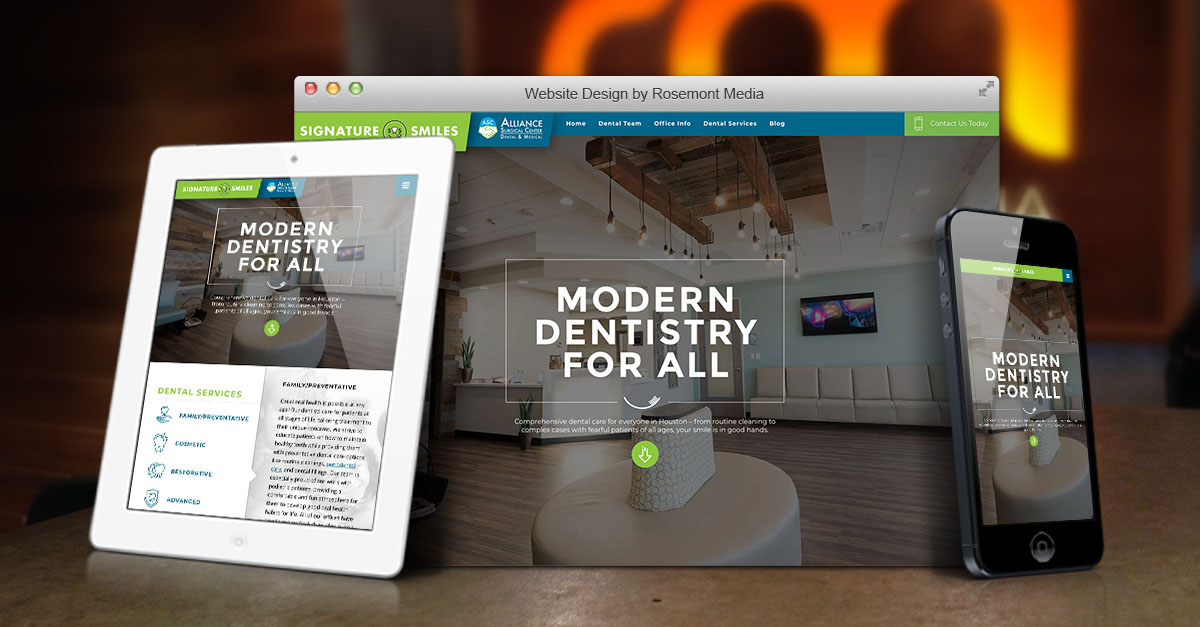 The dental team at Signature Smiles has revamped the look of its website, providing patients with an enhanced online resource.
Houston, TX — Dedicated to providing exceptional patient care, the dentists at Signature Smiles have launched an updated website to better inform current and prospective patients. The team of Houston dentists are thrilled to present the bright, organized new layout as a more user-friendly resource as individuals conduct research related to their dental health.
Whether a user is seeking details about cosmetic treatments, pediatric dentistry, restorative solutions, sedation options, or another area of care, the experience dental team at Signature Smiles is thrilled to offer comprehensive information in a more straightforward and modern layout. As part of the site renovation, the following features were created:
A responsive website design that makes it possible for visitors to access the site via smartphone, tablet, or personal computer with the layout automatically readjusting to the device in use.
An easy-to-navigate menu at the top of the site that expands as users seek out valuable information regarding the practice and its available procedures.
Custom-written content on pages throughout the site that focuses on Signature Smiles, the procedures they offer, the amenities available, and their contact information.
A dual language feature that allows visitors to toggle between English and Spanish writing, making it easier for people to understand the content based on the language they prefer.
Up-to-date dental SEO (search engine optimization) practices proven to enhance the practice's presence in search engines, such as Google.
A blog that is regularly updated with practice news and industry information, helping educate readers about topics in dentistry.
Signature Smiles collaborated with San Diego-based marketing and design firm Rosemont Media for the creation of their new website. The design team worked closely with the staff at Signature Smiles to execute their vision of a clean, bright, and modernized website. Signature Smiles looks forward to continuing their commitment to high-quality patient care by offering the refreshed site as an updated resource.
About Signature Smiles
Signature Smiles is an experienced dental practice offering a comprehensive selection of procedures, including cosmetic, family, restorative, orthodontic, and advanced dental solutions. The team is composed of Founder and Majority Owner Dr. Terry Lee, President and CEO Holly Palmer, as well as Drs. Kevin Yeh, Andrew Goldsmith, Dave Cho, Brian Stanworth, Mandy Wilkinson, Gary Gardner, and Derek Liang. They are committed to providing high-quality dental care in a state-of-the-art environment, helping patients of all ages obtain a beautiful, healthy smile. The team is available for interview upon request.
For more information about Signature Smiles, visit mysignaturesmiles.com or facebook.com/MySignatureSmiles.
Contact:
Signature Smiles
Heights/Garden Oaks Office:
3800 N Shepherd Dr.
Suite 3A
Houston, TX 77018
(713) 802-0011
Humble/Atascocita Office:
14315 E Sam Houston Pkwy N
Suite 100
Houston, TX 77044
(346) 410-5341
The Woodlands/Conroe
2400 FM 1488
Suite 200
Conroe, TX 77384
(936) 224-7007
Rosemont Media
858-200-0044
www.rosemontmedia.com