Leading London Cosmetic Dentist Launches Elite, New Website with State-of-the-Art Design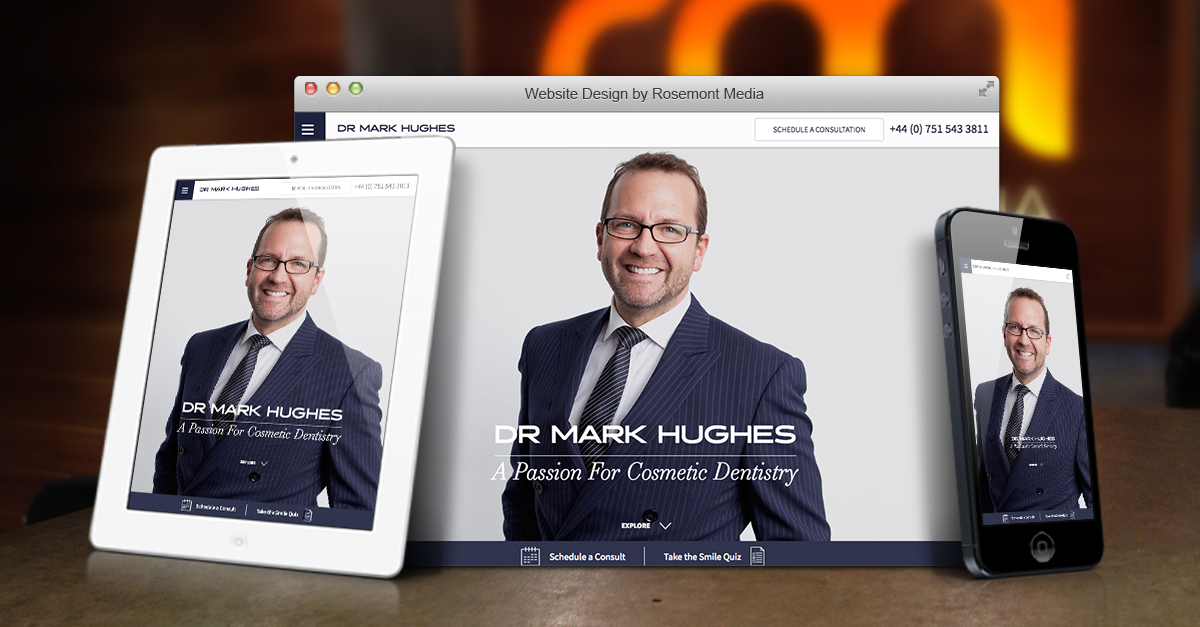 Dr Mark Hughes, a prominent cosmetic dentist based in London provides an extensive look into some of the most popular cosmetic dentistry treatments today via a custom-designed, fully responsive website.
London, UK— Dr Mark Hughes is an internationally trained cosmetic dentist who has provided high-quality cosmetic and restorative dentistry services to the London community for over 25 years. Seeking a modern, user-friendly, and informational web resource that his patients could utilize before, during, and after treatment, Dr Hughes recently collaborated with San Diego-based digital marketing company Rosemont Media, LLC to build a cutting-edge website showcasing his range of expertise.
Equipped with a fully responsive website design readily accessible on all devices, the new site acts as a cursory introduction into Dr Hughes' body of work, as well as an all-encompassing guide for London patients searching for first-rate dental treatment to improve their smile and oral health. With an in-depth walkthrough of the smile transformation process featured on the website's custom-written procedure pages, individuals seeking any degree of enhancement—from sophisticated porcelain veneers treatment to complex restorative dentistry—can quickly learn exactly what to expect from their consultation onward.
Many useful features on Dr Hughes' website—including his use of actual patient photos rather than models—are designed to help users gain insight into what can be achieved with a given treatment or procedure, acting as dynamic extensions of his patient-centred philosophy of practice. Video testimonials by previous patients elucidate details of the treatment process, while interactive before-and-after photo sliders easily portray the various aesthetic outcomes yielded by a given procedure. Furthermore, a state-of-the-art online smile simulation tool can even help patients visualise how their potential results may enhance their entire facial appearance.
The new site also allows Dr Hughes to upgrade his web presence by utilizing the latest best practices in search engine optimization (SEO) and content marketing strategies. These measures increase the likelihood that Dr Hughes' services are being seen by the individuals who are seeking them out, and work to expand his visibility to his growing patient-base. Dr Hughes launches the site in hopes that patients in London and surrounding areas who are seeking top-of-the-line dental treatment can find all the information they need to know within one easily navigable and convenient location.
About Dr Mark Hughes
Dr Mark Hughes is a leading cosmetic dentist in the UK who has spent much of his career as the founder and lead clinician at one of London's most well-known dentistry practices. Globally trained at the Pankey Institute in Florida as well as Trinity College in Dublin, he has been practicing aesthetic dentistry in London for over two decades. Dr Hughes frequently pursues ongoing education courses to keep abreast of the latest developments in cosmetic dentistry, accruing over 3,000 hours of postgraduate training to further refine his techniques. He is a member of the American Academy of Cosmetic Dentistry (AACD), the British Academy of Cosmetic Dentistry (BACD), and the British Dental Association. At his London practice, Dr Hughes is well-versed in all aspects of cosmetic and restorative dentistry. Dr Hughes is available for interview upon request.
To learn more, please visit www.drmarkhughes.co.uk, https://www.facebook.com/drmarkhughes.w1, or https://www.instagram.com/drmarkhughes.
Contact:
Dr Mark Hughes
+44 (0) 751 543 3811
Rosemont Media
(858) 200-0044
www.rosemontmedia.com