Rosemont Media Attending American Academy of Implant Dentistry (AAID) Annual Conference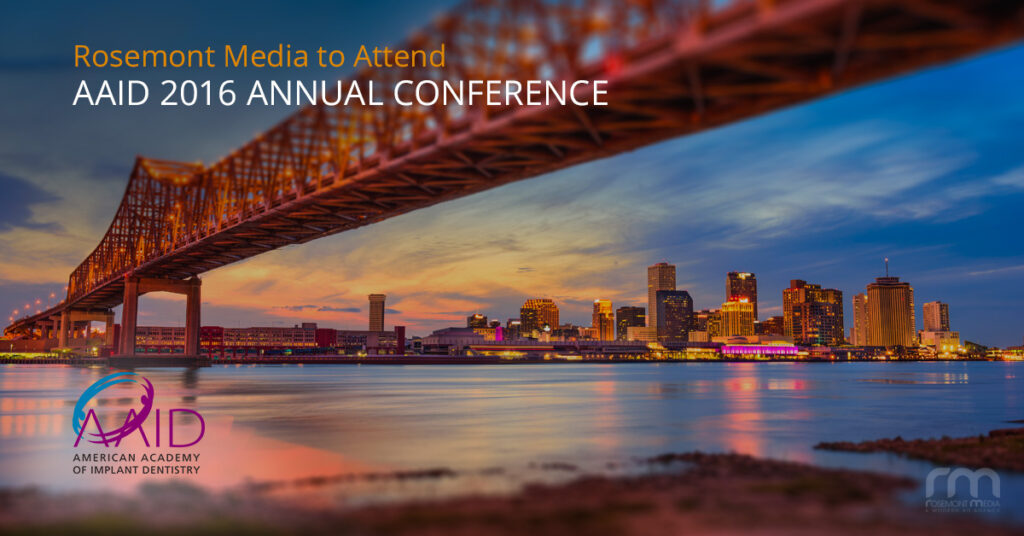 We are very proud to announce that Rosemont Media will be making its first appearance at the prestigious annual meeting of the American Academy of Implant Dentistry! Chris Brown, the Director of our Dental Consulting Department, and Josh McCullough, our Business Development Specialist, will be heading to New Orleans for the AAID symposium on October 26th-29th. Our team attends numerous dental and plastic surgery conferences each year to stay abreast of the latest trends and technologies and to offer our insights into the ways in which practices can avail themselves of dental website design, content marketing, and social media techniques that can help them stand out in a crowded field.
This year's AAID conference will gather more than 1,000 implant dentistry professionals and others with interests in the dental field to learn about new advances in dental implants, digital dentistry, and treatment techniques, as well as practice promotion and effective ways of reaching out to individuals who need restorative dental care. In addition to the exhibiting floor, there will be a number of workshops, presentations, and educational opportunities for attendees.
The AAID annual meeting allows the team at Rosemont Media to establish new relationships with some of the top implant dentists in the world, and reconnect with doctors who have already chosen us for their digital dental marketing needs. We are excited to meet the many implant dentistry professionals who continue to advance the field of restorative dentistry with new ideas, new treatments, and better opportunities for patients across the globe.
The conference is being held at the Hyatt Regency New Orleans. Chris and Josh will be available to provide marketing evaluations and demonstrations of our products and services at Booth #1204 from Wednesday, October 26th through Saturday, October 29th, 2016. Please feel free to stop by to have your questions answered or simply to say hello!
For more information on our trip to the AAID annual meeting, or if you would like to learn more about our dental marketing options, please contact Rosemont Media today.