Rosemont Media CEO Keith Humes to Host AACD Webinar: "Reopening Your Dental Practice – Are You Prepared?"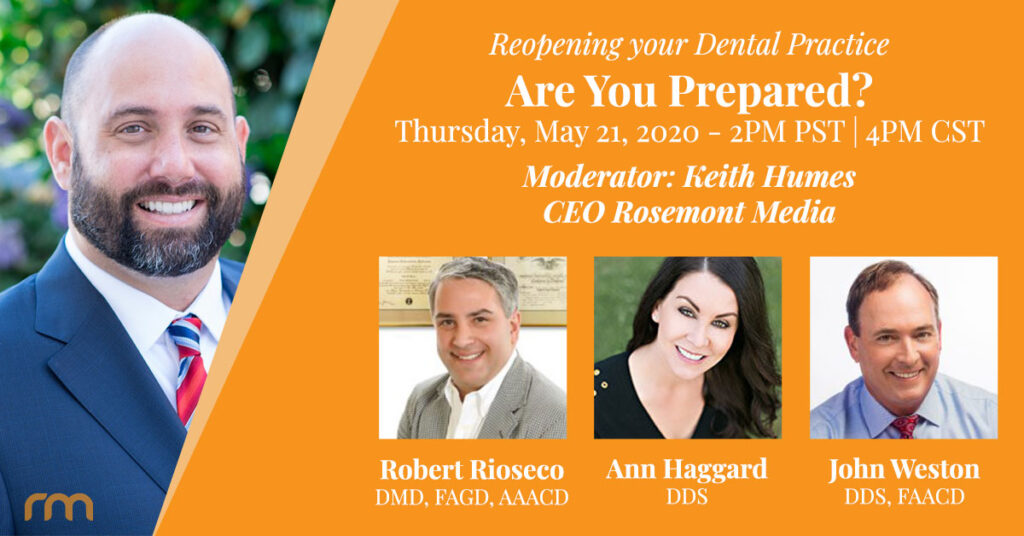 On Thursday, May 21st, 2020 at 2pm PDT, 3pm MDT, 4pm CST and 5pm EDT, Rosemont Media CEO Keith Humes will be hosting a webinar in partnership with the American Academy of Cosmetic Dentistry (AACD). This webinar will feature a Q&A style format with some of the top dentists in the country, as they share how they are making necessary adjustments to reopen while addressing health concerns related to the COVID-19 pandemic.
Click here to register for "Reopening Your Dental Practice – Are You Prepared?"
Panelists will be sharing the protocols and modifications they have incorporated at their practices to ensure the safety of their patients and staff as they either resume business or prepare to reopen. Each of these respected AACD dentists represents a different part of the United States, and can share insight regarding how they have approached the unique challenges presented by their communities:
Robert Rioseco, DMD, FAGD, AAACD – West Harrison, NY – Westchester County
Ann Haggard, DDS – Webster, TX – Houston Metro
John Weston, DDS, FAACD – La Jolla, CA – San Diego Metro
In addition to learning about these obstacles and how to overcome them, webinar attendees can expect to gain valuable information about how dental practices can reopen with confidence, effectively communicate information about new safety measures to patients, and implement marketing strategies designed to attract and retain patients as we move forward. There will also be an opportunity for attendees to ask questions and get more specific details from the panelists and/or moderator. Register today to reserve your spot!