San Diego Dental Practice Reveals Responsive Upgrade to Practice Website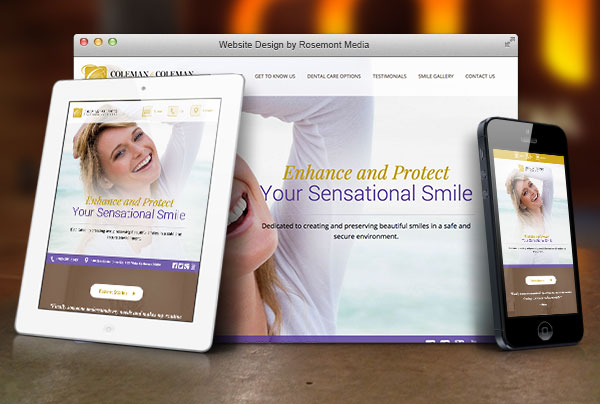 Coleman & Coleman Advanced Dentistry debuts an upgraded practice website with responsive capabilities, enhancing the user experience on mobile devices and improving access to dental information.
San Diego, CA— Providing exceptional service is paramount for the dentists at Coleman & Coleman Advanced Dentistry, reveal founders Dr. John Coleman and his son Dr. John Coleman, III. In an effort to enhance the patient experience online, the San Diego dental practice recently collaborated with dental website design firm Rosemont Media to upgrade its site to include an abundance of advanced features. One of the chief enhancements, the dentists explain, is the innovative adaptable format, which allows users to have greater access to the dental information they are seeking most.
As a responsive dental website, the design elements will now automatically adjust to suit the screen dimensions of smartphones, laptops, tablets, and other Internet-friendly mobile devices. Additionally, the site features an attractive layout, optimized original content, and customized landing pages, which are intended to provide an informative resource and an enjoyable browsing experience, Drs. Coleman and Coleman reveal. Whether researching Invisalign®, teeth whitening, dental implants, or other popular treatments, individuals can access a comprehensive selection of dental material and helpful practice information from home or on the go.
To ensure current and prospective patients can find the dental information they are seeking quickly and easily, Rosemont Media has enhanced the website with the latest dental SEO strategies to help the practice maintain a competitive edge within its online marketplace. Drs. Coleman and Coleman believe these upgrades can help to deliver the exceptional care and superior service that is the foundation of their philosophy.
About Coleman & Coleman Advanced Dentistry
Led by Dr. John Coleman and Dr. John Coleman, III, a father and son team, Coleman & Coleman Advanced Dentistry has been serving the Oceanside, Carlsbad, and San Diego County area since 1982. The dentists, hygienists, and patient coordinators that make up the practice prioritize safety, health, and comfort in every treatment. The extensively trained staff offers a comprehensive range of cosmetic, restorative, and general dentistry procedures, emphasizing exceptional patient care and utilizing the most advanced technology available.
For more information Drs. Coleman and Coleman and their practice, please visit sandiegocosmeticdental.com.