Scottsdale Dentists Upgrade to Responsive Website Design to Embrace Digital Age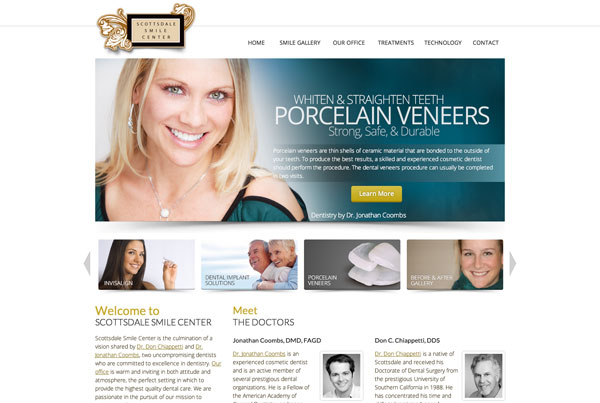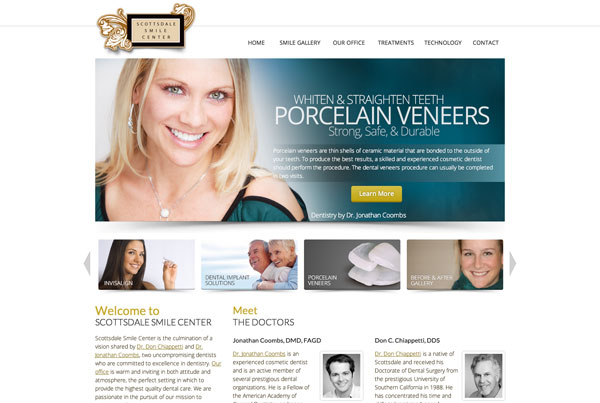 Dr. Jonathan Coombs and Dr. Don Chiappetti have redesigned their dental website to reach a broader range of patients and enhance user experience on a multiple devices.
Scottsdale, AZ — In response to the growing number of patients who use the Internet to research dental information, Dr. Jonathan Coombs and Dr. Don Chiappetti of Scottsdale Smile Center recently teamed with Rosemont Media to upgrade their cosmetic dentistry site to a responsive website design. Through the implementation of this innovative design element, the site now automatically adjusts to fit the screen size of any device from which it is being accessed – be it a desktop computer, laptop, tablet, or smartphone.
Along with the responsive design, Rosemont Media equipped the Scottsdale dentists' site with a number of features intended to capture the aesthetics and ambiance of the practice while also facilitating online research and patient education. Some other key elements of the website include:
Picture-coded navigational tabs providing easy-access to pages within the site
Comprehensive treatment pages ranging from porcelain veneers to dental implants
Before-and-after smile galleries highlighting patient results
Detailed technology pages spanning from CEREC® to digital X-rays
Media buttons linking to the practice's Facebook page and YouTube channel
The website also provides access to biography pages for the dentists, testimonials authored by current and former patients, patient reviews regarding care received, and a variety of frequently asked – and answered – dental questions. Furthermore, the practice blog was enhanced to enable Drs. Coombs and Chiappetti to relay important news about their practice, as well as keep their patients updated on the latest advancements in the world of cosmetic dentistry.
Behind the scenes, the website boasts the latest SEO and SMO strategies intended to help the Scottsdale dentists rank competitively for highly-targeted keywords on search engine giants like Google, Bing, and Yahoo!. Ultimately, the collaborative effort of Dr. Coombs, Dr. Chiappetti, and the team at Rosemont Media resulted in a state-of-the-art website that successfully parallels the vision of quality and excellence embraced at Scottsdale Smile Center.
About Jonathan Coombs, DMD, FAGD
Dr. Coombs earned his dental degree from the University of Louisville and currently maintains "Fellowship" status with the Academy of General Dentistry – an honor attained by only 3% of dentists. He is also an active member of several prestigious dental organizations including the American Academy of Cosmetic Dentistry, the American Academy of Implant Dentistry, and the American Dental Association, among others. Dr. Coombs is available for interview upon request.
About Don Chiappetti, DDS
A graduate of the University of Arizona, Dr. Chiappetti earned his Doctorate of Dental Surgery from the University of Southern California. He is currently an active member of a number of prestigious dental organizations including the Academy of General Dentistry, the American Dental Association, and the Central Arizona Dental Society. Dr. Chiappetti is available for interview upon request.
For more information about Dr. Coombs, Dr. Chiappetti, and Scottsdale Smile Center, visit scottsdalesmile.com and facebook.com/ScottsdaleSmileCenter.