Toronto Dentist Launches New Responsive Website as a Virtual Window into Her Practice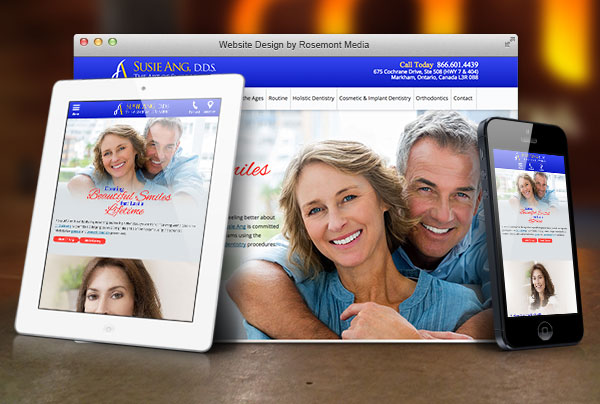 Dr. Susie Ang is releasing a new website designed to help visitors find comprehensive information on dental treatment options as easily as possible, whether they are searching on a home computer or a mobile device.
Markham, Ontario – Dr. Susie Ang, a dentist in Markham and the Greater Toronto area, is announcing the launch of a new website for her office that is designed to provide a thorough and easy-to-use resource for individuals searching for information on dental treatment. The website has been created with a responsive design, allowing it to conform to virtually any digital platform (desktop computer, laptop, or mobile device) without sacrificing content or readability. Dr. Ang says the website provides a brand new view into her practice and gives visitors access to a variety of information on treatments and procedures that can help them achieve their goals.
Dr. Ang's responsive dental website offers current and prospective patients an advanced educational tool to help them become familiar with general, restorative, and cosmetic dentistry options available at her practice. She says the website also introduces viewers to her holistic approach to dentistry, a philosophy that takes the patient's overall wellness into account and fosters a commitment to "green" technologies and an environment-friendly dental office.
The website offers a detailed biography of Dr. Ang, as well as a before-and-after photo gallery and descriptions of procedures such as:
Teeth Whitening
Tooth-Colored Fillings
Orthodontics for Children and Adults
Routine Dental Care
Dr. Ang's new website is a collaborative effort between her practice and Rosemont Media, a dental marketing company based in San Diego, California. With the streamlined design and the site's ability to be viewed easily across a range of screens, both large and small, Dr. Ang and her dental team say they hope to provide people with comprehensive information while giving them an easy and educational online experience.
About Susie Ang, DDS
Dr. Susie Ang is a member of the Academy of General Dentistry, The Toronto Academy of Cosmetic Dentistry, the American Society for Dental Aesthetics (Fellow), and many other dental organizations. She graduated from the University of Toronto, Faculty of Dentistry, and completed a post-graduate program in Esthetic Dentistry at SUNY Buffalo. Dr. Ang has also completed continuing education courses in a range of dental techniques to stay abreast of the latest advances in dentistry. She offers a number of dental treatment options for patients looking to restore and maintain both the health and appearance of their teeth and gums.
Dr. Ang is available for interview upon request.
For more information about Susie Ang DDS, please visit drsusieang.com.