A Must Attend! AACD 2020 Orlando Digital Marketing Panel with Rosemont Media CEO Keith Humes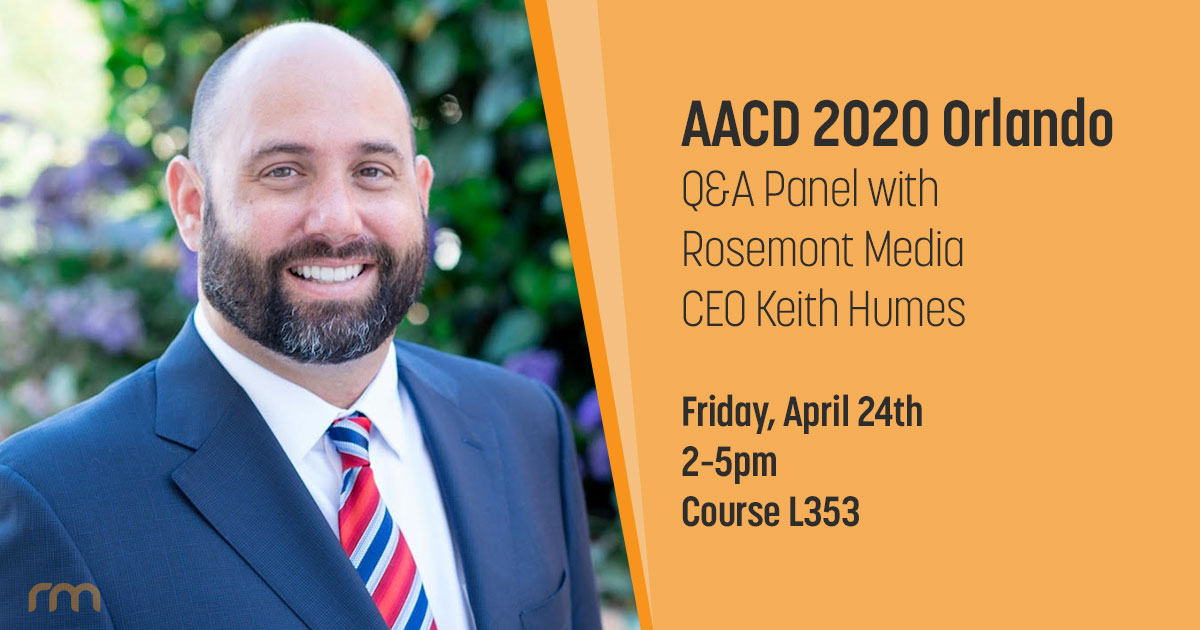 Check out this Q&A session with Keith Humes, CEO of the renowned Digital Marketing Agency Rosemont Media. Get your seat now before it fills up—space is limited: Course L353, Friday, April 24th from 2-5pm. Read more…
What are some takeaways members are going to gain after attending your panel discussion?
My #1 goal is to educate members and arm them with good questions to ask when they are shopping for digital marketing services.
I will show members the tools pros use when evaluating websites and strategies.
I will demystify common web marketing pitfalls through a hands-on Q&A Session.
I will educate attendees on how to turn their website into a long term asset for their practice, rather than an ongoing liability.
What digital marketing strategies should members be paying attention to?
Email marketing is underutilized by most practices. It's still a very cost effective way to get in front of patients, as well as a great way to promote new services and specials. You can also super charge your efforts with paid social media campaigns to increase your ROI.
Paid media placements are very relevant now—and will be into the future. The major key to success in any paid campaign is tracking leads at a higher level and really understanding the patient's journey, including how they are researching the dental services you are providing.
When and why did you start Rosemont Media?
I started Rosemont Media in January of 2008. Having been involved in the business of selling directory listings to healthcare providers for the previous nine years, I noticed a transition in Google; basically, that Google was making it easier for consumers to find what they were looking for from both a treatment and geographical standpoint. Originally, the Internet was never properly geographically indexed for services of any kind, so it was very difficult to find what you were looking for on a local level. However, around 2007 or so, Google changed their algorithm in a way that made local businesses easier to find. Thinking long-term, I realized there was a lot of opportunity for an individual practice with its own website to strategically grow and develop to take advantage of Google's evolution, essentially turning website strategy into an asset for practices rather than simply an expense. And, so, Rosemont Media was created.
How long have you been involved with digital marketing for dental practices?
I started my journey in 1999, and this will be my 22nd consecutive AACD. During that time, I have worked very closely with numerous practices, helping them get the most out of their digital marketing efforts. The only constant in the last 20 years has been change: the internet is always evolving. Once you think you have it all figured out, the game changes. You need to embrace change—evolve or you will be holding onto ancient ideologies.
Want more? Check out Keith and his fellow colleagues in Orlando on Friday, April 24th from 2–5pm, Course L353.