Fixed Position Video and Imagery: Shattering Tradition and Providing a New Level of Viewer Engagement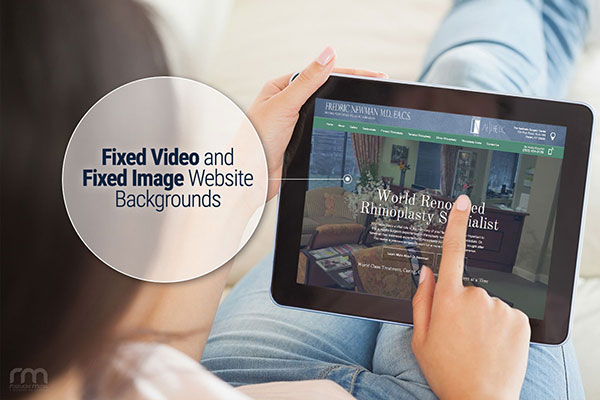 The word "static" can be applied to many websites that have been released since the dawn of the Internet. Much like illustrations in books and photographs in newspapers and magazines, the images and videos placed on a website have traditionally appeared in one place on the page, disappearing when the viewer scrolls up or down. While there is nothing wrong with static imagery, innovations in website design and technology are steadily incorporating a more kinetic approach.
But why fix what isn't broken? Because, if anything can be learned about the evolution of the Internet over the years, it's that artistic and technological progress continues to fuel advanced breakthroughs as to how we view, perceive, and learn from the content and imagery that's presented to us on websites. We are, after all, in the midst of the mobile revolution, and most people agree that a responsive website design technologically capable of adjusting to virtually any type of screen is now more important than ever. With that in mind, what's inside that responsive design is of equal importance, and Rosemont Media is yet again taking it one step further, making sure that pages, not just websites themselves, are on the move.
Fixed Video and Fixed Image Backgrounds
"Fixed" video and image backgrounds are design terms used to identify video or imagery that stays centered on a website page while the viewer is free to scroll throughout the page without losing the background. Think of it as translucent layering: content and other imagery keeps up with the viewer in the foreground as they scroll, while the fixed image or video in the background remains in one place. This unique design element, also referred to under the umbrella term "fixed position background," gives the page a certain depth and kineticism, making it more of a living thing rather than a flat page. David Anderson, one of Rosemont Media's talented Web Developers, says there's even more to it than that: "Fixed background video and images are much more subtle than a large button or graphic sitting on the page. They can call attention and catch your interest without distracting you from the content you are reading."
Quite simply, a fixed background design element can engage viewers in a completely new way, allowing them to immediately see and take in multiple bits of information without feeling barraged or overwhelmed. Right on the home page, the viewer can get a fully formed image of what the practice is like, the results it aspires to achieve, and an overview of what's being offered. Plus, the innovation and "cool" factor of the technique can't be discounted – the viewer is likely not used to a website being displayed in this fashion, and the seamlessness and visual allure of the unique design can play into how quickly they decide to stay on the site and read more about what's available from the practice.
Movement, Subtlety, and Depth
A fixed video background is typically displayed on the entire length and width of the page, border-to-border. It plays on a loop without sound. If the video comes from the practice itself, it can give the viewer a look at the practice location and a virtual tour through the offices, ultimately providing web visitors with a detailed picture while they read through the content. Another option is the use of a "stock" video in the background. This is usually edited footage of models in close-up or other images that can be tied to the overall aesthetic feel that the practice wants to convey. Rosemont Media Project Manager Carrie Pluta says a fixed video, particularly one that's shot at the practice, can provide an excellent showcase of what the practice is about. "Fixed video backgrounds can be great for showing off the practice's environment, staff, and other elements. It can give potential patients even more of a preview into what they can expect when they come to the office."
You can see an example of a fixed video background shot at the practice by clicking on the first image below. An example of a fixed video background using stock video can be viewed by clicking on the second image.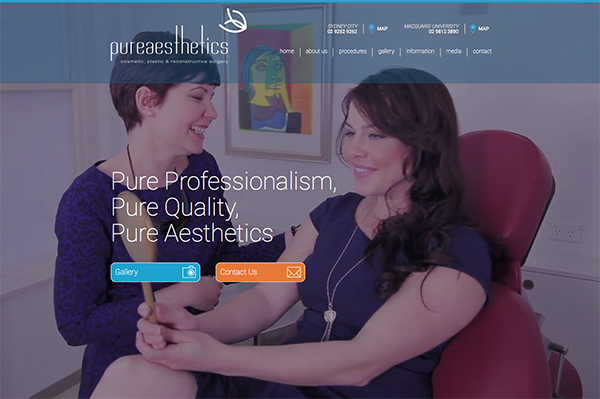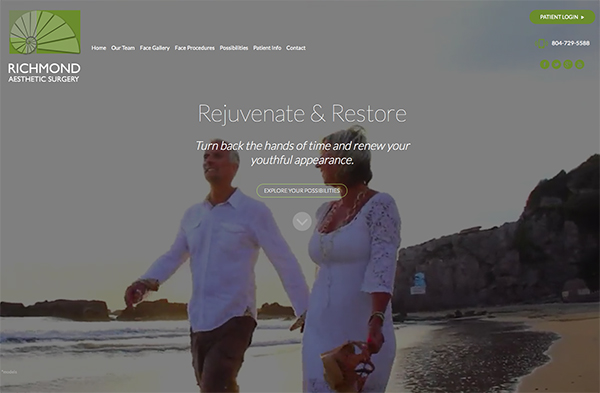 Utilizing the same basic design philosophy as a fixed video background, a fixed image background is a static image that remains in the same position while the viewer scrolls through the content in the foreground. This can give the page layers and depth while the viewer gets the illusion of subtle movement, not to mention more information through imagery.
You can see an example of a fixed image background by clicking on the image below.
Fixed video and image background design elements allow websites to stand out from others in a beautifully unique way. This technique has been listed as part of Rosemont Media's 2015 Website Buyer's Guide, and we believe it is another major step forward in design, technology, and ensuring the best possible user experience.
Contact Rosemont Media
If you are considering the development of a new website, or if you are thinking about upgrading your existing site to incorporate new and innovative design elements such as fixed video and fixed image backgrounds, we will be happy to answer your questions. Please contact Rosemont Media today.