How to Connect with Patients During a Crisis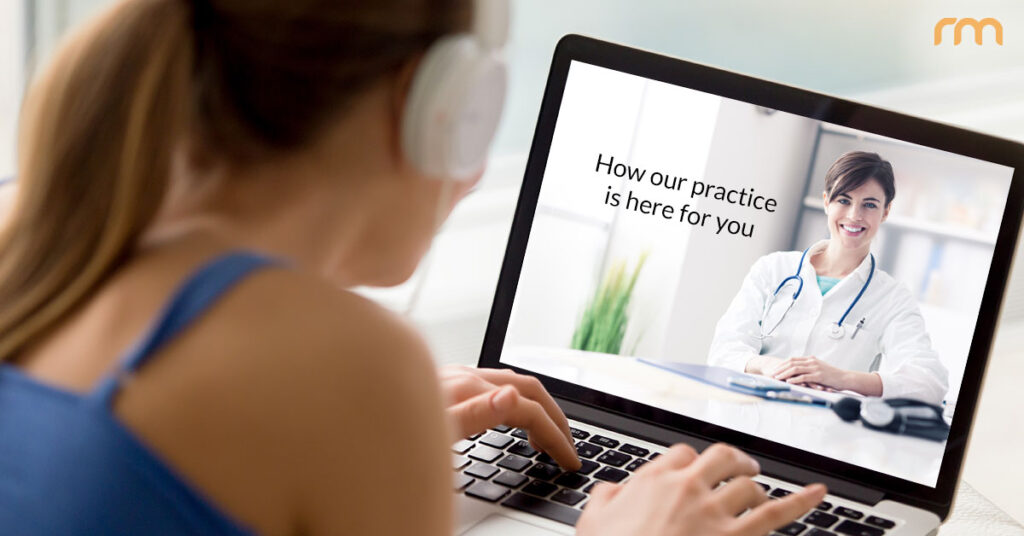 With the current social restructuring demanded by a worldwide pandemic, we now find ourselves yearning for connection more than ever. This is a rare moment in history in which the majority of people across the world—regardless of their age, gender, location, or socioeconomic status—are facing similar disruptions to their daily lives. As we all navigate through the difficulties of retaining a sense of normalcy while complying with mandatory closures and cessations in business, the ability to connect with current and potential patients can be a critical pivot in your content marketing strategy. Collective coping is a powerful way for humans to find solace in the challenges and anxieties presented by COVID-19, and there are many ways in which medical and dental practices can help their patients feel less alone.
Injecting Empathy Into Your Content
Cognitive empathy is the ability to communicate while trying to appreciate what another person may be thinking or feeling. Cognitive empathy is not meant to give the impression that you understand what your patient is experiencing, but rather that you understand their perspective and sympathize with their circumstances. Putting yourself in another's shoes may start with trying to comprehend what someone may be feeling given their unique circumstances—for example:
If you're reading this, you are likely a doctor, dentist, or surgeon who has dedicated your life and career to improving the lives of your patients—whether by giving them the tools to uplift their confidence, rehabilitate their dental and overall health, or restore their physiological wellness. Due to global circumstances beyond your control, you have no choice but to discontinue your services for the foreseeable future in the name of public safety. You may feel frustrated by the inability to help your patients, committed to doing your part in "flattening the curve," yet anxious from the uncertainty of how the pandemic will continue to shape your life.
Practicing empathy has the ability to positively influence every facet of life, from one's career to their interpersonal relationships. Studies from the National Institutes of Health even show that when physicians exhibit empathy, their patients experience better health outcomes. Creating empathetic content can be a compelling and effective way to reach your patients in a time when, for the most part, your only source of contact with them is limited to a virtual capacity. As medical professionals seen by the public as health authorities, surgeons and dentists have the power to console patients with content that is educational, informative, and empathetic. This can not only help individuals feel a little less helpless in a time of turmoil, but it can also speak volumes about the standard of care you strive to provide and ultimately work to strengthen business for your practice.
Easy Ways to Resonate With Patients
There is no cookie-cutter formula to creating empathetic content, but connecting with your patients can be as simple as working to make sure the same high quality of care usually provided in your office is mirrored in your blogs and social posts. The following tips are just a few ways that elective healthcare providers can create the right type of content to keep their patients engaged:
Provide actionable self-care tips. Practicing self-care during quarantine isn't always possible with the stressors of attempting to fulfill all of life's responsibilities from the confines of your home. Parents whose schools have transitioned to an online medium now have the added pressure of homeschooling on top of work duties, cooking, cleaning, normal house chores, and trying to squeeze in some exercise. Although you may not be able to perform your usual treatments and procedures, offering tangible steps that individuals can take to achieve their goals, improve their health, ease their anxieties, and generally stay sane can be an effective way to communicate empathy.
Speak directly to patients in a video. Whether you are reiterating pandemic-related information from the CDC and WHO, or you are keeping patients up-to-date on the happenings of your practice, video communication can help you engage with your community while conveying sincerity through a more personal medium than text.
Keep the message more educational and less promotional. There is a fine line between tactful content marketing and callous self-advertisement. Stick to posting information that may be useful for your patients and avoid an overly sales-y tone in your content.
Consider offering virtual consultations. The fact that most people are stuck at home means there are more individuals browsing the Internet now than ever before. Virtual consultations during COVID-19 can give you the opportunity to discuss the possibility of future treatment one-on-one with patients, often giving them something to look forward to once businesses reopen and shelter-in-place orders are lifted.


Contact Rosemont Media

Right now, the state of the world and your daily life are not "business as usual." While we are all tasked with the challenge of adapting to changing circumstances, you don't have to navigate the new demands of your practice alone. Reach out to our team at Rosemont Media to learn how we can help you reinvent your content and social media marketing strategies amidst temporary practice closures.