Virtual Consultations During COVID-19: How to Get Started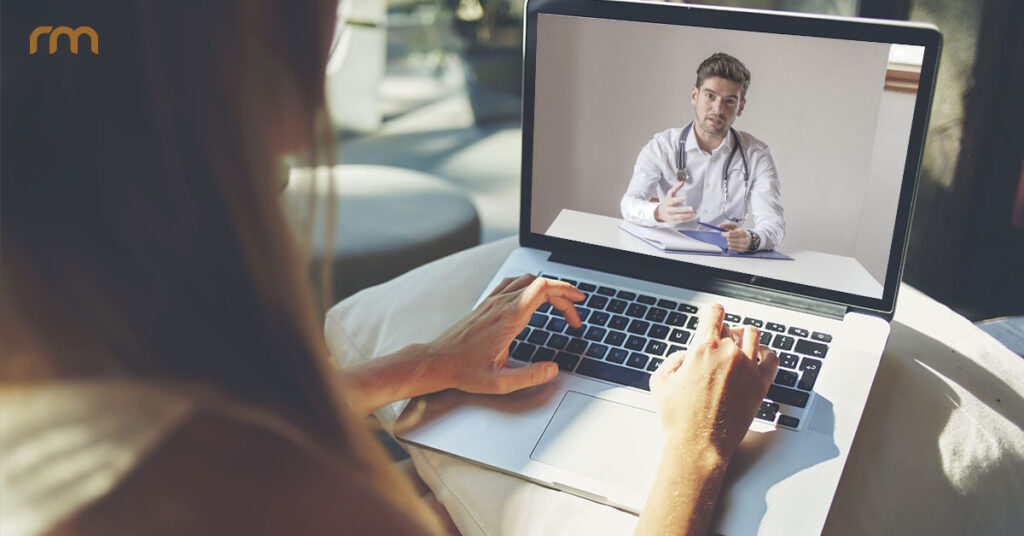 Telemedicine has dramatically increased as the COVID-19 pandemic requires the continued effort of social distancing. While these virtual doctor visits were already being offered by many healthcare providers, they have become the safest option for many doctors to see new patients until the COVID-19 pandemic subsides. The Centers for Disease Control and Prevention (CDC) advises medical and dental professionals to postpone any non-urgent visits and procedures to help curb the spread of the coronavirus disease. As a result, virtual consultations have become an important way of marketing during the COVID-19 pandemic.
Instead of closing your doors, you can virtually consult with patients and schedule future treatments, helping ease the impact of COVID-19 on your practice. While virtual consultations have their limits compared to in-person appointments, this method of doctor-patient communication allows you to conduct business without the risk of contracting the virus. Through telehealth technologies, you can help patients find the best solution for their needs, as well as assist them in scheduling their elective treatment for after the pandemic.
What to Know Before Offering Virtual Consultations
To conduct virtual appointments, you and your patient will both need a video communication device, such as a phone, tablet, or desktop computer. Due to the necessity of telehealth during this pandemic, the Department of Health and Human Services (HHA) has temporarily loosened its HIPAA rules and guidelines. Popular tools like FaceTime, Zoom, Google Hangouts, Facebook Messenger, UberConference, and Skype are now being allowed for telehealth purposes. However, public-facing platforms, including Facebook Live, Twitch, and TikTok, should be avoided for privacy reasons. Paid software programs specifically designed for telehealth are also available. Since these often create an additional cost, though, you may want to search for the most cost-effective options, such as Doxy.me, RevenueWell, and Zoom for Healthcare.
To maximize your time in virtual consultations, it can be helpful to update the contact forms on your website to allow patients to upload photos of their area of concern before their appointment. Before implementing your virtual consultation process, check with your state's medical and dental guidelines to ensure you are taking the necessary precautions for keeping your patients' information private and secure.
How to Get Started with Virtual Consultations
1. Select a video communication application.
To find the best technology for your practice's telehealth process, consider which features you care about the most. Are you looking for a free video software, or are you willing to pay for additional capabilities? Would you like a virtual waiting room for patients before they are connected? Do you need advanced security features? Every video application offers different benefits, and the one that best serves your practice will ultimately depend on your unique needs.
2. Make sure patients know you offer virtual consultations.
There are several ways to advertise that you offer virtual consultations. Email blasts and social media posts are extremely useful for announcing the option to existing patients. A pop-up note on your website can be a valuable way to catch the attention of new visitors. Visit Michael Kosdon, DDS's website for an example of this. Google Ads is another way to increase awareness of your virtual consultations. With these messages, encourage readers to learn more about your telemedicine options by visiting a specific page or contacting your practice. As another way to reach people, you may want to host an educational webinar about specific procedures you want to focus on when you begin seeing patients again at your office.
3. Ensure the process is as user-friendly as possible.
Telemedicine can be intimidating for many patients, which is why you may want to create a short instructional video for virtual consultations. By clearly explaining how it works, you can make the entire process feel more accessible to prospective patients. As an added step, including a video in your tutorial message shows you are going above and beyond to help patients understand what they can expect in their virtual doctor appointment. Visit Richmond Aesthetic Surgery's website for an example of this.
The world of virtual healthcare is quickly changing, and remote consultations have become more important than ever as dental and medical practices do their best to abide by social distancing guidelines. As this method of doctor-patient communication becomes more prevalent, it will likely remain a popular option—even after the COVID-19 pandemic has ended.
For more information about how to optimize your marketing efforts during this public health emergency, please contact our team at Rosemont Media.