The Importance of Maintaining SEO During the Pandemic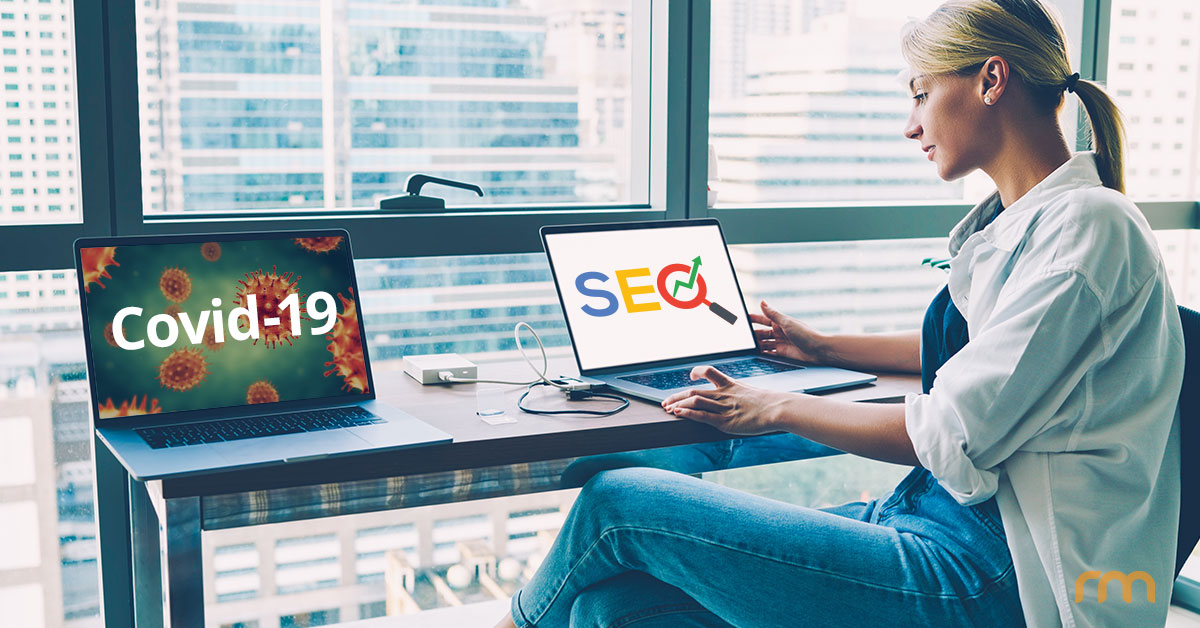 The financial strain caused by the COVID-19 pandemic has caused elective healthcare practices to adjust budgets and streamline marketing expenditures to weather the storm. While making these changes is essential for many, it is critical to enact these changes in a way that maintains visibility on the search engines—especially given the amount of time that people are spending online during quarantine. At Rosemont Media, our team of specialists have been helping our medical and dental clients evolve with the demands of this unprecedented time to redirect focus on areas of their website marketing strategy that can sustain positioning and continue to deliver long-term successes.
For many of our elective healthcare practitioners, we have recommended a revised strategy emphasizing a return to basics, which turns a spotlight on fortifying website search engine optimization (SEO) and moving forward with content marketing plans tailored to meet prioritized SEO goals—but what exactly does this look like? The following points outline a plan of action that can guide practices in achieving essential strategy rejuvenation on a budget:
SEO Updates
How is your SEO performing? We suggest working together with your website marketing team to evaluate your current positioning and identify areas for improvement. Actions to take can include updating your on-page SEO to current standards, improving interlinking, refining your strategy, and planning new content updates to enhance search engine positioning for specific terms and/or locations. If your marketing budget has been reduced, applying these kinds of essential SEO updates can ensure that your practice continues to benefit online as you wait to get back to business.
Content Updates
How long has it been since you've reviewed your website content? Now is a great time to make sure your content is accurate, up-to-date, and reflects the essence of your practice. Whether you notice small changes or identify areas that need significant improvement, your marketing team can help develop a plan of action to spruce up content and imagery as you see fit. Any updates you make, when performed appropriately, are viewed favorably by the search engines and work to your advantage! Many of our clients have also chosen to focus on updating their before-and-after galleries, adding patient testimonials, and creating in-depth patient case studies—all of which tend to be more time-intensive activities that fall by the wayside during the flurry of normal business. These visual and educational elements are key points of interest for website visitors who are considering your services. Best of all, these additions have been shown to have a positive impact on the number of website visitors who contact practices with serious inquiries about procedures and scheduling consultations.
Focus on Cornerstone Content
Even if you have had to curtail other aspects of your website marketing budget, we strongly advise you to continue moving forward on essential content expansions and page additions, which typically provide the greatest boost to search engine positioning. For our clients, this generally means adding or enhancing pages that are dedicated to specific procedures and highly competitive search terms. If you have already established an aggressive content marketing plan for the year and need to temporarily pull back for financial reasons, we recommend working together with your marketing team to prioritize the most important cornerstone content projects for achieving your SEO goals.
We Are Here to Help!
In these uncertain times, the team at Rosemont Media is working harder than ever to help elective healthcare practices survive and thrive through the pandemic. We have a deep respect for the work our clients do and the businesses they have built, which is why we have kept our focus on continuing to provide website marketing services that can deliver immediate solutions and long-term results. If you have concerns about the best way to approach your online marketing during the COVID-19 pandemic, we encourage you to reach out to our knowledgeable representatives. You can rely on the expertise, creativity, and tenacity of our team to help carry you through whatever challenges your practice is facing. Contact Rosemont Media to connect with our team today!