How Your Social Media Presence Can Boost SEO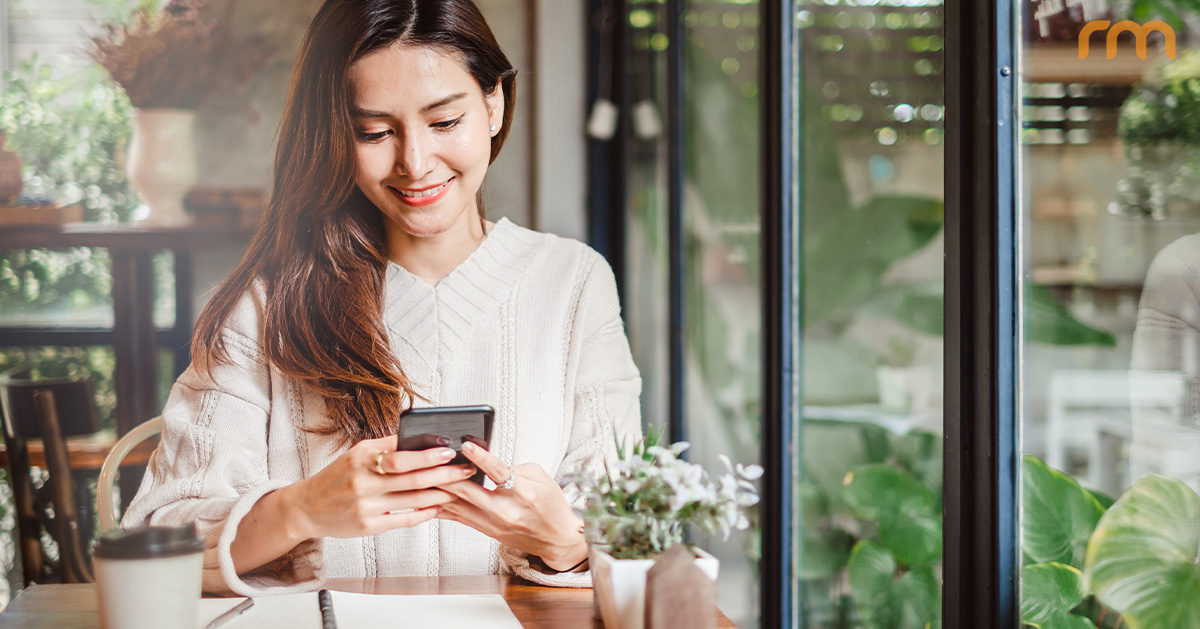 While a large majority of healthcare practices have begun branching out into social media marketing to expand and diversify their online presence, many may be unsure as to how their social media posts can have a positive influence on organic SEO rankings. To help clarify the often fuzzy relationship between creating engaging social media content and improved SERP (search engine results page) positioning, our expert marketing team at Rosemont Media has developed an easy-to-follow diagram.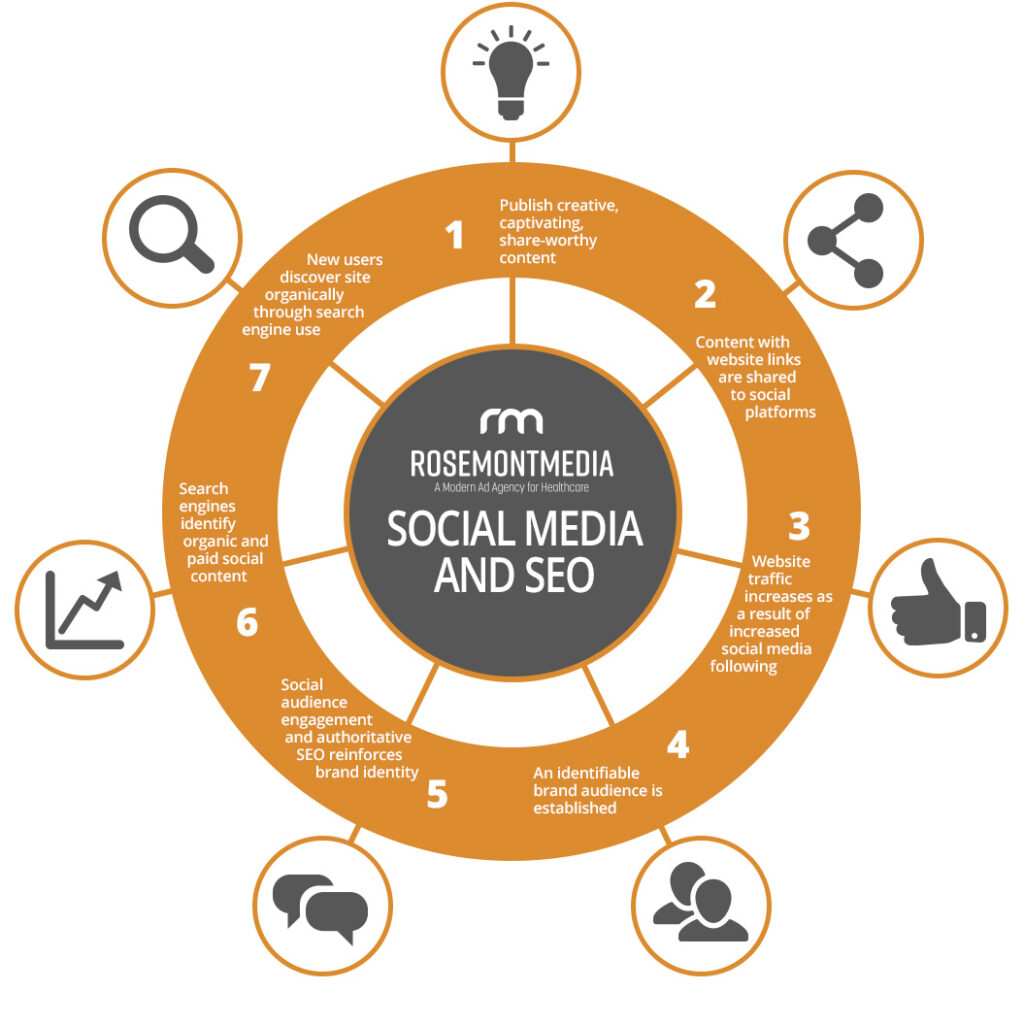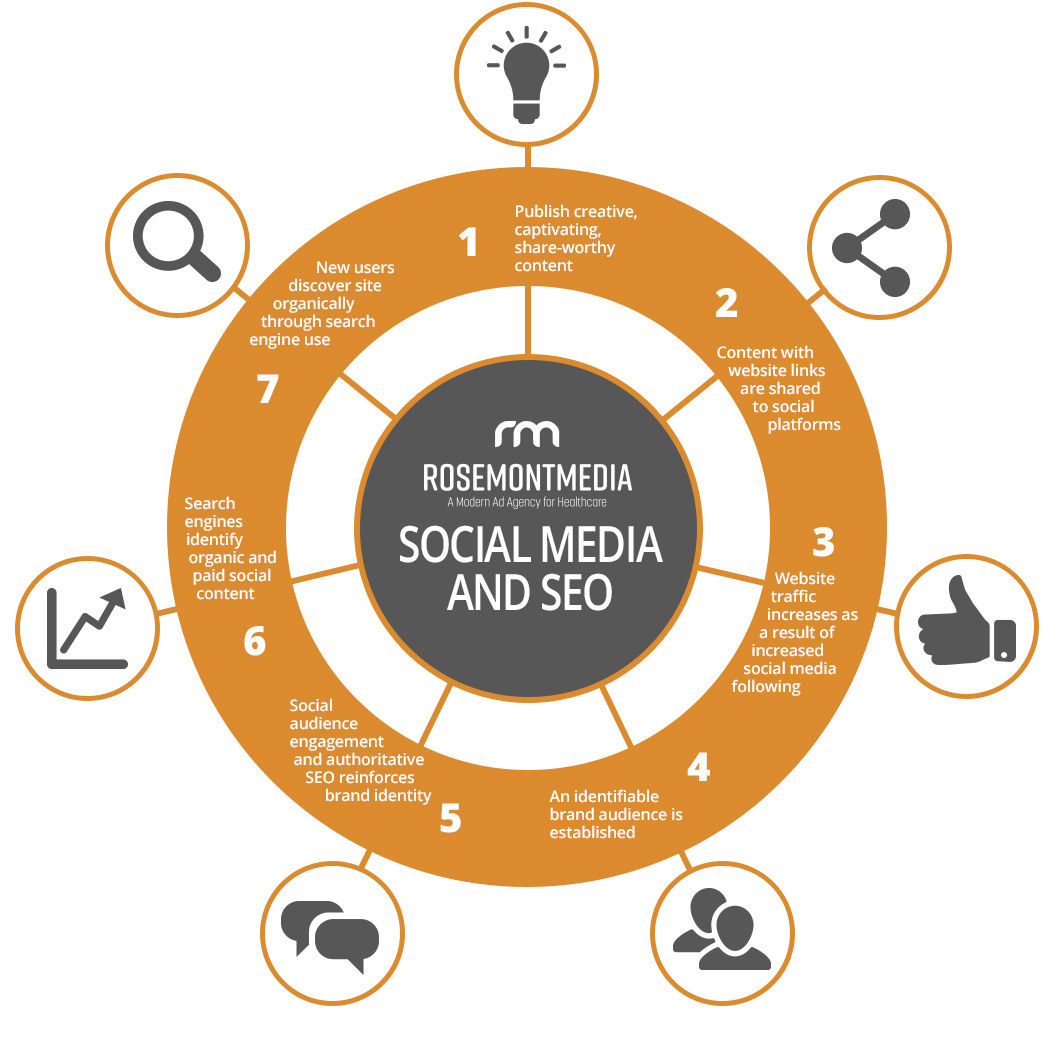 As you can see, social media creates a powerful opportunity for reaching a larger audience and consequently drawing more attention to your website. We can't emphasize enough that to successfully boost your SEO through social media use, you must begin with carefully cultivated social media content that's designed to captivate the audience, inspire sharing and interaction, and work hand-in-hand with a planned content marketing strategy. When this is effectively done, social media can be an invaluable tool that supports your SEO efforts.
Blending Content Marketing & Social Media
Elegantly syncing your content marketing plan with your social media strategy can be a powerful engine for driving online success. As you continuously update your website with new written material—whether you are adding new blogs, specials, press releases, or pages—social media can amplify the impact of your new content, delivering it right to your followers and an expanded target audience. Best of all, well-crafted and thoughtfully designed social media posts package these website updates into an easy-to-consume, branded format that stimulates, entertains, entices, inspires, and/or informs your audience—with the goal of driving them to your website and encouraging them to contact your practice.
Paid Social Media Advertising
Incorporating promotional tools like Facebook Ads and Instagram Ads can also play a significant role in helping surgeons and dentists achieve their social media and SEO goals more efficiently. The more targeted users on Facebook and Instagram that come into contact with your compelling website-linked content, the more followers, visibility, sharing, interaction, and website traffic your practice is likely to receive as a result.
How Social Media Efforts Can Impact Google SERP Positioning
Ultimately, Google's algorithm doesn't include social media signals and engagement (such as "likes" and comments). However, it does account for greater brand awareness and interaction through numerical increases in website traffic and backlinks. These factors—combined with the website's user experience and more—all come together to determine SERP positioning. Although it's not necessarily considered a direct relationship, our diagram helps demonstrate how social media and SEO are closely aligned.
The Power of Planning
Integrating your social media efforts with your SEO strategy in a way that creates measurable progress for your elective healthcare practice online requires planning. With the assistance of a knowledgeable website marketing specialist that works collaboratively with experienced social media and content development teams, you can skip the learning curve and make meaningful strides toward success. At Rosemont Media, we customize every client's website and marketing plan to suit their evolving online needs and business goals. Using the information gathered through comprehensive business and market analysis, open and ongoing representative-client communication, progress tracking, and other vital assessments, our teams craft meticulously planned, integrated strategies designed to deliver a remarkable return-on-investment. With all of our expert teams in-house, communication and collaboration processes are simplified for the benefit of our clients. When you choose RM, you can trust that your team will walk you through every stage of the process and ensure you understand the value of every action we take on your behalf.
Let's Talk About Social Media & SEO
If you are interested in learning more about how to boost social media engagement and maximize the positive impact of your social media efforts, our experienced Social Team and Website Marketing Consultants at Rosemont Media are available to help advise you. Contact our team to start a conversation about achieving your online goals today.
Editor's note: The original version of this post was published on September 26, 2017.