5 Reasons to Break Up With Facebook Boosted Posts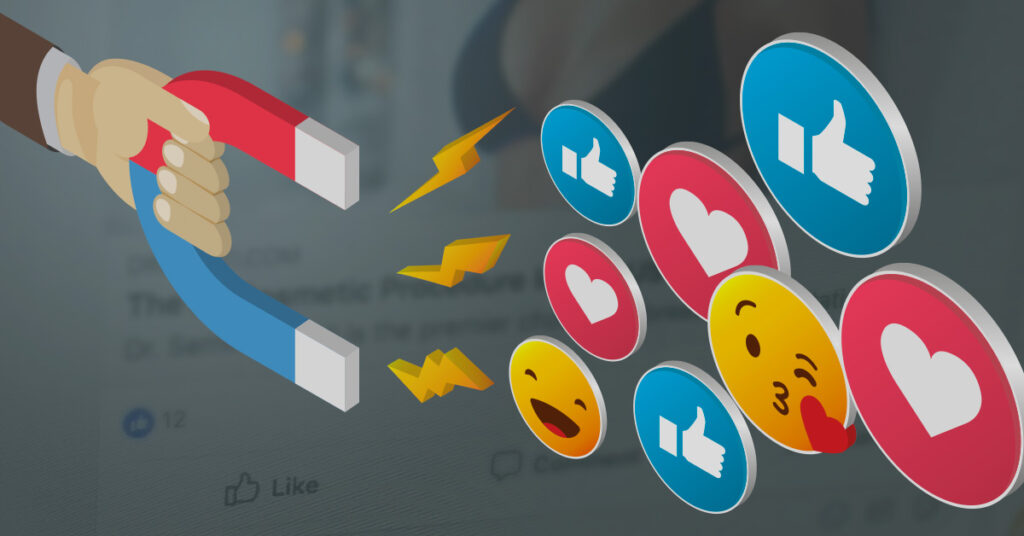 By now, as an aesthetic healthcare professional, you've likely heard the success stories of Facebook Advertising first-hand from peers, read the plethora of business articles extolling the benefits of promoting your practice on social media, or maybe you've even lost a few patients due to competitors' Facebook Ads. For those just tuning in, there's no denying that a well-curated social media presence is an essential part of overall practice marketing strategy. Nor can one ignore the fact that in order to reap the benefits of this social network, a healthy Facebook ad budget is required to move the needle.
Dollar for dollar, Facebook ads offer the most pinpointed ad targeting options, compared to all other other digital marketing channels. However, this statement only holds true if you're using the appropriate advertising structure.
Facebook offers two primary methods of advertising: increasing engagement from content already posted to your Business Page through the Boost feature, or promoting content with Ads Manager. Both methods use ad dollars to increase post performance, but the similarities between these two distinct advertising options end there.
Hyper-Targeted Audiences
While Boosting posts provides a quick and simple advertising interface, its targeting options (part of what makes Facebook ads so powerful) are minimal. One can select from demographics, geography, interests, and behaviors—but the key element that prevents marketers from harnessing the capability to reach hyper-customized audiences tailored to specific ad goals is the lack of custom audiences within the Boost ad setup.
Custom audiences are created in Ads Manager, utilizing the Facebook Pixel. This Pixel tracks conversions from Facebook to your website and optimizes ads based on data collected. Plastic surgeons seeking to remarket qualified leads interested in a breast augmentation might use the Pixel to create a custom audience designed to target website visitors who have accessed their breast augmentation procedure page. Dentists who wish to attract people similar to their existing patients can create a Lookalike audience using email lists that respect your patients' privacy.
Fine-Tuned Objectives
In a broad sense, deciding whether to use the Boost feature or to promote ads from Ads Manager can be determined by establishing the marketing goal for the ad at hand.
Facebook Ads Manager offers marketers the ability to create ads intended to meet specific promotional goals. Campaigns can be created for Brand Awareness, Consideration (such as increased website traffic or post engagement), and Conversion (driving valuable action from an audience, such as contact form completions); each of which are important steps in the customer journey.
By comparison, Boosted posts satisfy engagement objectives only. This strategy can garner increased likes, shares, and comments on Page posts, but a competitive social advertising strategy should include a variety of campaign objectives designed to achieve actions beyond engagement activities.
Dynamic Ad Placement
To demonstrate the difference in ad placement among these options, let's compare where ads show up when promoting an engagement post using the Boost function versus promoting an engagement post from within Ads Manager. Where Boosted posts are served to an audience in the Facebook News Feed (desktop and mobile) with an option to include posts on Instagram Feeds, engagement ads promoted from within Ads Manager allows posts to be presented in the Facebook Newsfeed (desktop and mobile), Instagram Feeds (desktop and mobile), Instant Articles, In-Stream Videos, Suggested Videos, and within In-Stream Videos on the Audience Network.
That last placement is the kicker: the Audience Network placement lets advertisers extend their ads beyond Facebook to reach customers who are using mobile sites and apps, while still taking advantage of Facebook's powerful ad system.
Marketers familiar with Facebook's algorithm know that there is such a thing as too much promotional content on a Business Page. To stay in the algorithm's good graces and keep Page content reach high, advertisers can opt to craft ads directly from Ads Manager without having to use content published to a Business Page (these are known as dark posts). What's more, the ad types available in this post creation dashboard rate among the highest performing ads available.
Top Performing Ad Types
Ads Manager offers a wide range of content format options to let advertisers flex their creative muscles and capture the attention of their target customers. Format options include some of the most powerful ad types, such as video and Carousel layouts. Ads available through the Boosting function are limited to content that is posted to a Business Page.
Facebook Ads Manager also allows for A/B content and creative testing, meaning experiments can be run to determine which text among two options performs best, or which creative asset (photo, video, etc.) outperforms another to make the most of your ad spend dollars.
Budget Control
In order to achieve social marketing ROI, it's important to optimize ad budget based on ideal outcome actions.
The Boosting function employs a blanket billing convention without the options available in Ads Manager, such as the ability to select a bid strategy (i.e. determine what you get charged for) suited to specific business goals.
For example, marketers can outline how long they want a Boosted post to run using a specific budget, but only within the Ad Set of a Campaign in Ads Manager can one customize how quickly a budget is spent (Standard versus Accelerated Delivery Type for faster results), determine a bid strategy (Automatic versus Target Cost) with option for a bid cap, and choose how Facebook delivers an ad based on what the marketer is trying to achieve (Optimization for Ad Delivery).
RM Is Here to Help
In short, when it comes to making the most of social marketing ad dollars, Ads Manager provides a wealth of budgeting customization tools in addition to access to Facebook's exceptional campaign optimization, audience targeting, and ad creation resources. Like many marketing endeavors, however, elevating your social strategy from Boosting to take advantage of the promotional potential of Ads Manager requires quite a bit of experience and experimentation. Fortunately, our social marketing team is adept at navigating and optimizing these powerful tools to deliver measurable results for elite medical and dental practices. Talk to us about our full-service social media marketing products designed around your goals.