Personalizing Your Social Media Marketing Posts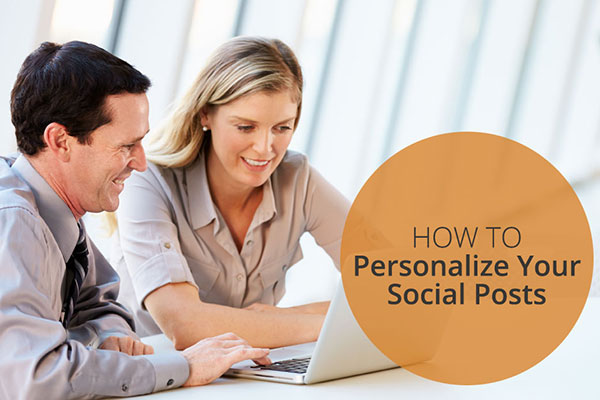 Our last blog post on social media marketing discussed how it's imperative to stay involved with your social strategy. Many people create automated, generic social posts to generate constant activity on their social pages without having to dedicate much time or effort. We hate to break it to you, but this tactic is not very effective because social media is not a one-size-fits-all strategy. More importantly than just posting any random assortment of content, personalization is key.
Before we delve deeper into how to best personalize your social posts, let's first determine: What does it mean to be social? According to dictionary.com, being social is:
being "connected with society"
"of or relating to the life, welfare, and relations of human beings in a community"
"seeking or enjoying the companionship of others"
So many people forget the social part of social media. Yes, it can be an easy way to advertise your medical or dental practice to a larger, targeted audience, but too much blatant advertising may cause followers to become disinterested and unfollow your social pages. You must find other ways to relate to and connect with your followers to keep them interested in your practice. Also, while other forms of content marketing may use a more professional voice, your social media voice should be light-hearted, humanistic, and conversational. People want to connect with other people on social media, not with companies.
Though it may be tempting to only post industry-related articles, links back to your website, and educational content about your practice, products, and services, you should also include a variety of posts that showcase the personality of your practice. At first glance, these types of posts may seem like they have nothing to do with your main objective of reaching potential new patients, but this is exactly what can set you apart from other practices and keep people interested. Elective healthcare procedures are often long-term decisions, so potential patients may follow your social activity for months or even years before they decide to schedule consultations. You wouldn't want to lose their attention.
Here are some ideas of ways you can personalize your social posts:
Tag other people and companies – (colleagues and professional organizations like AACD, ASAPS, ASPS, etc.) – If you attend an event hosted by a professional organization or a training seminar with another doctor, post a photo and tag the social pages of the other people and/or organizations involved.
Throwback Thursday photos – Post old photos of yourself and your staff as babies, in high school, or even just a couple of years ago and have your followers guess what year it was.
Spotlight your practice and employees – Show photos and videos behind the scenes at your practice, employee fun facts and birthdays, and any team bonding activities like training sessions, social activities, holiday parties, etc.
Fun facts – Post fun facts about yourself, your staff, or your practice, such as interesting past jobs, favorite part(s) of your job, favorite patient stories, favorite places to travel, what you enjoy doing on the weekends, a personal health tip, etc. You can post these as #FunFactFriday posts or use them as true/false or multiple choice trivia to increase engagement.
Patient testimonials – Post quotes from online patient reviews and video testimonials. There is no better form of marketing than what others say about you.
Community involvement – People love to see you involved with your local community, whether it's photos from a 5K you participated in or your engagement with reconstructive surgery patients at a nearby children's hospital.
Learn More About Social Media Marketing
These are just a few of many ways to customize your social pages and better connect with potential patients. If you want to learn more about how you can increase engagement and strengthen your overall social media marketing plan, contact Rosemont Media today.