What the GIF?! How to Use GIFs to Enhance Your Social Media Presence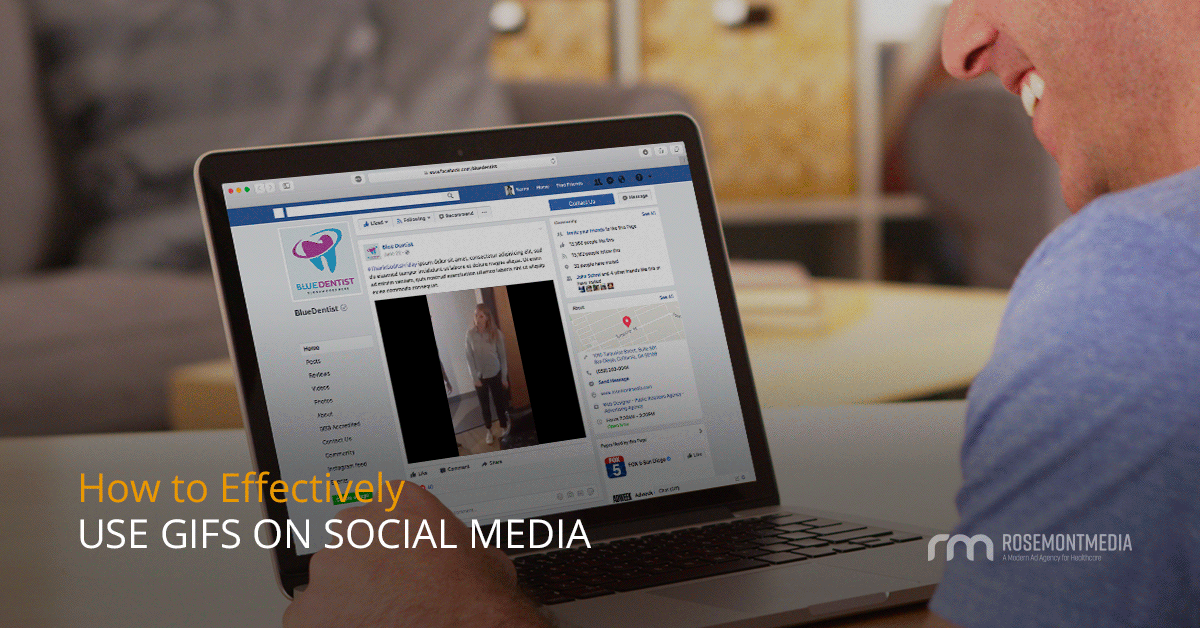 Whether you pronounce it with a J-sound or a hard G-sound (Rosemont Media is firmly Team G, by the way), a GIF can be a fun way to enhance your social media posts—but eliciting giggles isn't all this media can achieve. We're here to convince you that GIFs are more than just playful; they're a super smart marketing tactic too.
Let's start with the basics. A GIF, which stands for Graphics Interchange Format, is a silent video clip that's placed on a loop. They look something like this:
GIFs are versatile pieces of media. They can be trimmed from longer pieces of live-action video or they can be animated (like the example above). GIFs can include subtitles, but they do not have sound, and they typically last only a handful of seconds before repeating. Some are designed to create a continuous loop that appears to have no clear end, and others simply replay a scene over and over. Here are some more examples:
Why Should I Use GIFs?
Regular folks use GIFs to react to posts, emphasize a point, make friends and family laugh, and share favorite TV and film moments. But what does that have to do with social media marketing? Everything! This type of visual media is eye-catching and conveys a more nuanced and complex message than a static photo alone. Businesses use GIFs to feature products, highlight treatments, share news, create an emotional response, and tell stories—all of which help to influence prospective clients. GIFs are also an opportunity to reveal the more playful and human side of a practice. That said, it's important for reputation management to curate your brand and use GIFs that will present a positive face for your office.
How to GIF Responsibly
Which leads us to advice on choosing the right kind of GIF to make your point. If you can imagine it, there's almost certainly a GIF for it. But a GIF can make you laugh or send a message without being an appropriate choice for your dental or medical practice. For instance:
Instead, try these:
Some general rules for selecting a patient-friendly GIF that won't result in a public relations issue:
Use high-quality clips—pass on low-resolution, glitchy, grainy, and blurry GIFs.
Avoid content that can offend, uses foul language, or is mean (including body shaming)—stick with gentler, family-friendly, and positive fare for the most part. If your clientele is younger, you may be able to use light sarcasm or some edgy options, but use caution.
Skip the political commentary, including using GIFs of politicians—you don't know for certain which way your patients vote, or if they even do.
Know your patient culture—use topical references like the latest memes or TV show episodes if they will understand it. If they won't, opt for more universally appealing GIFs.
Choose a GIF that loops at a reasonable speed. Too fast and it may cause readers to flee as quickly as possible. You want fun images, not migraine-inducing ones.
Think outside the box—GIFs don't have to be literal; sometimes they can just be used to capture a feeling or a mood.
Stay in your lane—just because a GIF is irresistibly cute or funny may not mean it's on brand. Ask yourself, "Does this represent the business well?"
When it doubt, keep it cute—kids, animals, and reactions are some of the best options for GIFs. Everyone loves them.
Where to Find the Best GIFs for Your Medical or Dental Practice
Some businesses opt to make their own GIFs, and it's easier than ever to do that. However, with so many GIFs available and new ones being created daily, it is often simpler to borrow one that's already made. Giphy.com offers a stunning, ever-changing, and regularly updated selection of GIFs. ReactionGifs.com and GifBin.com are some alternative options.
It's understandable if you still feel you have a lot to learn. Knowing which GIFs to use, what type of message to craft around it, and other questions can make implementing these fun and festive files intimidating—but it doesn't have to be! Our skilled social media marketing department has the experience, know-how, and creative eye to select and utilize the best GIFs based on your practice needs, goals, and philosophy. Let us help you spice up your Facebook and Instagram timelines to engage with existing patients and attract new ones. Talk to us today to learn more.