Baltimore Plastic Surgeon Reveals Responsive Website with Modern Design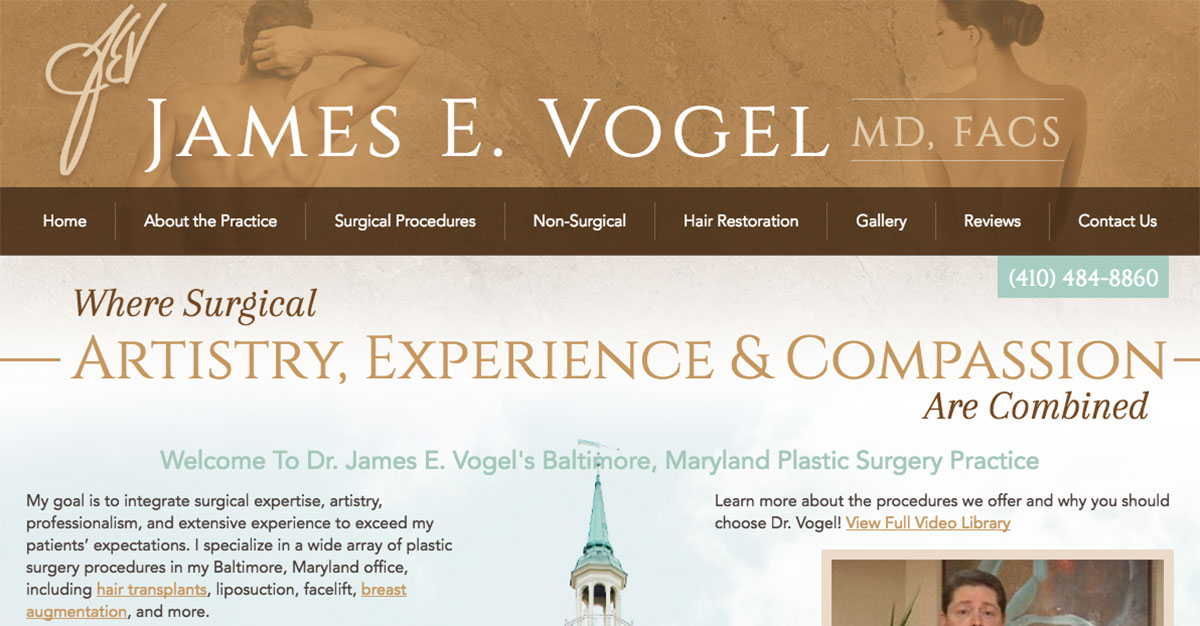 Dr. James Vogel's new website incorporates an updated look, advanced functionality, and expanded informational resources about his plastic surgery practice and procedures.
Baltimore, MD – For board certified Baltimore plastic surgeon James Vogel, MD, unveiling his new practice website has modernized his online presence and made his informative plastic surgery content more accessible for both prospective and current patients. To accomplish this full-scale transformation, Dr. Vogel looked to his trusted team at Rosemont Media, a San Diego-based Internet marketing firm. Together they collaborated to create a customized website development plan that would elegantly revamp the aesthetic of his older website, incorporate more multimedia features, and improve the overall user experience.
Dr. Vogel's new responsive website design displays beautifully on a full spectrum of devices, including smartphones, tablets, laptops, and desktop computers. With a more muted color scheme, advanced architectural elements, and a clean layout, the website looks refreshed and modernized while retaining the original practice branding. The homepage features innovative parallax and fixed-background scrolling capabilities, access to his state-of-the-art interactive photo gallery, and navigation buttons with high-quality images of Dr. Vogel's actual patients to introduce the main procedure categories offered at his practice. Using these clickable images, viewers can easily explore cosmetic enhancement options for the breasts, body, face; learn more about advanced hair restoration techniques; and delve into the latest non-surgical treatments.
Users with questions about plastic surgery and cosmetic treatments can easily find the answers they are looking for presented in detailed content, current blog articles, and informative video's about the processes and techniques Dr. Vogel uses to help his patients achieve their goals. Contacting the practice is also simplified through click-to-call buttons on mobile formats and easy-to-use contact forms on each page.
Search engine optimization was another main focus for Dr. Vogel, and the new website has been fully upgraded in accordance with the latest plastic surgery SEO best practices. Cutting-edge SEO strategy and expert website marketing management enable Dr. Vogel's site to reach a wider audience and gain more visibility on search engines for the treatments he provides. Ultimately, with this potent combination of features and services, Dr. Vogel is now able to better connect with and appeal to current and potential patients who desire his help.
About James Vogel, MD
Dr. James Vogel is a board certified and Johns Hopkins-trained plastic surgeon providing a wide variety of cosmetic procedures and treatments for patients from throughout the Baltimore area and beyond. For the last six years, he has been named "Top Doc" by Baltimore Magazine, and he was honored with the "Golden Follicle" award by the International Society of Hair Restoration Surgery (ISHRS) in 2016 for his outstanding clinical contributions to the profession of hair restoration surgery. As a renowned educator, researcher, and practitioner in the fields of plastic surgery and hair transplantation, Dr. Vogel offers patients decades of experience and in-depth knowledge of the most innovative techniques and surgical approaches. He is an active member in several prominent professional organizations, including the American Society for Aesthetic Plastic Surgery, the American Society of Plastic Surgeons, the Johns Hopkins Medical Society, and the International Society of Hair Restoration Surgery. Dr. Vogel is available for interview upon request.
For more information, visit drvogelplasticsurgeon.com and facebook.com/drjamesevogel.