Cosmetic and Laser Surgery Practice in Los Angeles Area Launches New Responsive Website to Enhance Patients' Online Experience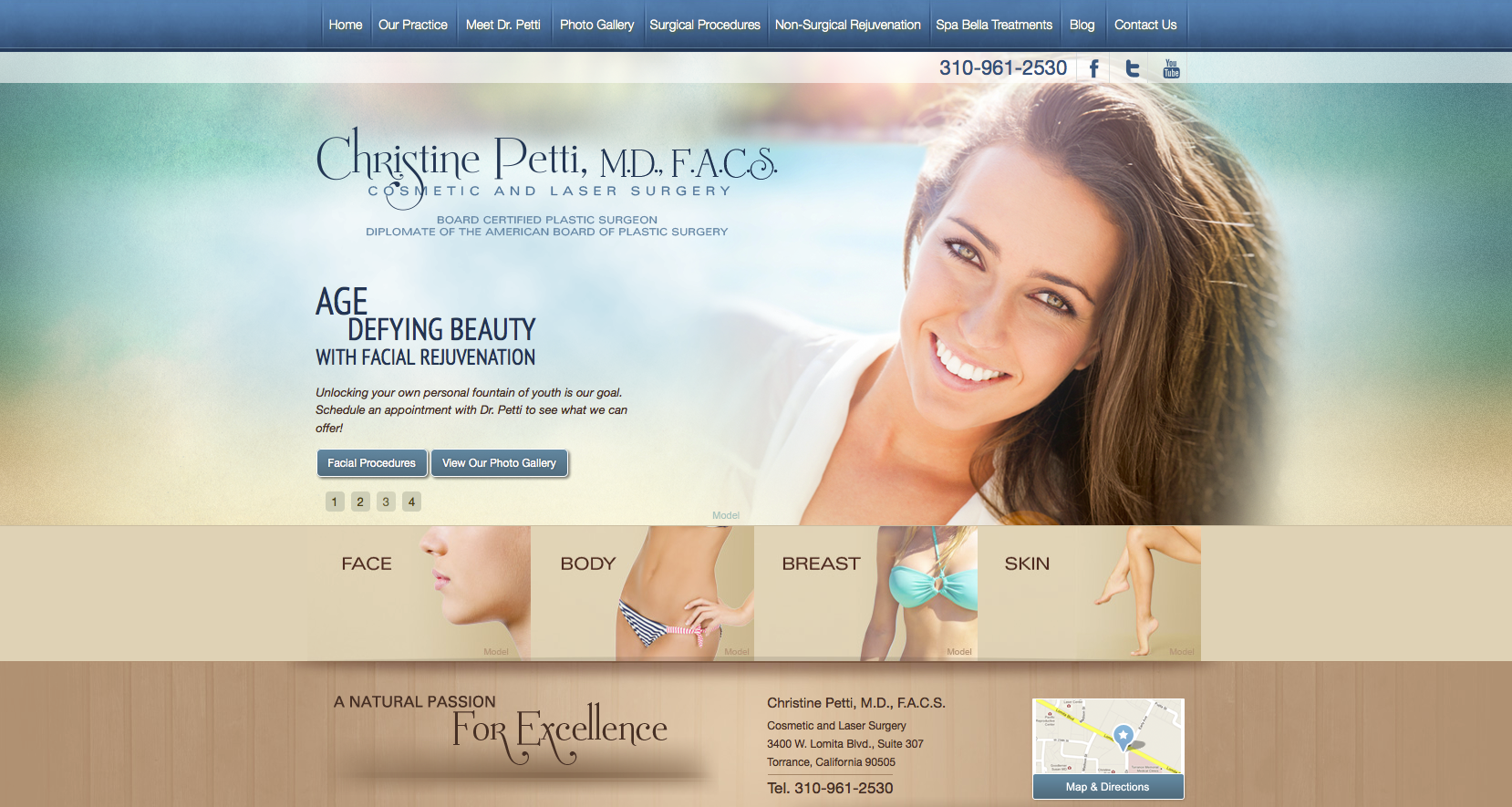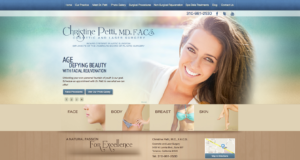 Dr. Christine Petti's new website makes research and procedural information easily attainable, comprehensive, and more personalized across a range of web-accessible devices.
Torrance, CA — Dr. Christine Petti, a plastic surgeon in Southern California, recently announced the launch of a redesigned website for her practice. The new layout and design provides current and prospective patients with an enhanced source of knowledge about procedures and information, ultimately giving them the tools they need to become educated and to narrow down their choices among a vast array of cosmetic enhancement options.
In her 25th year as a cosmetic plastic surgeon, Dr. Petti's philosophy has been to promote beauty using a comprehensive, two-fold approach, which means accomplishing patients' aesthetic goals in conjunction with establishing their sense of inner peace and well-being. The Palos Verdes Plastic Surgery Medical Center offers a wide variety of surgical and non-surgical cosmetic procedures ranging from body contouring to laser skin rejuvenation. Dr. Petti also serves as the Medical Director for Spa Bella, an on-site full service medical day spa.
The board-certified plastic surgeon felt that improving the website with refreshed content and the ability to auto-adjust to any type of device – desktop, smartphone, or tablet – would better serve her patients in acquiring the information they need about procedures offered at her practice. In order to provide an educational experience, the easy-to-use website includes features such as:
Video and written patient testimonials
Technology and equipment used in the office Patient photo gallery
Information about spa services
Media appearances by Dr. Petti in which she offers her expertise
Procedure information on options such as breast augmentation, facelift, Smartlipo Triplex™, Cellulaze™ cellulite reduction treatment, non-surgical treatments, and more
Detailed biography of the plastic surgeon
Dr. Petti also says that she and her staff enjoy staying in touch with their patients. In order to stay connected, patients can find links to the South Bay Los Angeles area practice's Facebook page, YouTube channel, and Dr. Petti's Twitter page on the new website.
In order to create the new and improved design for her practice's website, Dr. Petti collaborated with San Diego-based plastic surgery website design firm, Rosemont Media, which specializes in advanced search engine marketing strategies. Dedicated to excellence in all aspects of patient care, Dr. Petti says she is pleased to provide patients and those considering aesthetic enhancement with a website that reflects her ambition to remain on the leading edge of cosmetic surgery. She looks forward to how the new website launch can enhance communication between visitors and her team of medical professionals.
About Christine A. Petti, MD, FACS
Dr. Christine Petti is a board-certified plastic surgeon and the Medical Director of the Palos Verdes Ambulatory Surgery Medical Center and Spa Bella. She is a graduate of St. Mary's College of Notre Dame University and earned her medical degree at the Medical College of Pennsylvania, Philadelphia. Dr. Petti completed her plastic surgery residency at The University of Chicago Pritzker School of Medicine. She has been a guest speaker on the CBS television series, "The Doctors" for four consecutive years, recently appeared as an expert on ABC's 20/20, and was selected by US News and World Report as one of the Top Doctors in the country. In addition to her memberships in numerous prestigious medical associations, including the American Society of Plastic Surgeons, the American Society for Aesthetic Plastic Surgery and the Los Angeles County Medical Association, Dr. Petti holds community educational seminars, guest-speaking events, and provides clinical internship opportunities.

Dr. Petti is available for interview upon request.
For more information about Dr. Petti and her practice, please visit dr-petti.com or facebook.com/drpetti.