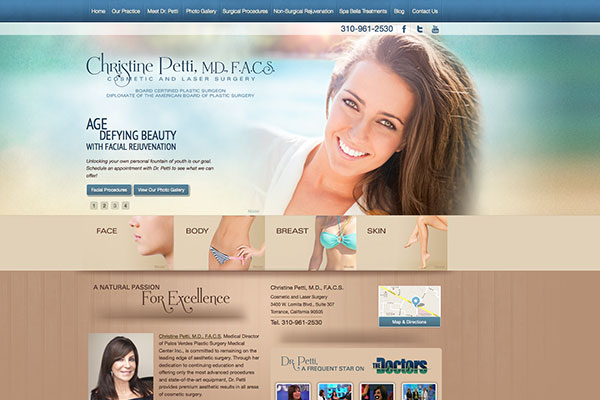 Project Details:
Launch Date:
August 2013
Page Count:
58
Services Overview:
Custom Responsive Design, JavaScript Slide Show, SEO, CMS, Photo Upload Gallery, and Blog
Compatibility:
Desktop, Tablet, Mobile
Visit Website:
Categories:
Christine Petti, M.D. partnered with Rosemont Media to give her website a new, more user-friendly design. Her Los Angeles plastic surgery patients can now access information about her practice quickly and easily from any internet-accessible device. The responsive design of the website automatically adjusts to any screen size, making it simple for current and prospective patients to find information about procedures such as breast augmentation, tummy tuck, facelift, liposuction, and more. The website also provides information about the on-site medical day spa, Spa Bella. Patients are also able to stay connected with Dr. Petti and her staff through social media links to the practice's Facebook, Twitter, and YouTube sites.
To help encourage patient education, Dr. Petti's website is sprinkled with her answers to actual patient questions on RealSelf. Dr. Petti also provides video clips of her appearances on the television show, "The Doctors," to help patients better understand what they can expect with certain procedures.
Rosemont Media collaborated with Dr. Petti to create a customized medical website design that is beautiful and intelligently designed, as well as comprehensive and easily navigable across a range of web-accessible devices. The new site is also filled with informational content and SEO enhancements that work to help her stay on top in an extremely competitive field.
To better understand how responsive website design from Rosemont Media can help your practice, please visit www.dr-petti.com.