Fort Worth Plastic Surgeon Redesigns Website for Enhanced Look and Functionality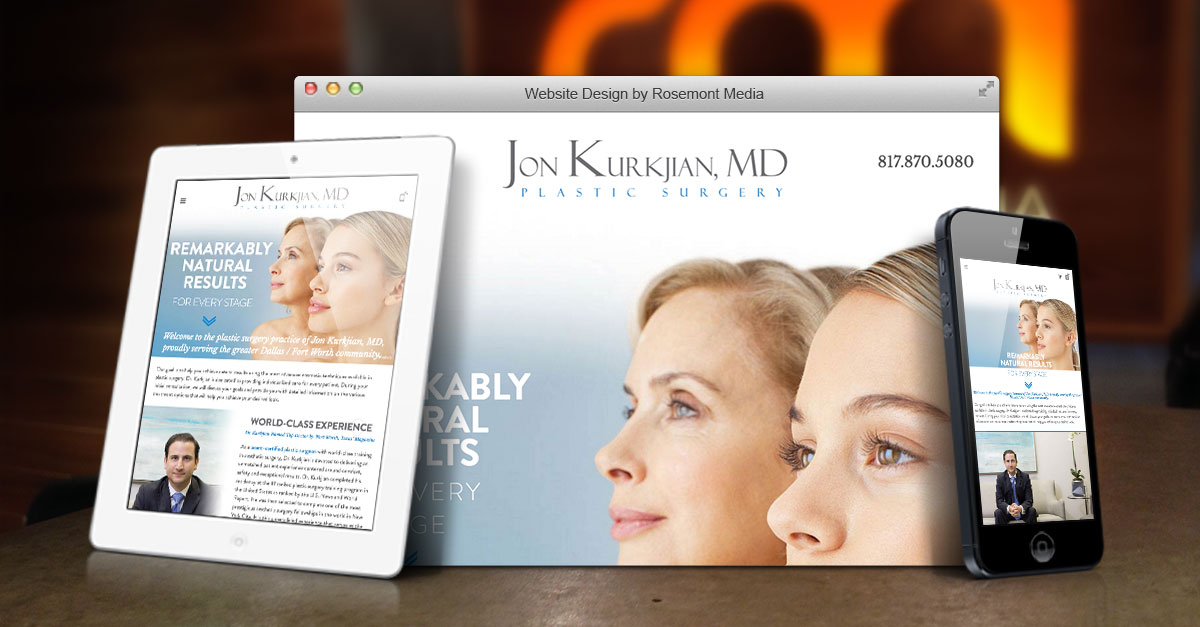 Jon Kurkjian, MD unveils a completely revamped website highlighted by a new design, improved layout, and several visitor-friendly features.
Fort Worth, TX — Dr. Jon Kurkjian, a board-certified plastic surgeon in Fort Worth, recently teamed with medical marketing firm Rosemont Media to modernize the overall aesthetic and user experience of his website. Equipped with a responsive design that intuitively adjusts to fit any Internet-compatible device, the remodeled site features a clean layout accented by hues that are representative of the calming, comfortable environment of Dr. Kurkjian's practice. Other unique elements of the website include:
A special button visitors can use to display the site's navigational menu when needed, or hide it when they desire
An extensive amount of procedural information that is broken into digestible sections to help prospective patients during research
Brief treatment highlights at the top of many procedural pages to benefit those seeking only basic information about specific surgical options
An expansive photo gallery showcasing before-and-after pictures of numerous patients Dr. Kurkjian has treated
An informative, regularly updated blog on which visitors can find practice news and announcements, answers to frequently asked questions, and other helpful information regarding plastic surgery
In addition to these design components and resources, Dr. Kurkjian's website is outfitted with a state-of-the-art plastic surgery SEO strategy intended to help his site rank competitively within his online marketplace for breast lift, rhinoplasty, mommy makeover, and various other key search terms.
Dr. Kurkjian is pleased with how well the innovative look and improved functionality of the website mirrors his commitment to continually adopting the latest, most advanced plastic surgical techniques available, and he hopes anyone who is seeking aesthetic enhancement in the greater Dallas / Fort Worth region will view it as a trusted resource for learning about their various treatment options.
About Jon Kurkjian, MD
Certified by the American Board of Plastic Surgery, Dr. Kurkjian is committed to delivering an unparalleled quality of plastic surgical care that centers around comfort, safety, and natural-looking results. At his practice, he offers a wide span of aesthetic procedures for the face and body, including facelift, abdominoplasty, breast augmentation, and more. For individuals interested in non-surgical cosmetic enhancement, he also provides several minimally invasive and non-invasive treatments and skin care services.
For more information about Dr. Kurkjian, visit jkplasticsurgery.com. He is available for interview upon request.