Internationally-Trained Plastic Surgeon Unveils Custom Website Design for Johannesburg Practice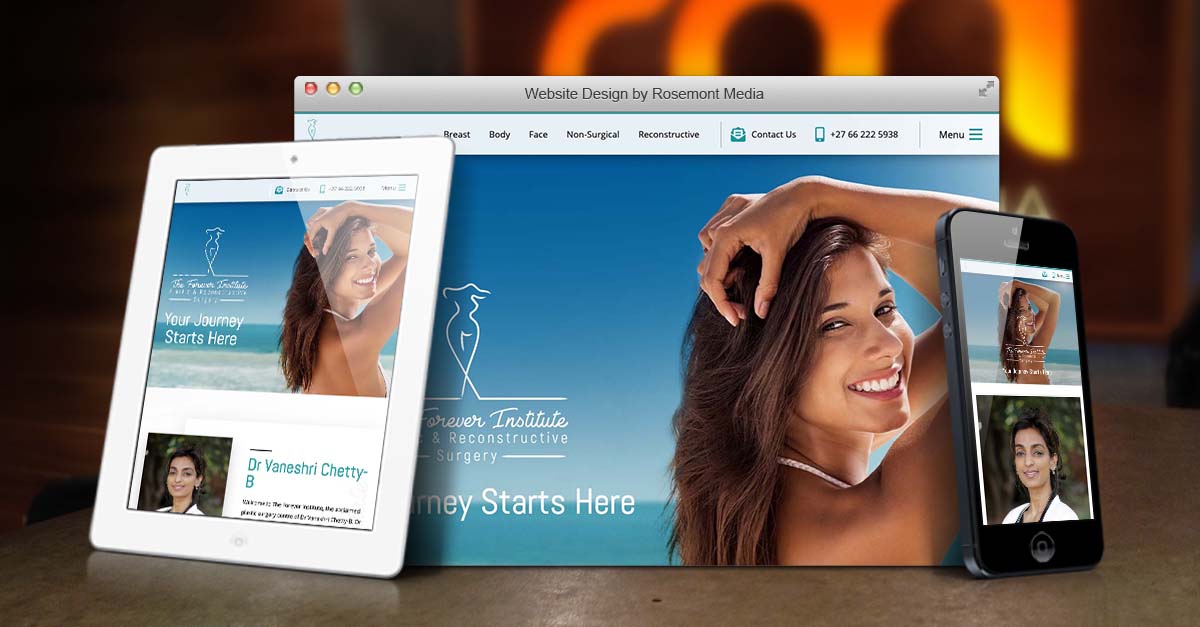 Dr Vaneshri Chetty-B, a globally renowned plastic surgeon based in Johannesburg, South Africa, recently launched a custom-built website to educate patients on the array of aesthetic procedures available at The Forever Institute—her acclaimed plastic surgery centre.
Johannesburg, SA — Before deciding to undergo a cosmetic service or plastic surgery procedure, meticulous research into one's treatment-of-interest is a crucial part of the process. For this reason, plastic surgeon Dr Vaneshri Chetty-B recently revealed a brand new website for her Johannesburg practice that offers robust patient information for anyone seeking aesthetic enhancement. The responsive site design is readily accessible on any desktop or mobile device, allowing individuals a seamless user experience whether they are researching their treatment options at home or on-the-go.
Formerly known as V-Plastics, The Forever Institute is an aesthetic practice that offers high-quality plastic surgery services in addition to advanced skincare treatments and non-surgical enhancement. The site design built by Rosemont Media, LLC—a San Diego-based marketing firm—is outfitted with custom-written content that sheds light on frequently-asked questions regarding breast augmentation, facelift surgery, abdominoplasty, and more. Displayed on a bright, relaxing, and beach-inspired theme, this comprehensive educational resource helps ensure those who are interested in cosmetic treatment have unlimited access to reputable material about a procedure's recovery period, benefits, risks, anticipated results, and overall cost.
Dr Chetty-B launches the website in hopes that potential patients seeking treatment can obtain a better understanding of what they can expect during and after their procedure. Given that thorough research into one's treatment options is key to achieving satisfactory results, Dr Chetty-B is confident that the online resource will prove invaluable for those in Johannesburg seeking to achieve their aesthetic goals.
About Dr Vaneshri Chetty-B
Dr Vaneshri Chetty-B is a plastic and reconstructive surgeon with several practice locations throughout the Johannesburg region. Dr Chetty-B received her training in Plastic and Reconstructive Surgery at the University of Witwatersrand and went on to complete a Fellowship in Craniofacial and Cosmetic Surgery in Paris, France. After further completing a diploma in Microsurgery at the Institute Pierre et Marie Curie, Dr Chetty-B returned to Johannesburg and now offers the entire scope of facial rejuvenation, breast surgery, and body contouring procedures at The Forever Institute. Dr Chetty-B is available for interview upon request.
To learn more, please visit www.theforeverinstitute.co.za or www.facebook.com/theforeverinstitute.
Contact:
The Forever Institute
Intercare Sandton
200 Rivonia Rd, Morningside
Sandton, 2196
+27 66 222 5938
Busamed Modderfontein
4 Cransley Crescent, Linbro Park
Sandton, 2090
+27 66 222 5938
Arwyp Medical
22, 16 Pine Ave, Kempton Park Cbd
Kempton Park, 1619
+27 11 922 1000
Life Carstenhof
21 Dane Street
Midrand, 1685
+27 11 655 5500
Rosemont Media
(858) 200-0044
www.rosemontmedia.com