Ocala Weight Loss and Med Spa Practice Announces Responsive Website Re-Design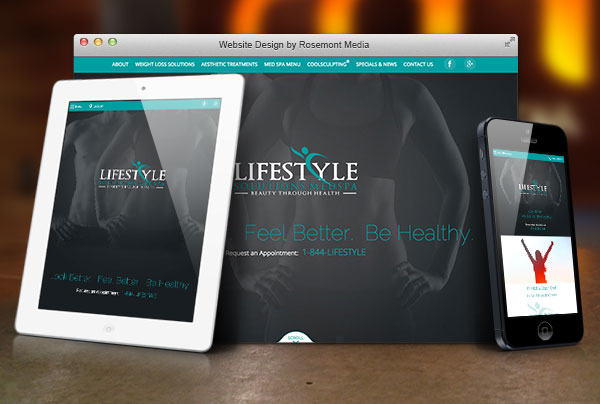 Dr. Michael Holloway and Shannon Holloway of Lifestyle Solutions MedSpa launched a new adaptable website designed for convenient, on-the-go browsing from any Internet-compatible device.
Ocala, FL— Individuals seeking help losing weight and improving their health often will be more successful if they enjoy easy access to support and advice both at home and on the go, explain weight loss physician and Lifestyle Solutions MedSpa co-founders Dr. Michael M. Holloway and Shannon Holloway. As a result, they decided to collaborate with Rosemont Media, a medical Internet marketing firm, to update their practice's website and provide a convenient and informative resource for current and prospective patients. With the newly upgraded responsive design, the site can be reached by anyone using an Internet compatible device.
In addition to the adaptable layout, which automatically adjusts to fit the screen size of the device being used, the state-of-the-art website also features a number of leading design elements, including a homepage with parallax scrolling and a fixed image background. The drop-down menus lead visitors to a broad range of options, including weight loss programs, non-surgical cosmetic enhancements, and med spa procedures, as well as practice information. Furthermore, to help position the site advantageously in its online marketplace, the latest SEO strategies have been implemented.
Dr. and Mrs. Holloway hope to encourage existing and potential patients to live healthier, more fulfilling lives, and they believe the enhanced browsing experience, expansive content, and aesthetically appealing interface of the recently modernized website can provide the exceptional experience they strive to offer in every aspect of their practice.
About Lifestyle Solutions MedSpa
Co-founded by Dr. Michael M. Holloway and his wife, Shannon Holloway, Lifestyle Solutions MedSpa is a weight loss and aesthetic enhancement practice located in Ocala, Florida. Founded on the philosophy of "Beauty Through Health," the practice is comprised of leading weight loss physicians, lifestyle coaches, dieticians, and aestheticians dedicated to improving patient health and wellbeing, as well as rejuvenating the face and body using the most advanced techniques available. In addition to customized weight loss programs, the practice also offers anti-aging treatments, such as BOTOX® injections, laser skin resurfacing, and chemical peels.
For more information about Lifestyle Solutions MedSpa, please visit lsmedspa.com.