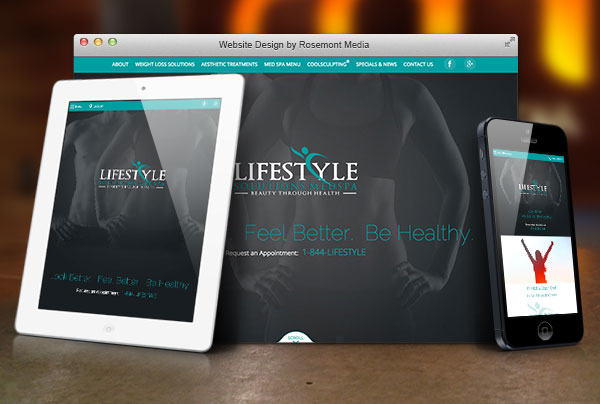 Project Details:
Launch Date:
February 2015
Page Count:
35
Services Overview:
Custom Responsive Design, SEO, CMS, Custom Content and Blog
Compatibility:
Desktop, Tablet, Mobile
Visit Website:
Categories:
Providing an exceptional patient experience is one of the foundational principles of Lifestyle Solutions MedSpa, a weight loss and aesthetic enhancement practice located in Ocala, FL. To further this goal, Dr. Michael M. Holloway and Shannon Holloway, the co-founders, recently enlisted the expertise of Rosemont Media to assist them in making their website as welcoming, rewarding, and advanced as their state-of-the-art facility is designed to be.
Developed to enhance accessibility, the new site boasts an innovative adaptable format that allows visitors to browse the site from any device with Internet connectivity. The responsive website design automatically resizes to fit the screen dimensions of smartphones, tablets, laptops, and desktop computers, maximizing user convenience. Additionally, the pages are equipped with aesthetically appealing design elements, such as parallax scrolling, a fixed image background, and drop-down menus, to help make the site an enjoyable online destination. Compelling, original content provides a substantive addition for individuals seeking a comprehensive resource on the latest health and beauty treatments. Ultimately, all these pieces combine to help Lifestyle Solutions MedSpa stand out among its peers.
Less visually arresting but just as important, Rosemont Media's team also equipped the website with the latest SEO strategies to help the practice rank highly on leading search engines, including Google, Yahoo, and Bing, thereby enhancing online visibility. As a result, users can locate online patient forms, weight loss programs, and facial and body enhancement options quickly and easily. With these new updates, Dr. and Mrs. Holloway hope current and prospective patients can more readily find the information they are seeking.
To view the type of innovative customized website our team at Rosemont Media can develop, design, and optimize for your practice, visit lsmedspa.com.