Orange County Plastic Surgeon Unveils New Website for His Fully-Equipped Med Spa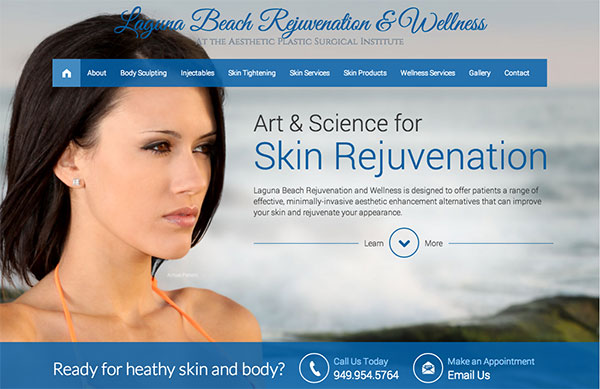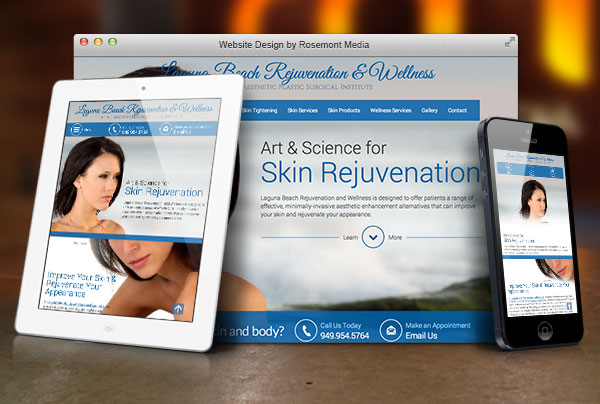 Dr. Daniel Mills collaborated with Rosemont Media to design and develop a customized responsive website for this plastic surgery practice's medical spa.
Laguna Beach, CA — Dr. Daniel Mills, a plastic surgeon in Orange County, recently publicized the launch of a new website for this practice's med spa, Laguna Beach Rejuvenation & Wellness. Developed in partnership with medical Internet marketing firm Rosemont Media, the site boasts a number of customized features, including fixed background scrolling on the homepage and an innovative "flat" design implemented throughout.
Organized by a navigational menu bar located in the header, the medical spa website hosts a vast expanse of information on non-surgical treatments and procedures available at Laguna Beach Rejuvenation & Wellness. These minimally and non-invasive offerings are organized and detailed on the following parent pages:
Body Sculpting
Skin Tightening
Skin Services
Wellness Services
With the growing number of devices being used to access the Internet today, Dr. Mills was resolute to equip his med spa site with a responsive website design that automatically adjusts to fit the precise screen size of any smartphone, tablet, laptop, or desktop computer. Additionally, the Orange County plastic surgeon had Rosemont Media implement the latest medical search engine optimization strategies to help the website rank competitively for popular keyword searches.
Ultimately, Dr. Mills feels the new medical spa website is an excellent complement to his plastic surgery site, and he hopes current and prospective patients will use it as a trusted resource when considering non-surgical skin care and cosmetic enhancement.
About Laguna Beach Rejuvenation & Wellness
As an extension of the Aesthetic Plastic Surgical Institute, Laguna Beach Rejuvenation & Wellness is a fully-equipped medical spa in Orange County. Under the guidance of Dr. Daniel Mills, the med spa provides a multitude of nonsurgical skin care and aesthetic treatments spanning from JUVÉDERM® and CoolSculpting® to chemical peels and laser resurfacing. The med spa also offers Dr. Mills' signature skin care line – Prevention Skincare – as well as various wellness services such as a weight loss program, vitamins/supplements, B12 injections, and more.
For more information, visit lagunabeachrejuvenation.com.