San Francisco Plastic Surgeon Unveils an Expansive New Website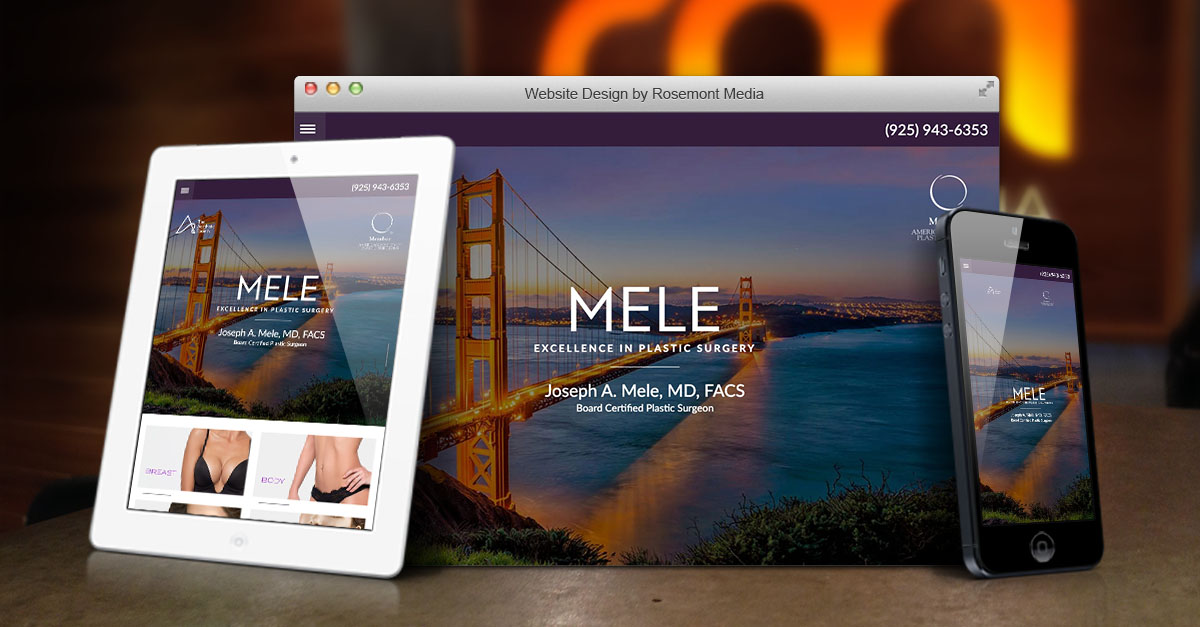 Board-certified plastic surgeon Joseph Mele, MD is launching a new website designed to provide viewers with a comprehensive look inside his practice and thorough details on advanced surgical and non-surgical aesthetic enhancement procedures.
Walnut Creek, CA – Dr. Joseph A. Mele, a San Francisco plastic surgeon, is unveiling an expansive new website with the goal of providing individuals considering aesthetic enhancement with a comprehensive educational resource on many of the latest treatment options. With the rising popularity of plastic surgery and non-surgical cosmetic enhancement procedures among both women and men, Dr. Mele believes the state-of-the-art website can be a useful tool for readers who are looking for thorough information on treatments designed to rejuvenate the skin, minimize signs of aging, enhance body contours, and generally help them feel more confident about their appearance.
Dr. Mele's new website has been created with responsive medical website design concepts, which ultimately makes the site more easily accessible in its full form on many types of digital devices, including smartphones, tablets, laptops, and desktop computers. The site provides viewers with a sweeping virtual look inside Dr. Mele's practice, offering detailed descriptions of procedures such as breast augmentation, facelift, tummy tuck surgery, and many other surgical and non-surgical treatment options. In addition, the website includes an array of informative videos on specific procedures, as well as clips of Dr. Mele's appearances on local television stations as a featured plastic surgery expert. The website also includes an extensive biography of Dr. Mele, an updated blog, a plastic surgery before-and-after photo gallery that offers viewers a glimpse of the results Dr. Mele has been able to achieve, and other interactive elements that can help readers learn what they can expect from the practice and its team of aesthetic professionals.
Dr. Mele worked with San Diego-based medical website design firm Rosemont Media to create the customized website, which features video integration and a user-friendly layout that can provide readers with convenient access to the specific information they are looking for. He hopes that it ultimately serves as a full and in-depth resource for individuals trying to gain a better understanding as to what they should consider when selecting a qualified plastic surgeon, as well as for those seeking answers to questions they may have about what certain treatments can do to meet their needs.
About Joseph A. Mele, MD, FACS
Dr. Joseph Mele is certified by the American Board of Plastic Surgery and the American Board of Surgery. He is also a Fellow of the American College of Surgeons and a member of The American Society of Plastic Surgeons, the American Society for Aesthetic Plastic Surgery, The International Society of Aesthetic Plastic Surgery, and many other world-renowned medical organizations. Dr. Mele opened his private plastic surgery practice in 1997 and offers a comprehensive selection of treatment options designed to enhance the body, face, breasts, and skin. In addition to publishing a variety of articles in major plastic surgery and reconstructive surgery journals, Dr. Mele has also conducted presentations of his research at plastic surgery conferences and symposia throughout the country. Dr. Mele is available for interview upon request.
For more information about Dr. Joseph A. Mele and his plastic surgery practice, please visit drmele.com or https://www.facebook.com/San-Francisco-Plastic-Surgery-115315855148531/.
Contact:
Joseph A. Mele, MD, FACS
130 La Casa Via – Building 2, Suite #206
Walnut Creek, CA 94598
(925) 943-6353
Rosemont Media
(858) 200-0044
www.rosemontmedia.com