Richmond Medical Spa Transforms Website with New Design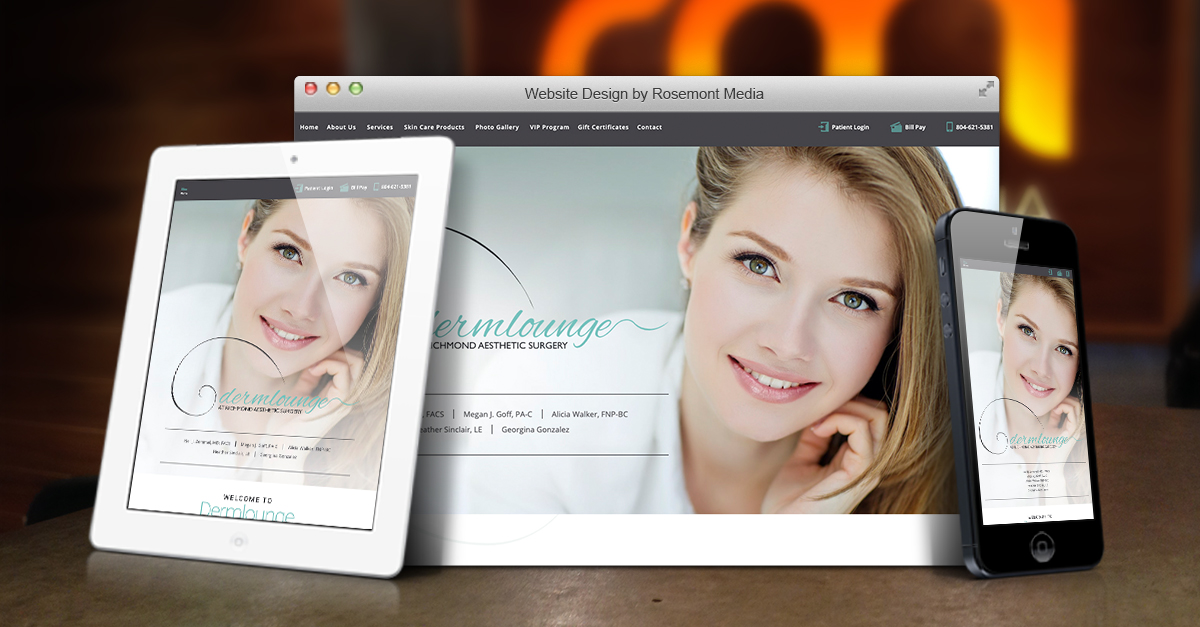 Dr. Neil J. Zemmel and his team at Dermlounge medical spa have launched a new look for their practice website, equipped with an attractive layout and innovative design elements.
Richmond, VA — Voted best plastic surgeon in Richmond for several years, Dr. Neil J. Zemmel is committed to helping patients obtain their aesthetic goals through surgical and non-surgical care. In addition to the procedures offered at Richmond Aesthetic Surgery, Dr. Zemmel provides a comprehensive collection of non-surgical treatments at his Richmond medical spa, Dermlounge. As part of his mission to provide the best possible patient experience, the plastic surgeon revamped his medspa website with a completely new look, creating a more user-friendly resource for current and prospective patients.
To make searching for information as easy as possible, the Dermlounge website is built upon a responsive layout, which automatically resizes to fit the dimensions of the Internet device in use. The pages contain original content about the Dermlounge team and the many procedures they offer. Visitors can also find a photo gallery with before-and-after pictures, helping patients visualize the type of results they can achieve should they choose a specific treatment.
In addition to the easy-to-use and informational pages, Dr. Zemmel's new site features a variety of innovative design elements across its layout. The pages contain a clean contrast of content and imagery, which continue the themes of Dr. Zemmel's main website for Richmond Aesthetic Surgery. This aesthetic appeal is especially noticeable on the home page and procedural pages, which were all developed with a custom-tailored design to highlight important information.
To create the updated design for Dermlounge.com, Dr. Zemmel worked with medical website design firm Rosemont Media. Together, the two teams were able to develop a new look for the site that reflects the high quality of care offered at Dermlounge. The specialists at Rosemont Media outfitted the website with updated search engine optimization (SEO), a more modern appearance, an improved menu navigation, and more.
With the launch of his new site, Dr. Zemmel looks forward to providing his patients with an enhanced resource for them to learn about the medical spa treatments in which they are interested.
About Neil J. Zemmel, MD, FACS
Dr. Zemmel is the medical director of Dermlounge medical spa at Richmond Aesthetic Surgery. He performs a large variety of cosmetic and reconstructive surgeries and oversees the minimally invasive treatments offered at Dermlounge, including BOTOX® Cosmetic, CoolSculpting®, and medical-grade skin care. Dr. Zemmel earned his medical degree from the University of Virginia School of Medicine and completed a six-year plastic and reconstructive surgery residency at the Virginia Commonwealth University Medical Center. He participates in multiple medical associations, including being a Fellow of the American College of Surgeons, a member of the American Society of Plastic Surgeons, and a member of The Aesthetic Society (American Society for Aesthetic Plastic Surgery). Dr. Zemmel is available for interview upon request.
For more information about the Dermlounge at Richmond Aesthetic Surgery, visit dermlounge.com and richmondplasticsurgery.com.
Contact:
Dermlounge at Richmond Aesthetic Surgery
11934 W Broad Street, Suite 200
Richmond, VA 23233
(804) 424-2000
Rosemont Media
(800) 491-8623
www.rosemontmedia.com