Naperville Cosmetic Dentist Launches Dynamic Custom-Built Website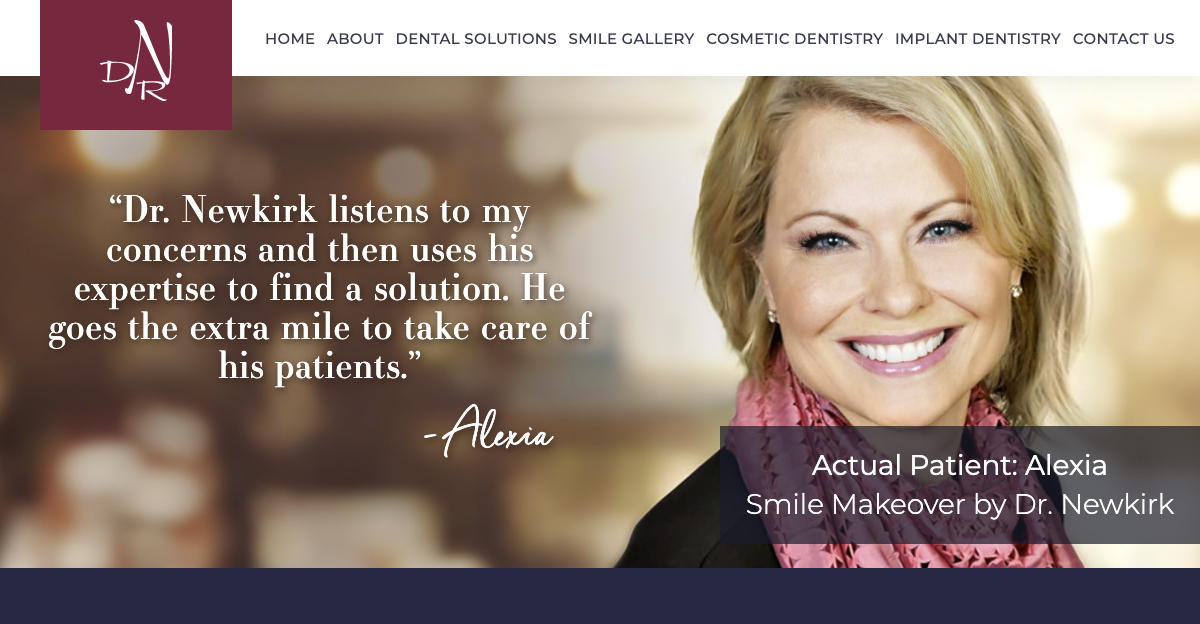 Dr. David Newkirk, a cosmetic dentist in Naperville, reveals his industry-leading dental website to help patients find relevant information they need about a variety of dental solutions.
Naperville, IL – Noting a commitment to educating patients on their oral health, Dr. David Newkirk, a cosmetic dentist in Naperville, revealed his easy-to-use website as a resource for new and existing dental patients. With the help of Rosemont Media, LLC's knowledgeable team, Dr. Newkirk created a fully functional and responsive dental website that provides visitors an organized method of getting details on state-of-the-art dental treatments. From an office tour to a blog, Dr. Newkirk's comprehensive site is equipped with helpful and pertinent material to stand out in the dental industry.
This website is designed to be pixel-perfect whether you are viewing it on a desktop computer, tablet, or mobile phone. Regardless of the device, people can easily view carefully curated content throughout the site, which has been enhanced with dental SEO. Detailed explanations of innovative dental solutions — such as dental implants, periodontal care, implant-supported dentures, and porcelain veneers — are also readily available. The website even has a smile gallery showcasing the results that Dr. Newkirk has created for patients. Each aspect of this clean and organized website gives patients a chance to get to know Dr. Newkirk, his team, his practice, and a wide range of popular procedures without even being in the dental office.
Dr. Newkirk hopes this new website can be a valuable resource to current and prospective patients interested in achieving their dream smile. He says the site's sophisticated layout replicates the professionalism and quality services that patients can expect at every interaction with him and his team. Dr. Newkirk looks forward to seeing how his practice grows by incorporating this new website into his healthcare marketing strategy.
About David Newkirk, DDS
For over 25 years, Dr. David Newkirk has been practicing general, restorative, and cosmetic dentistry. He is well-known for performing a variety of dental treatments such as dental implants, periodontal care, teeth whitening, dental bonding, and porcelain veneers. Dr. Newkirk graduated from Loyola School of Dentistry and continues to stay up-to-date in the latest dental techniques and technology. He is currently an active member of the American Dental Association, Chicago Dental Society, Illinois State Dental Society, and American Equilibration Society. Dr. Newkirk is well-known among the community and has been chosen by his peers as one of The Best Dentists in America. Not only is he a highly-knowledgeable dentist, but also an internationally recognized speaker. Dr. Newkirk has experience in teaching other dentists in countries around the world, including the United States, New Zealand, Australia, and throughout Europe. Dr. Newkirk is available for interview upon request.
To learn more about the practice, please visit napervillecosmeticdentistry.com.
Contact:
David Newkirk, DDS
1816 Bay Scott Circle, Suite #108
Naperville, IL 60540
(630) 410-9177
Rosemont Media
(800) 491-8623
www.rosemontmedia.com