Scarsdale Plastic Surgeon Cuts the Ribbon on New Responsive Website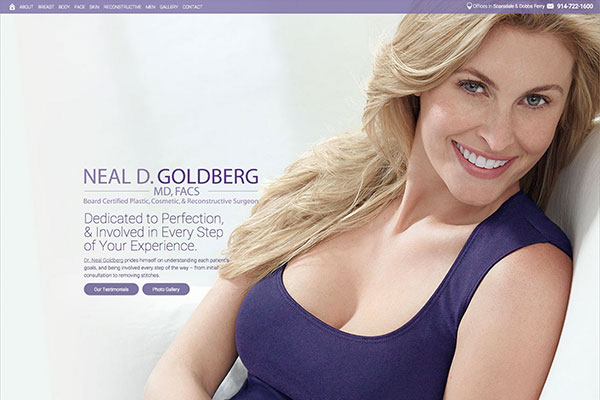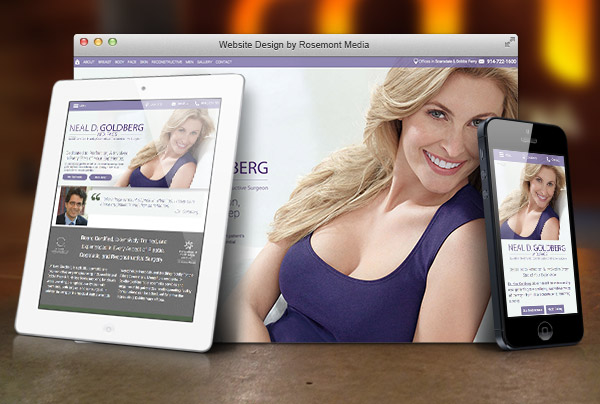 Dr. Neal D. Goldberg launched a new practice website showcasing the latest design features, including an easily navigable layout and responsive capabilities.
Scarsdale, NY— A patient experience that goes well beyond the basics can help to differentiate a cosmetic surgery practice from the competition, reveals Dr. Neal D. Goldberg, a plastic surgeon in Scarsdale. To provide an enhanced level of care for the individuals he treats, he recently upgraded his practice website to include a number of sought-after design and functional elements, including a responsive layout, which can allow visitors to access a wealth of information from the convenience of their Internet-compatible mobile devices.
The new responsive website design was developed with the assistance of Rosemont Media, a medical Internet marketing firm. In addition to the adaptable format that automatically adjusts to fit the dimensions of any size screen, the site also features medical SEO strategies updated to comply with the latest Google guidelines, helping to position the site prominently in its online marketplace. Adding beauty to function, the layout offers an aesthetically appealing combination of soothing colors and modern design elements, most notably the interactive graphic of a woman practicing yoga near the footer of the homepage. Buttons strategically located on the image take visitors to various areas of the site populated with original content. Dr. Goldberg says he hopes this information can be a helpful resource on popular cosmetic and reconstructive procedures, including breast augmentation, body contouring, facelift, and nasal reconstruction, among others.
Ultimately, Dr. Goldberg wishes to provide a superior online experience with his website that mirrors the exceptional care and treatment he provides at his practice. He says that by elevating the standard of care beyond the expected, he can help current and prospective patients find the information they are seeking most and achieve their cosmetic goals.
About Neal D. Goldberg, MD, FACS
Certified by the American Board of Plastic Surgery, Dr. Goldberg leads a plastic surgery practice in the Scarsdale and Dobbs Ferry, New York area that offers a comprehensive array of cosmetic, plastic, and reconstructive procedures for the face, breasts, and body, as well as non-surgical rejuvenation options. Prior to medical school, he attended the Wharton School of the University of Pennsylvania, where he graduated magna cum laude with a concentration in health care policy and economics. After earning his medical degree from New York University School of Medicine, Dr. Goldberg completed extensive training in plastic and reconstructive surgery at Albert Einstein College of Medicine/Montefiore Medical Center. In addition to being a Fellow of the American College of Surgeons, he is also an active member of the American Society of Plastic Surgeons (ASPS). Dr. Goldberg is available for interview upon request.
For more information about Dr. Goldberg and his practice, please visit doctorgoldberg.com and facebook.com/nealgoldbergmd.