Cupertino Dentists Debut State-of-the-Art Responsive Website Design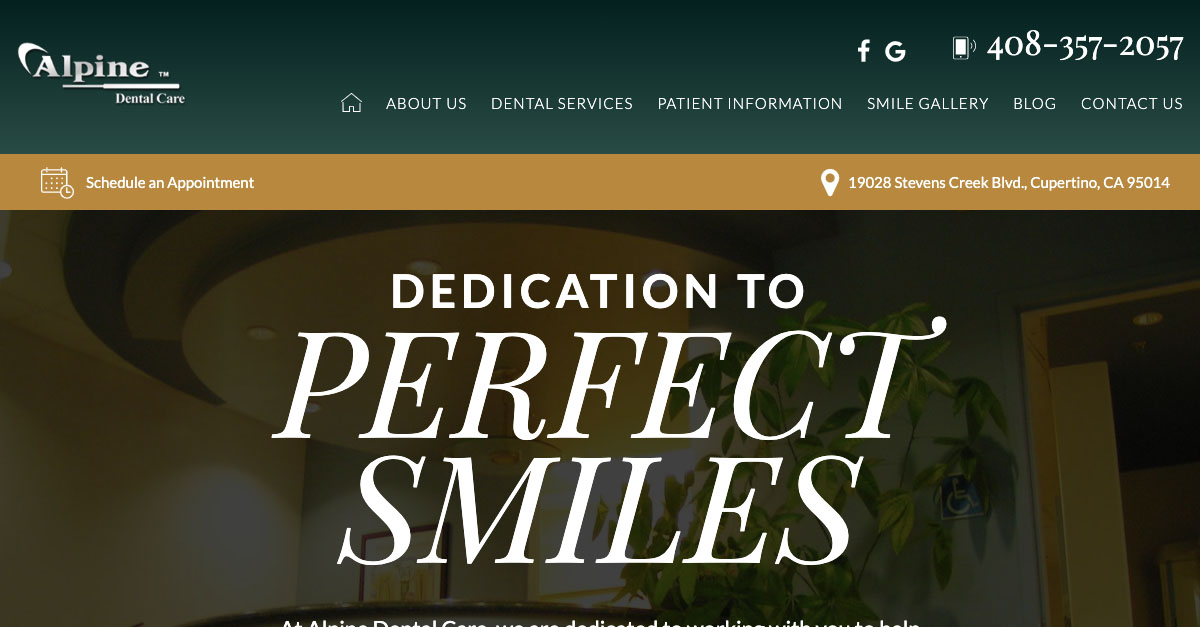 Alpine Dental Care worked closely with a dedicated website development team at Rosemont Media to create innovative solutions for all their online challenges and achieve their website goals.
Cupertino, CA – The experienced Cupertino dentists at Alpine Dental Care value the importance of quality, expertise, and customization, which is why they trusted their new website project to digital marketing and web design firm Rosemont Media. Drs. Donian Shen, Angela Nguyen, and Jeff Yoshihara wanted a website that reflected the advanced sophistication of their practice and patients, performed optimtimally in search engine results, and functioned to provide website visitors with all the information they need to learn about and express interest in available services and treatments.
The website overhaul began with a sleek new forest green and gold-themed design that incorporated responsive design elements to allow the website to function and be viewed optimally on various screen sizes including tablets, smart phones, and laptops. This versatility allows visitors using all types of Internet-connected devices to access and interact with the website in its entirety. The intuitive navigation bar offers an organized look at the pages contained within the website, enabling visitors to easily locate the services and information they are looking for.
Since the dentists at Alpine Dental Care perform a full range of general, cosmetic, implant, and emergency dentistry options, the redesign needed to include a custom content component. This addition ensured well-written educational content on all of the procedures, treatments, and other offerings. From a website marketing standpoint, it was also important to include current search engine optimization (SEO) to help the practice gain visibility for top procedures and other relevant dentistry-related search terms. Ultimately, these advancements are designed to help the website achieve priority positioning in the results so web users readily see that Alpine Dental Care has the options they are looking for. The easily updated smile gallery was the final touch—it allows the practice to quickly upload before-and-after photos to show off their most recently completed smile transformations.
Drs. Donian Shen, Angela Nguyen, and Jeff Yoshihara say they are thrilled with their new website and look forward to finding out how it enhances users experiences and benefits their business. They plan to work with the team at Rosemont Media to further expand their website and continue pursuing their evolving digital marketing goals.
About Alpine Dental Care
Alpine Dental Care is a state-of-the-art practice led by Cupertino dentists Donian Shen, DDS, Angela Nguyen, DDS, and Jeff Yoshihara, DDS. Using the latest techniques and technology, they provide the full spectrum of treatment services including dental implants, cosmetic dentistry procedures, restorative dental care, and preventive dentistry for the whole family. For the comfort of patients, they also provide sedation dentistry services which can relieve anxiety and induce deep relaxation during treatment. Treatment plans are customized for each patient based on his or her unique needs, goals, priorities, and budget for optimal results that are suited to the individual.
For more information about Alpine Dental Care, please visit alpine-dentalcare.com and facebook.com/AlpineDentalCareCA.
Contact:
Alpine Dental Care
19028 Stevens Creek Boulevard
Cupertino, CA 95014
(480) 966-8611
Rosemont Media
(858) 200-0044
www.rosemontmedia.com