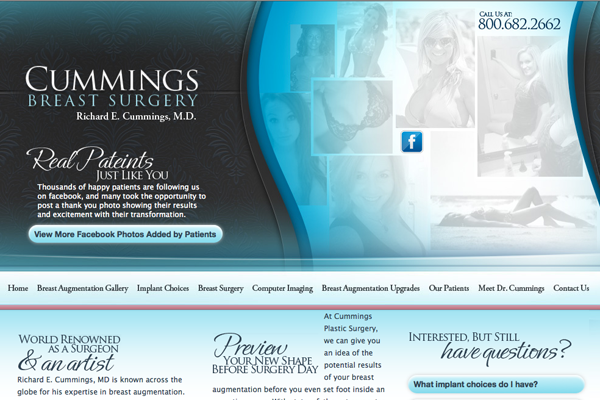 Project Details:
Launch Date:
August 2011
Page Count:
25
Services Overview:
Custom Design, SEO, CMS, JavaScript Slide Show, Photo Upload Gallery and Blog
Compatibility:
Desktop
Visit Website:
Categories:
The new website for Dr. Richard Cummings, a plastic surgeon in North Carolina, is a branch of his parent website focused specifically on breast procedures. Targeting strictly breast surgery information for current and prospective patients, the website layout creates a harmonious balance of colors, graphics, and artful text. Each page structures content and imaging in a way that is easy to digest for the reader, yet informative and extensive. Patients can navigate the website quickly, while the beautiful graphics and design create the enjoyable online experience that will bring them back for more. Links to pages on breast augmentation procedure information are sprinkled throughout the content so no time is wasted looking for a specific page.
Developed in collaboration with plastic surgery website design firm Rosemont Media, the new site is a custom creation designed to fit the specific needs and aesthetic art of Dr. Cummings and his practice. With a strong social media presence that includes links to patient stories and photos on Facebook, as well as a social plugin located on the home page sidebar, the website layout optimizes information and connectivity in a well-crafted structure.
To get a more in-depth look at what Rosemont Media can create for you and your practice, visit northcarolinabreast.com.