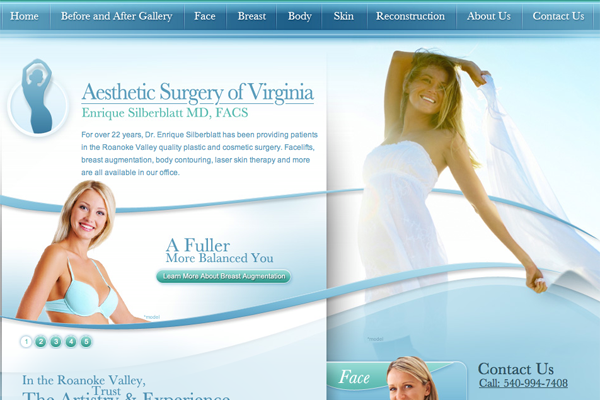 Project Details:
Launch Date:
April 2011
Page Count:
53
Services Overview:
Custom Design, SEO, CMS, JavaScript Slide Show, Blog, and Photo Upload Gallery
Compatibility:
Desktop
Visit Website:
Categories:
Virginia plastic surgeon Dr. Enrique Silberblatt has been serving the plastic surgery needs of the Roanoke Valley for more than 22 years. He wanted a website that not only reflected this experience, but also conveyed his dedication to patient care, as well as his artistic sensibilities. In collaboration with our medical website design team, Dr. Enrique Silberblatt has done just that.
Along with detailed descriptions of all procedures offered, a doctor biography, and a before-and-after gallery, the website includes social media buttons to provide visitors with an aesthetically pleasing, informative, and comprehensive online experience.
The website has been fully optimized for optimal search engine and social media performance, including the latest in Facebook optimization to foster the growth of an online community centered on Dr. Silberblatt's practice.
Visit www.silberblatt.com to take the website for a spin, and then come back to the Rosemont Review for all the latest in plastic surgery marketing news and website design.