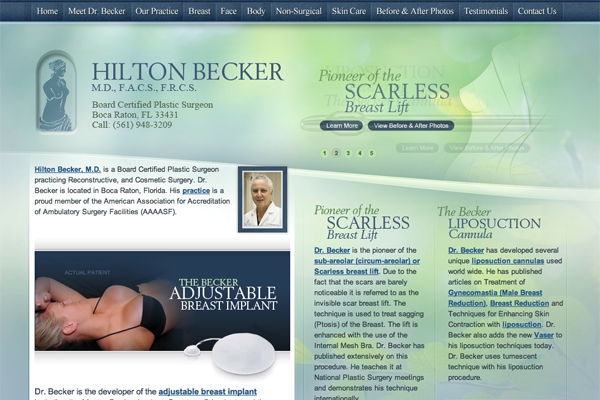 Project Details:
Launch Date:
March 2011
Page Count:
58
Services Overview:
Custom Design, SEO, CMS, JavaScript Slide Show, Blog, and Photo Upload Gallery
Compatibility:
Desktop, Mobile
Visit Website:
Categories:
In collaboration with our team of talented writers and graphic designers, Boca Raton plastic surgeon Dr. Hilton Becker has created an easily accessible online resource for his patients. The innovative website matches Dr. Becker's dedication to cutting-edge technology, as it incorporates the latest advancements in medical website design, coupled with forward thinking social media and search engine marketing strategies to ensure optimal online performance.
Our dedicated team of SEO experts and content management specialists has fully optimized the comprehensive overview of Dr. Becker's online practice to try to ensure maximum exposure on search engines and enhance patient usability. Ultimately, Dr. Becker and Rosemont Media have created a detailed and expansive narrative to provide his patients with an inside look at his Boca Raton plastic surgery practice.
Whether you are looking for more information on Dr. Becker's innovative adjustable breast implant, or a closer look at the aesthetic search engine marketing and website design services Rosemont Media provides, visit www.beckermd.com today.